Woman Dodges Wild Boar Attack While Surfing, Escapes With Bitten Surfboard
A surfer in Oahu, Hawaii, was out on the water when she saw a dark shape. As it got closer, she realized it was a wild boar that later bit a chunk from her surfboard.
ABC-affiliate KITV4 reported that Ingrid Seiple, a surfer with more than 35 years of experience, initially thought the floating figure was a Hawaiian monk seal or a log.
"That's when I realized it was a pig, and it saw me," she told the outlet. "It started swimming toward me as fast as it could. I was shocked."
Seiple said she did not have much going through her mind while she was being pursued by the boar.
"The only thing that occurred to me was, 'That thing is coming toward me and it may bite,'" she said.
She told Newsweek the wild boar was "huge" and estimated that it was about four feet long.
Seiple tried to paddle away, but the boar continued to pursue her, getting so close that she used her surfboard as a shield. The pig bit her surfboard and Seiple swam away.
The entire incident lasted just a few seconds from the time the boar began swimming after Seiple until it went off into a different direction.
"The pig looked very disoriented, kind of turned out toward the sea and started swimming out to sea," she told the outlet. "I came up and the pig was still swimming out to sea, and I paddled away."
According to the hiking guide website Restless Backpacker, wild boars are aggressive and can carry a host of diseases that can affect humans. The United States Department of Agriculture (USDA) noted that the invasive species were first imported as a food source. Some were either intentionally released or they managed to escape.
In addition to acting as a potential threat to humans, wild boars have had a negative environmental impact.
In early 2021, the USDA announced they were investing $11.65 million in projects to help agricultural producers and private landowners control wild boars. Eight states were included in that investment, including Hawaii.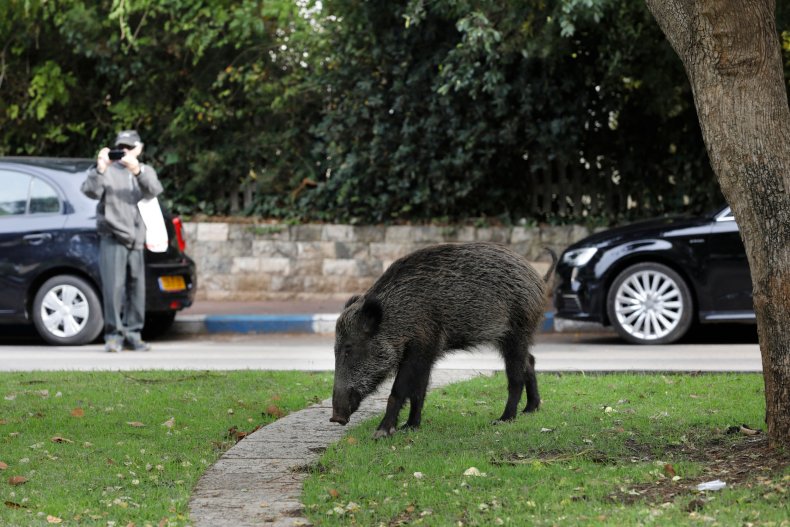 Although Seiple's board suffered a bite mark, she managed to escape the attack free from any injuries. She told KITV4 that the boar had an injury on its face and theorized that the boar may have been chased into the ocean by dogs. When she got back to the beach she spotted hoof prints and dog prints in the sand.
Though a seasoned surfer who has seen her fair share of sea life, Seiple said she has never encountered a wild boar before.
She told Newsweek that they can be found throughout the island, though they are not typically found in her residential area. Seiple told Newsweek she was surfing with her boyfriend in a more rural area that day.
"It was startling at first, but as the pig was getting closer and I wasn't getting a chance to turn around quick enough, I thought, 'Oh, this could get bad,'" she told the outlet.
This is not the first run-in Seiple had with potentially dangerous aquatic life. While out swimming in Costa Rica, she came across a poisonous sea snake, though she was able to walk away uninjured from that encounter as well.
She said people have asked if she plans to go out surfing again, and Seiple has no plans to slow down.
"It is so important that we don't live in fear and get out there and live life," she said.
In early December, Newsweek reported that a Massachusetts woman was attacked by a raccoon and was left with cuts and bruises.
The 70-year-old woman, Donna Sanginario, took to Facebook and said she was putting up Christmas lights around the bushes outside of her house when she heard a noise from the street.
She turned around and saw a raccoon about 10 feet away. The raccoon then "jumped" onto Sanginario and latched on. Sanginario got the raccoon into a headlock until the animal stopped screaming. She released it and it walked away.
Updated 12/27/2021, 6:20 p.m. ET: This story has been updated with comments from surfer Ingrid Seiple.