Nike Sues MSCHF for Trademark Infringement on Lil Nas X 'Satan Shoes' Collaboration
Nike Inc. filed a trademark infringement suit against MSCHF Product Studio on Monday, hours after the Brooklyn company started selling customized Nike Air Max 97 shoes called "Satan Shoes." The controversial sneakers are being promoted in collaboration with rapper and singer Lil Nas X, as a tie-in for the artist's recent music video for the single "Montero (Call Me By Your Name)."
Like the video, the MSCHF shoes incorporate Satanic imagery. The sneakers feature a bronze pentagram and an inverted cross containing a drop of actual human blood. MSCHF's design came in a limited edition run of 666 pairs with a $1,018 price tag—a reference to the Bible verse Luke 10:18 which states "I watched Satan fall from heaven like lightning"—and sold out in under a minute after going on sale at 11:00 a.m. EST Monday, one of MSCHF's founders, Daniel Greenberg, confirmed to Newsweek.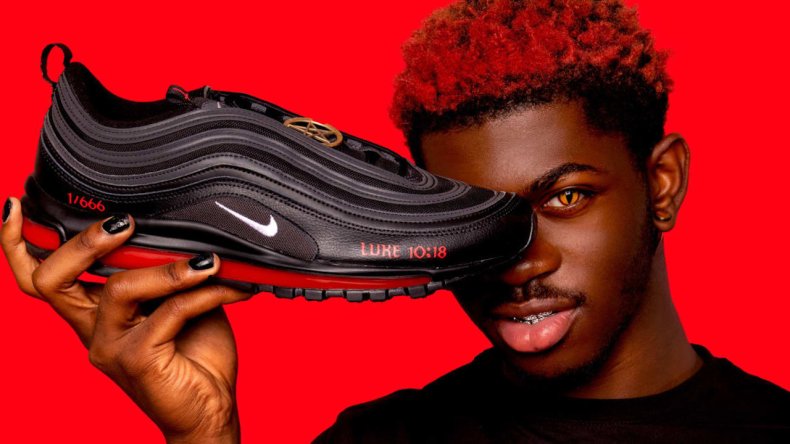 Nike's trademark infringement complaint, filed in the Eastern District of New York, argues that MSCHF's design creates a "likelihood of injury to Nike's business reputation and goodwill." The lawsuit also states the shoes created a "likelihood of consumer confusion, mistake, and deception as to the source of origin or relationship of Nike's products and MSCHF's Satan Shoes, and has otherwise competed unfairly by unlawfully trading on and using" Nike's trademarks without permission.
Lil Nas X noted the lawsuit on Twitter. He wrote: "me after the Nike lawsuit" with a gif of the SpongeBob SquarePants character Squidward begging for change.
The lawsuit filed, in addition to trademark infringement, also alleges dilution, false designation of origin and unfair competition. Attorneys for Nike filed in the U.S. District Court for the Eastern District of New York against MSCHF Product Studio Inc., noting the company is selling the redesigned Air Max 97's "without Nike's approval or authorization."
In the suit, Nike claims MSCHF is trying to "capitalize on Nike's valuable reputation and customer goodwill" by "using the Nike [trademarks] and/or confusingly similar marks in a manner that is likely to cause consumers and potential customers to believe that MSCHF's Satan Shoes are associated with Nike, when they are not." Nike noted there have been calls for boycotts against the company, despite the fact they had nothing to do with "Satan Shoes." The Fashion Law noted Nike provided screenshots of social media comments to back up such claims.
Nike seeks the court to ban MSCHF from manufacturing or selling any products under Nike's trademarks, and it is requesting monetary damages, as well as the destruction of any good or promotions using Nike's marks.
Newsweek contacted MSCHF for comment about the lawsuit but has not heard back as of press time.