A satanic group that was originally scheduled to perform "unbaptisms" at an Idaho Pride event has dropped out of the gathering.
In a response to Newsweek, the North Idaho Pride Alliance stated that the Satanic Temple Idaho will no longer be in attendance at their annual Pride in the Park celebration on Saturday, June 11. The North Idaho Pride Alliance also added that the Satanists "dropped out of the event on their own accord."
Individuals from the Satanic Temple Idaho were originally set to perform "unbaptisms" at the annual happening, according to regional NBC affiliate KOBI, which the North Idaho Pride Alliance website describes as a "family-friendly, community event celebrating diversity and building a stronger and more unified community for all."
In a since-deleted Facebook post, the Satanic Temple Idaho had announced its intention of attending Pride in the Park to conduct the "unbaptisms" and sell merchandise.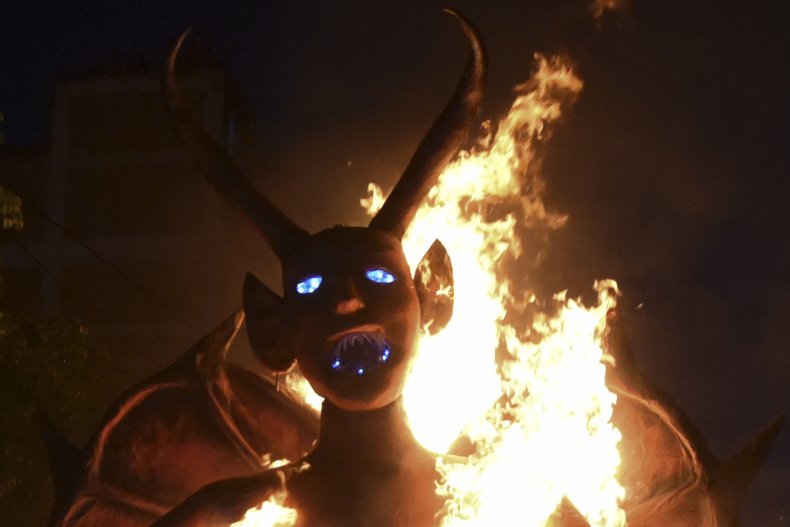 "We are so excited to announce that we will have a booth and be participating [in] Coeur D'Alene's 'Pride in the Park' event next Saturday, June 11th from 10am-3pm!" the post read, according to KOBI. "We will have merchandise for sale, be offering support to our community and performing unbaptisms for those interested! Just know, Satan loves you for you! Hail Satan!"
An "unbaptism," according to the Satanic Temple chapter in Austin, Texas, is an opportunity for those who believe they may have been baptized against their will to "revoke" the common religious tradition that was carried out on them. The temple goes on to describe the unbaptism as a "ritual" that is "intended to provide bodily liberation and catharsis to those who have been subjected to unwanted religious indoctrination."
The Satanic Temple Idaho was a sponsor of this year's Pride in the Park, according to KOBI, which will have food vendors, over 50 booths and feature musical and drag show performances. However, the North Idaho Pride Alliance's website currently does not list the Satanic Temple Idaho as a participating vendor, group or supporter.
While the Satanists will no longer be attending, other groups and businesses such as the ACLU of Idaho, Everytown for Gun Safety, the Human Rights Education Institute as well as a number of churches are still set to be involved in the Pride event, according to the North Idaho Pride Alliance.
In addition to food and musical performances, Saturday's event in Coeur d'Alene, Idaho, will have arts and crafts as organizers promise it to "be bigger and bolder" than in years past.
Newsweek reached out to the Satanic Temple Idaho for comment.