'SATC2,' 'Prince of Persia' Bomb at the Box Office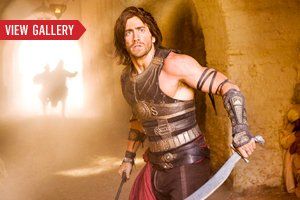 No SATC, women-rule-the-box-office effect this time around. This past weekend was the most sluggish Memorial Day at the movies since 1995—a bad omen for summer business, since the May holiday is typically one of the bigger release frames. The Sex and the City sequel—ye of $153 million in 2008—wilted under the critics' heat lamp. So did Disney's Prince of Persia, starring Jake Gyllenhaal and his pectorals. What gives?
Good news first! If our luck holds, we may be spared Sex and the City 3 or Prince of Persia: Obligatory After-Colon Clause. SATC2's blah outing—an estimated average of less than $15,000 per theater over four days—means this franchise is likely kaput. The movie opened Thursday (Wednesday at midnight in some locations) to capture pre-holiday travelers, but the reviews were noxious, and their odoriferous stink traveled fast. Meanwhile, Prince of Persia put its chips on a biceptual Boy Next Door, and action-star status is something that Gyllenhaal perhaps wasn't ready for. With a production budget of $200 million and a $100 million marketing campaign, the movie's estimated $37.8 million haul looks even more piddling.
The bad news? Like a spurned lover to ice cream, America drowned its sorrows in Shrek. Again. The movie opened two weeks ago to a mild reception, but picked up speed in its second week on buzz and best-of-the-worst status. Does this mean we'll get a fifth? DreamWorks said in 2009 that this installment would be the last of the series—it's called Shrek Forever After, for finality's sake. But you never know. The cardinal rule of all-time Memorial Day smash hits—Mission: Impossible II, Star Wars III, Back to the Future III—says to never bet against a franchise with even a squeak of life left.