Satire or Misinformation? Babylon Bee Says Mocking Woke is "Moral Purpose"
Two years ago, the conservative satire website Babylon Bee published the headline "Triple-masker looks down on people who only double mask." A day later, CNBC featured a graphic highlighting the higher efficacy of triple-masking.
It is one of scores of examples that Babylon Bee owner Seth Dillon holds up in which its mockery of a section of American society hit close to home as the publication carves out a growing following – including Elon Musk - while infuriating those who have branded its comedy as dangerous right-wing misinformation.
The rise of the Babylon Bee, which styles itself as "the definitive source of fake news you can trust", has mirrored that of other strident new conservative publications with a mission to deride and undermine progressive views in the polarized nation.
In a Newsweek interview, Dillon spoke of a "moral purpose" to the Babylon Bee's humor, and added: "When our jokes come true, the problem isn't that satire is too close to reality; it's that reality is too close to satire."
He shared a spreadsheet with 85 examples of its faux news being borne out – at least to some extent – by what later happened.
Its targets run the gamut of causes with appeal to conservatives – poking fun at COVID vaccinations and protocols, transgender rights, race, environmentalism.
A story that got it banned from Twitter - before Musk took over the platform and allowed it back - was branded "not funny" and "dangerous" by Twitter's former safety chief Yoel Roth, voicing a view of the site shared by many of its detractors.
Among the examples Dillon points to of fake news that had echoes in reality was its picture of a Sesame Street 'Vaccinate me Elmo' doll, complete with syringe, months before Sesame Workshop announced that Elmo had been vaccinated against COVID. Taking aim at venues demanding vaccination status, it carried a report that a "vaccine passport can now be tattooed on your hand or forehead." A man in Italy later had his QR code tattooed on his arm, sharing the image on social media.
A parody headline on "genderless" LEGO bricks appeared months before LEGO said it was ridding itself of "gender bias and harmful stereotypes." Then there was its spoof report on Mattel's new "pregnant Ken doll" weeks before the company revealed a transgender Barbie.
Dillon identifies as a Christian conservative and acknowledges that the Babylon Bee reflects his values, distinguishing it from The Onion, a big competitor in the parody news industry.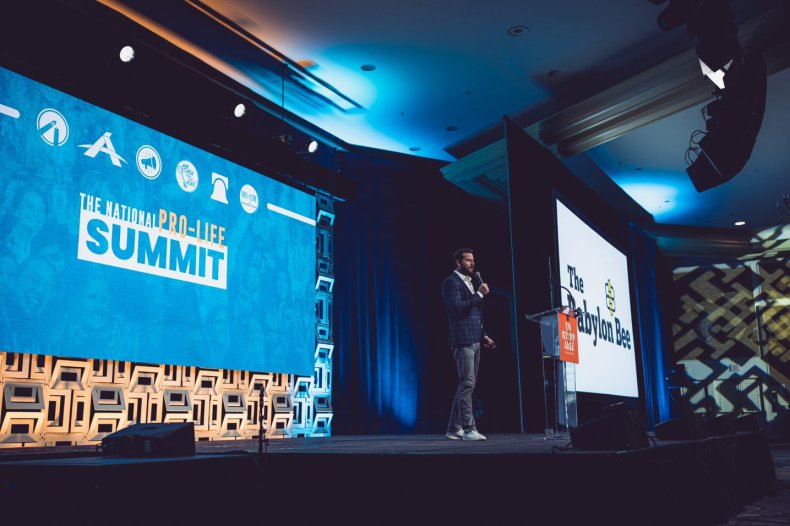 Dillon says the company has grown to 40 staffers and is profitable after generating about $8 million in revenue largely through advertising last year (he won't say who his biggest advertisers are) plus its books (the most popular being The Babylon Bee Guide to Wokeness). It has also launched a genuine news site dubbed Not the Bee and in Texas later this month it will host its first live event. Plus, it sells subscriptions to the site, which buys users exclusive content, including the ability to pitch headlines to Babylon Bee staff. Dillon expects to grow revenue 50% this year to $12 million.
Misinformation accusations
But Dillon complains that some mainstream outlets appear to ignore that the Babylon Bee is satirical, instead complaining that it is a purveyor of misinformation – not least for its mockery of COVID measures introduced in the name of saving lives.
Dillon has little time for the mainstream media and was angered by what he saw as a negative profile of the Babylon Bee in one major outlet, saying it had not reached out to him. It took several weeks before Dillon agreed to Newsweek's interview.
In fact, Dillon doesn't even disclose where his offices are in Florida and California, where he says they "drink liberal tears," write their stories and shoot their podcasts — with no signage identifying who they are due to "safety and security concerns."
Despite being a satirical site, the Babylon Bee has sometimes attracted the attention of media fact-checkers, as when it reported that "the Ninth Circuit Court of Appeals has overturned the death of Supreme Court Justice Ruth Bader Ginsburg" in order to "block Trump from nominating a replacement," prompting USA Today to run a fact-check. Based on its "research," the newspaper rated the claim "satire," adding that it had "no basis in fact". The conservative National Review labeled it "the stupidest fact-check in the history of fact-checking." USA Today didn't respond to Newsweek's request for comment.
Dillon went to war with online fact-checking service, Snopes, because, as he sees it, "They told people we were trying to trick our readers into believing false stories. And the social networks — citing fact-checkers like Snopes — started threatening to take our pages down." After attorneys fired off a cease-and-desist letter, Snopes added "satire" to its arsenal of labels. Snopes did not respond to Newsweek's request for comment.
In March, 2021, a New York Times reporter using information from Snopes described the Babylon Bee as a "far-right misinformation site" that "trafficked in misinformation."
Dillon demanded a retraction and three months later he got one, with a correction noting that Snopes and Facebook had dropped classifying its articles as misinformation rather than satire.
That followed an incident in which the Babylon Bee had reported that "CNN purchased an industrial-sized washing machine to help its journalists and news anchors spin the news before publication." a Snopes fact-check had rated the story "false," and Facebook cited that when threatening to limit the Babylon Bee's monetization and reach.
At the time, the parody site was owned by founder Adam Ford, who tweeted a screenshot of the warning. Facebook quickly retreated, issuing a statement saying that "there's a difference between false news and satire."
Ford founded the Babylon Bee in 2016 and sold it to Dillon for $500,000 less than three years later - after negotiations with another conservative publisher, The Daily Wire, fell through. Dillon has a separate investment in Libs of TikTok, a Twitter account run by Chaya Raichik that mockingly reposts content from liberals and has been accused of citing attacks on them – an accusation it rejects.
Unbanned by Elon Musk
Underlining the Babylon Bee's high profile, it was quickly unbanned after Elon Musk purchased Twitter. It had been banned for several months for naming Dr. Rachel Levine its "Man of the Year," while the transgender assistant secretary of health and human services identifies as female.
Musk was later hosted on a Babylon Bee podcast in which he said he used to be a fan of The Onion, but it had become too politically correct and had "got the woke mind virus." The Onion did not respond to a request for comment.
When asked in the podcast why he had moved from California to Florida, Musk cited high taxes, over-regulation and a Babylon Bee article that joked California Governor Gavin Newsom had been "named U-Haul salesperson of the year" – it was another parody that reflected reality as, later, U-Haul was reported by media to have run out of trucks for people relocating from the Democratic state – a regular target for the Babylon Bee.
Politics, the culture war within America's education system and the rough economy have been the outlet's bread and butter of late and provided more examples of the Babylon Bee possibly getting ahead of the curve.
At one point, it joked that Justice Clarence Thomas, a Black conservative, had received an invitation "to celebrate Ketanji Brown Jackson's confirmation as the nation's first Black Supreme Court Justice." Two months later, Good Morning America tweeted that "Ketanji Brown Jackson is sworn in as the first Black Supreme Court justice in U.S. history" – before correcting its mistake.
In 2021, the Babylon Bee reported that a progressive church had announced a weekly "drag queen Bible story hour." Six months later, a Lutheran church near Chicago hosted a drag queen who spoke from the pulpit and then read to children.
The Babylon Bee hasn't solely poked fun at the left.
Dillon said the faux story of President Donald Trump claiming, "I have done more for Christianity than Jesus" in December, 2019, is its most popular story ever, with more than 3.5 million page views.
Trump later said on TV that "nobody has done more for Christianity or for evangelicals or for religion itself than I have".
For Dillon, nothing should be off limits.
"The goal of the Bee is make people both laugh and think," Dillon told Newsweek. "We believe humor is an effective vehicle for truth."