'Saturday Night Live' Holiday Episode Features Eddie Murphy, Alec Baldwin as President Donald Trump, Lizzo and More
Viewers tuned in last night for the return of Eddie Murphy to his "home ground" of Saturday Night Live, and the return of his former characters Buckwheat, Gumby and Mr. Robinson.
The holiday season episode also saw Alec Baldwin's President Donald Trump take part in the cold open, which was based on the week's events, including the sixth Democratic Debate and U.S. president's impeachment. It also starred Fred Armisen as Michael Bloomberg, Larry David as Bernie Sanders, Rachel Dratch as Amy Klobuchar, Maya Rudolph as Kamala Harris and Jason Sudeikis as Joe Biden. Kate McKinnon played both Nancy Pelosi and Elizabeth Warren.
The sketch saw "Trump" gatecrashing the Democratic Debate after listening in backstage and insulting the candidates. Mocking the candidates, Baldwin's character says: "You think I'm afraid? You think I'm nervous? What are you going to do, impeach me? Hey, losers, impeach me outside, OK?"
But the SNL character wasn't finished and gave nicknames to the candidates such as "Mayor Butt" for Pete Buttigieg, "Klobushart" for Amy Klobuchar and "Andrew Yang. Works as is."
Of course, Baldwin's Trump didn't have the last laugh. McKinnon's character Pelosi turned up bearing a gift of her own—the articles of impeachment. "You know sometimes you get a gift and you like it so much you just want to keep it as a gift to yourself?" she says to Trump. "Good luck at the State of the Union."
The rest was left to Murphy, who hadn't appeared as a star on the show for 35 years. As part of the opening monologue, Murphy is joined by fellow comedians Dave Chappelle, Tracy Morgan and Chris Rock, and exclaims: "What a moment we're having, what a moment we're having!"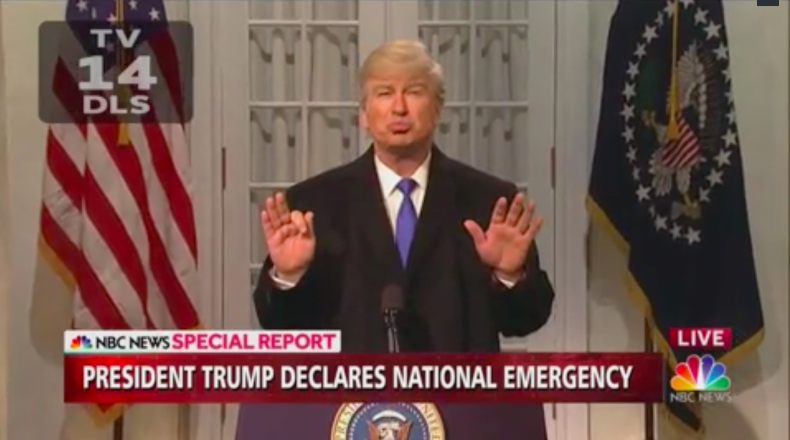 Murphy also revisited his own SNL characters such as Buckwheat, based on the Little Rascals character, the cynical Gumby, and Mr. Robinson, a parody of Fred Rogers.
Murphy took part in the Holiday Baking Championship sketch as a contestant with a cake gone wrong. Filled with innuendoes and a hilarious take on Cinderella's castle, at the end of the sketch, Murphy's character, frustrated with his cake (now on fire) says, "We can still win this s***" and visibly covers his mouth.
Pop sensation Lizzo also performed her song "Truth Hurts" and a holiday-themed remix of "Good as Hell."
SNL and Murphy took to social media to voice their approval of the episode. Actress Kerry Washington tweets: "Eddie Murphy +@lizzo = EVERYTHING!!!!!!!!!!!!!!!!!!!!!" and comedian Jon Lovitz writes: "Can't wait to see Eddie Murphy hosting @nbcsnl tonight!!! It's going to be so great!!!! #EddieMurphySNL."
SNL will return in the New Year on January 25, 2020, according to the show's official Twitter account. It will feature Adam Driver and Halsey.