SNL Skit Has Joe Biden Blaming 'Spiderman' Movie for Pandemic
Saturday Night Live returned from its winter hiatus with a cold open that saw its version of President Joe Biden blaming the current COVID-19 surge on people seeing Spider-Man: No Way Home.
The year's first episode kicked off with James Austin Johnson reprising his role as Biden for a mocked up news conference during which he told the nation to stop watching the movie that broke box office records last month.
"Hello, my fellow Americans," he said. "As I keep saying every chance I get, we're in the middle of a cold, dark winter. This winter is so dark, Republicans don't think it should vote."
He continued: "This virus has disrupted our lives. It's canceled holidays, weddings, quinceañeras, gender-reveal parties, wildfires that started as gender-reveal parties."
It has also disrupted SNL, with Roddy Ricch dropping out as musical guest of Saturday's episode after being exposed to COVID-19.
But Johnson's Biden claimed there was "one simple thing" Americans could do to make the virus go away.
"Stop seeing Spider-Man," he said.
"Think about it, when did Spider-Man come out? December 17. When did every single person get Omicron? The week after December 17."
Johnson's Biden then took questions from the White House press corps.
A reporter, played by Ego Nwodim, asked if he had really just blamed the spread of Omicron variant of coronavirus on people seeing the Spider-Man movie.
"I did, yes" he replied. "Next question."
He was then asked by another reporter, played by Bowen Yang, if he believed the pandemic would end if people stopped going to the movies.
"I didn't say don't go to the movies. I said, stop seeing Spider-Man," Johnson's Biden said. "See anything else. I saw the first half-hour of House of Gucci. That's more than enough movie for anyone."
Asked if this theory was based on any kind of data, he replied: "Yes, everyone in America has seen Spider-Man like eight times. Everyone in America also has COVID. Stop seeing Spider-Man."
Johnson's Biden went on to tell reporters that he hadn't seen the movie because he couldn't get tickets. "Jill and I tried to go last night and they only had one seat left in the front row," he added.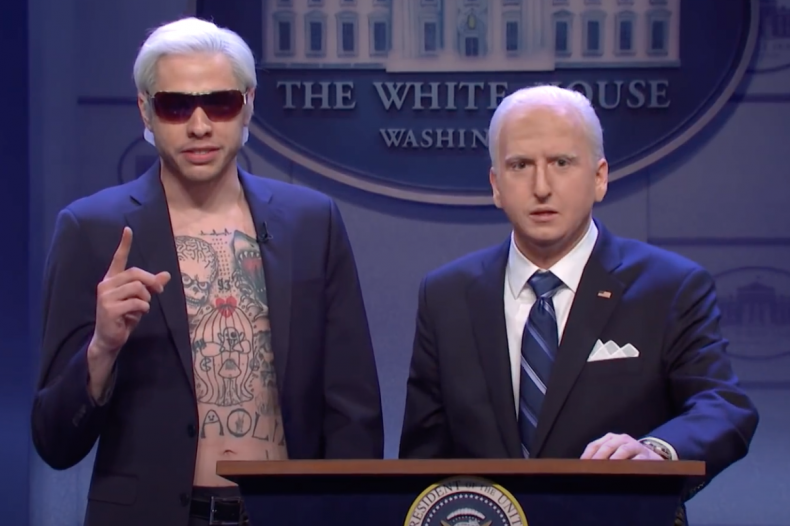 Questioned about the lack of COVID tests, Johnson's Biden replied: "You want to know if you have COVID? Look at your hand. Is it holding a ticket that says you recently went to see Spider-Man? If so, then you have COVID."
Johnson's Biden also linked other issues facing the country, such as inflation, and Democrats' inability to pass the voting rights bill on the Spider-Man movie.
Asked if the difficulty in passing voting rights legislation was because members of his own party refused to get rid of the filibuster, Johnson's Biden said: "It's true. Spider-Man has his villains, I have Joe Manchin and Kyrsten Sinema."
A final question from a reporter asked if the president thought there was a version of him in the multiverse that wants people to see the new Spider-Man movie.
"Finally, a good question!" Johnson's Biden said. "Actually thought about this a lot. I've consulted with Dr. Fauci and Doctor Strange. As far as I can tell, there are at least three Joe Bidens."
As Johnson's Biden started to talk about the other versions of himself and the multiverse, he was visited by a white-haired Pete Davidson who declared that he was Joe Biden "from the real universe."
"The timeline you are all living in is about to collapse," Davidson's Biden explained, adding that it had been created "as a joke, starting in 2016 when the Chicago Cubs won the World Series."
When Johnson's Biden asked him if he was the president in the "real" world, Davidson replied: "Of course not. Did you really think you would lose four times and then finally win when you were 78?"
He added that everyone on Earth was better off "in the real world, except one man named Pete Davidson... now hurry before the portal closes."
Johnson's Biden promises to come back to this world, right after passing the Build Back Better bill.
"Dude, even in the real world, that thing's not passing," Davidson's Biden tells him.