Saturday's Episode of 'SNL' Hosted by Dave Chappelle Was the Most Watched Since Eddie Murphy Hosted Last
Dave Chappelle's recent appearance on Saturday Night Live, alongside musical guests the Foo Fighters, gave the sketch comedy show a big boost in ratings.
John Koblin, a TV reporter for The New York Times, tweeted on Tuesday: "SNL ratings bump following Biden's speech/college football: Dave Chappelle SNL had 9.1 million viewers, most-viewed since Eddie Murphy episode (10 million). And biggest rating in the demo since 2017." Murphy previously hosted SNL on December 21, 2019, with musical guest Lizzo.
In his 16-minute opening monologue, Chappelle reminded folks to be humble in the wake of Joe Biden becoming the president-elect. "I would implore everybody who's celebrating today to remember, it's good to be a humble winner," he told the audience.
"Remember when I was here four years ago, remember how bad that felt? Remember that half the country right now still feels that way. Please remember that."
Chappelle previously hosted SNL in November 2016, right after the presidential election between Donald Trump and Hillary Clinton. He told audience members then that he was going to give then-president-elect Trump a chance. "We, the historically disenfranchised, demand that he give us one, too," he said of minority communities at the end of his monologue at the time.
Chappelle's November 2016 episode (which was his debut as SNL host) garnered 8.691 million viewers, as per Deadline.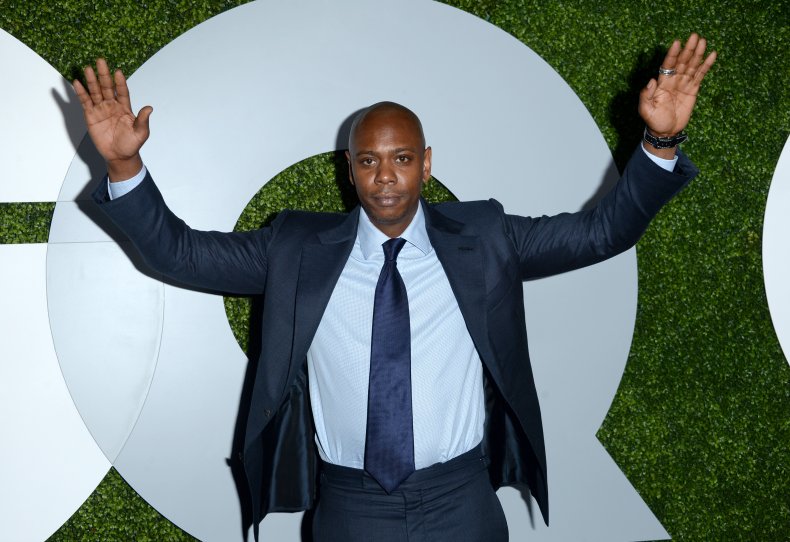 Another memorable moment from Saturday's installment of SNL? The cold open, which imagined Trump's concession speech.
Jim Carrey, as Biden, made a victory speech that echoed the one Biden gave in Delaware hours earlier. "Thank you very much America. We did it!" Carrey said. "Can you believe it? I honestly kind of can't. It's been so long since something good happened."
Maya Rudolph joined Carrey's Biden onstage as Vice President-elect Kamala Harris. "I am humbled and honored to be the first female, the first Black, the first Indian American and the first biracial vice president," Rudolph said. "And if any of that terrifies you, well, I don't give a funt."
The segment also featured Alec Baldwin's Trump, who falsely declared himself the winner of the election. "Good evening, thank you! Thank you for coming to watch my victory speech tonight," Baldwin told the audience. "As anyone who died halfway through Tuesday knows, I was re-elected President of the United States, but of course they're trying to steal the election away from me." Baldwin ultimately "conceded" with a piano rendition of "Macho Man," a nod to when Kate McKinnon, as Hillary Clinton, opened the first episode following the 2016 election (which, again, Chappelle hosted) with a piano rendition of Leonard Cohen's "Hallelujah."