Yemen Bus Attack: Saudi Arabia to Launch Probe into Airstrike That Killed at Least 29 Children
The Saudi Arabia-led military coalition announced that it would launch an investigation into an airstrike that killed at least 29 children on Thursday.
The Houthi-affiliated health ministry said that 51 people, including 40 children, have now died, a number that differs from the 29 child deaths reported by the International Committee of the Red Cross yesterday. The health ministry also said that 79 people were injured in the airstrike, which hit a bus at a market in the northern province of Saada. The vehicle was hit while returning to a school after a picnic, the BBC reported, citing relief organization Save the Children.
While the Saudi-led coalition, which is fighting the Houthi rebels, initially referred to the strike as "legitimate," the attack generated international outrage.
On Thursday, United Nations Secretary-General António Guterres called for an independent investigation into the strike. Guterres said in a statement that the warring parties in Yemen needed to "respect their obligations under international humanitarian law, in particular the fundamental rules of distinction, proportionality and precautions in attack."
The U.S. State Department also urged the Saudi-led coalition to probe the incident.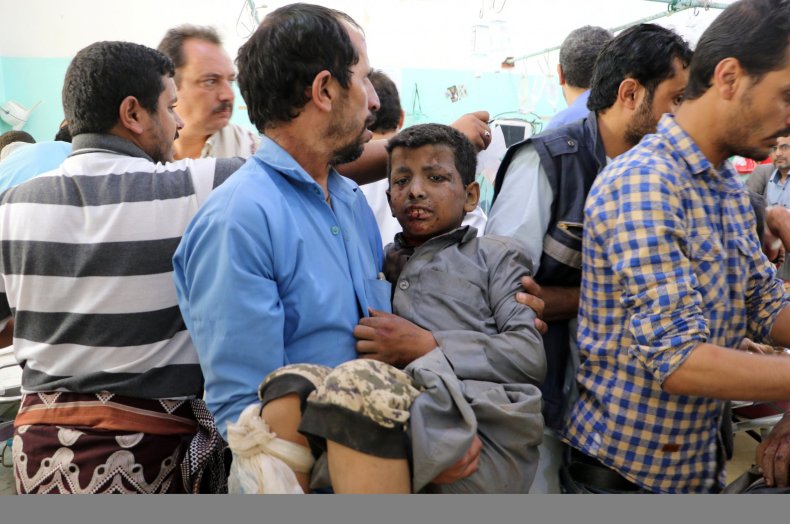 Houthi media showed videos of blood-soaked children receiving treatment in a health center and charred bodies lying underneath the bus.
The United Nations has repeatedly issued statements expressing concern over indiscriminate attacks that have killed and wounded noncombatants.
"Civilians are under fire on all sides, as Houthi and affiliated forces carry out sniper attacks and indiscriminate shelling, and the Saudi-led Coalition continues to conduct airstrikes," United Nations High Commissioner for Human Rights, Zeid Ra'ad al-Hussein said in February.
Nearly 6,000 civilians had been killed in Yemen's war as of February, according to the Office of the United Nations High Commissioner for Human Rights. Almost 9,500 others had been injured.
The coalition has been blamed for the vast majority of child casualties in the war, which began in 2015.
The steady stream of fatalities has been punctuated by a number of particularly deadly incidents. Last December, raids by the coalition led to the deaths of 68 noncombatants in one day. One of the attacks hit a market in country's Taez province, killing 54 people, eight of whom were children. Thirty-two other people were wounded in the strike.
In 2016, the coalition bombed a funeral, causing 140 deaths and injuring 600 people.
An investigation published by The Guardian a month before the funeral bombing revealed that over one-third of airstrikes launched by the coalition hit civilian targets.