Saudi Arabia Remains 'Wedded' to Death Penalty 'Cult:' Report
Saudi Arabia remains committed to the death penalty despite the kingdom moving towards social reforms, according to a new report published by a human rights group.
The European Saudi Organization for Human Rights (ESOHR) said 146 people were executed in Saudi Arabia in 2017, making it the third worst offender in the world—behind China and Iran.
"Amidst Saudi Arabia's abysmal human rights landscape, the use of capital punishment remains a highly contentious issue, particularly where it violates the non-derivable right to life," the report argued. "Employed as a tool of terror by the authorities, the irreversible nature of capital punishment means that this particular violation must be reported on," it added, "particularly when a lack of due process or the use of execution as a political tool is a key concern."
Under the watch of 32-year-old Crown Prince Mohammed bin Salman, Saudi Arabia is trying to promote a more progressive social image. The prince's Vision 2030 program aims to modernize the Saudi economy and foster a more "vibrant society." In an effort to attract foreign investment and expand the country's soft power, a range of relatively liberal steps have been taken. Cinemas have been allowed to open, music concerts by both men and women have been held and women have been given the right to drive, among other new policies.
Despite the reforms, Saudi Arabians remain severely politically repressed. Absolute power still lies with King Salman, and recent clampdowns on human rights activists, prominent businessmen and fellow royals have been designed to drive home the message that reform is gifted to the population, not demanded by it. "Saudi Arabia's poor human rights record continues to plunge into deeper crisis with severe restriction on expression and association, and waves of arbitrary arrests," ESOHR explained.
The kingdom executed eight fewer people in 2017 than in 2016, but remains one of the most prominent users of capital punishment. In recent years, the number of death sentences has grown, coinciding with the ascension of King Salman to the throne in 2015, hitting levels not seen since the 1990s.
Ninety of those executed last year were Saudi nationals and the other 56 were foreigners. Saudi Arabia employs a variety of methods for executions including stoning and firing squads, but the most common is beheading. Convicts are sedated before their execution. The bodies of some of those killed have been crucified afterwards—with the heads sewn back on—as an indignity to the condemned and a warning to other citizens.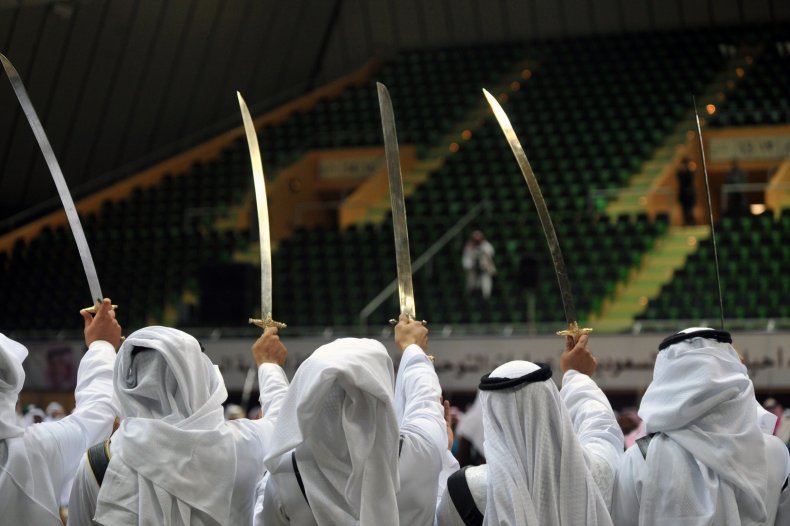 The kingdom occasionally stages mass executions, especially for those accused of terrorism or subversion. In 2016, 47 terrorism convicts were executed across 12 different provinces, most by beheading and four by firing squad. It was the largest execution since the 1980s.
ESOHR said there are 31 detainees who remain on death row, having exhausted all legal challenges. Another 10 are currently appealing death sentences. Between 1985 and 2016, the kingdom executed more than 2,000 people, according to Amnesty International.
China executes the most people of any nation. Though the country does not reveal how many people are killed each year, the figure is believed to be over 1,000. Iran comes in second place, having executed at least 507 people last year. For comparison, the U.S. sent 23 prisoners to their deaths in 2017.