Saudi Arabia Says It Struck Yemen Missile Sites Where Iran's Military Was Present
The Saudi-led coalition formed to fight the Houthi movement in neighboring Yemen has announced new airstrikes that targeted rebel missile sites and elite Iranian military personnel allegedly stationed at them.
Saudi Colonel Turki al-Maliki, head of the Saudi-led and U.S.-backed coalition, said that "legitimate military targets" of the Houthi movement, also known as Ansar Allah, were struck in response to the Yemeni militia's ballistic missile attack Saturday on Riyadh and other areas of the kingdom, according to the Saudi Press Agency.
Maliki said the targets included sites used by the Houthis for storing and assembling various weapons such as missiles and drones, along with positions manned by experts of Iran's Revolutionary Guard. Washington and Riyadh have accused Tehran of shipping advanced arms to the Houthis, a Zaidi Shiite Muslim group, but the two allies deny the charge.
Despite a five-year campaign, Saudi Arabia and its partners, including the United Arab Emirates, have struggled to oust the Houthi militia that captured Yemen's capital city of Sanaa in early 2015 and has asserted control over other strategic areas.
Fighting has persisted despite repeated cease-fire attempts, leaving the country so ridden by conflict, disease and malnutrition that United Nations officials have described it as the world's worst humanitarian disaster. Amid these deteriorating conditions, Yemen remains among the fewer than two dozen countries that have not yet reported any cases of the new coronavirus.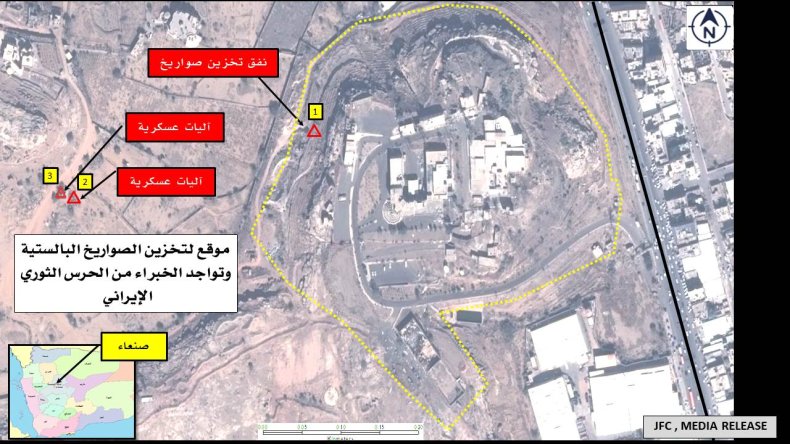 While Yemen was just one country in which Riyadh and Tehran's decades-long regional bout for influence was playing out, direct confrontation between the two rivals was rare. The stakes of their conflict have been raised, however, as President Donald Trump's administration tightened its maximum pressure campaign to economically and politically isolate the Islamic Republic.
Last spring, Saudi ships were among the oil tankers targeted in a series of unclaimed attacks in the Gulf of Oman and, in September, two Saudi oil facilities were hit by a missile and drone attack claimed by the Houthis. Saudi Arabia and the U.S. blamed both incidents on Iran's Revolutionary Guard, whose Quds Force has established ties across the Middle East and beyond.
Regional tensions soared in January when the U.S. killed Quds Force commander Major General Qassem Soleimani at Baghdad International Airport, setting off a new wave of unrest in Iraq, as well as an Iranian missile strike on facilities hosting U.S. and allied troops there. Iran has since vowed to expel U.S. forces from the region, including from Saudi Arabia, where Trump ordered the first deployment to the kingdom in 16 years as part of an expanding U.S. military presence now threatened by the coronavirus.
While the U.S. has reported the largest number of COVID-19 cases in the world at more than 144,000, Iran too has been heavily afflicted with about 41,500 reported instances. Saudi Arabia has registered just over 1,400 cases but the Pentagon has begun restricting troops movements across its commands in an effort to prevent the coronavirus from further spreading through its ranks.
While the U.S. has said it would offer humanitarian assistance to Iran as they both battled COVID-19 cases at home, the State Department has since expanded sanctions against Tehran, which has accused Washington of waging "economic terrorism" since leaving a 2015 multilateral nuclear deal. Iran has sought a diplomatic solution to tensions with the U.S. and Saudi Arabia, but its armed forces have continued to tout their warfighting prowess.
"The Islamic Republic of Iran's outstanding achievements and successes in the fields of defense and military have brought the country to a point of deterrence that our enemies are recoiling in strategic horror and desperation," the Iranian armed forces' general staff said Monday in a statement commemorating the founding of the Islamic Republic 41 years ago, according to the semi-official Tasnim News Agency.