Saudi Arabia Officially Blames Oil Attack on Iran, Which Says It's Ready for War But Doesn't Want One
Saudi Arabia has officially blamed recent attacks against key oil sites in the kingdom on its top rival, Iran, which has said it was prepared for a potential conflict, though it sought to avoid such an outcome.
Colonel Turki bin Saleh al-Maliki, a spokesperson for the Saudi-led coalition battling the Ansar Allah, or Houthi, Zaidi Shiite Muslim movement in Yemen, hosted a press conference Wednesday in which he presented a range of weaponry allegedly used in Saturday's attacks on the Abqaiq oil-processing site and nearby Khurais oil field. He attributed the weapons, which included 18 drones and seven land-attack cruise missiles, to "the Iranian regime and the Iranian IRGC," a reference to the elite Islamic Revolutionary Guard Corps.
Maliki displayed evidence purporting to show that "the direction of the attack came from north to the south" and demonstrated "advanced capability." This he said, suggested it did not originate from Yemen as was claimed by the Houthis, who he argued were "just following the order of the IRGC" in their narrative.
"Right now we are working to know exactly the launch point, whoever launched the UAV, the cruise missile, will take the accountability for attacking the Saudi infrastructure and the Saudi civilians," Maliki said, adding that "this not against Saudi Aramco or the Kingdom of Saudi Arabia, it was an assault on the international community; a deliberate attempt to disrupt the global economy and the energy industry."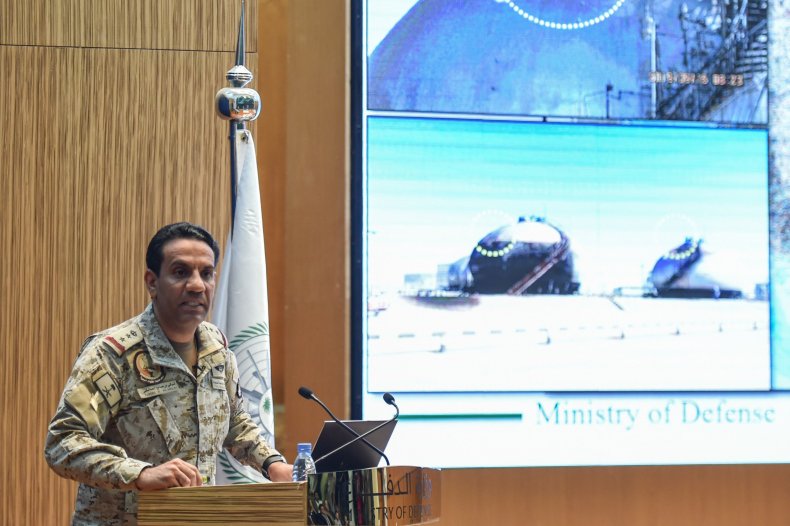 Asked how Saudi Arabia could determine the launch site, Maliki told reporters that "some of the components here, the Iranian regime and the IRGC, they are trying to erase the information, however, we have collected enough information." He declined, however, to answer a follow-up question as to whether he had determined whether or not it was Iranian forces themselves who launched the attack.
The Houthis held their own press conference, where spokesperson Yahya Saree doubled down on the group's claims that their forces carried out the attacks using drones as part of their Operation Deterrence Balance 2. Like Maliki, Saree displayed supposed satellite imagery of the attack sites and claimed the "Americans tried to publish fabricated images after the operations with their surveillance aircraft to make them seem less serious," threatening further attacks against both Saudi Arabia and the United Arab Emirates.
Iran, meanwhile, has long dismissed claims that it directly backed the Houthis in their four-year conflict with the Saudi-led coalition. In an official note sent earlier Wednesday to Washington via the Swiss embassy in Tehran, Iranian officials continued to deny their country's involvement in Saturday's attacks and warned any their forces any attack on Iran would be met with an immediate reaction not confined to the source of the strike.
Iranian Supreme National Security Council Secretary Ali Shamkhani said Wednesday that "Iran's strategic policy is to reduce tensions, avoid any conflict and resolve regional crises through dialogue," according to the semi-official Tasnim News Agency. He warned, however, that "the country is fully prepared to monitor any intention or attempt to attack the Islamic Republic or its interests and will surprise aggressors most severely through a crushing and comprehensive response to possible evil actions."
In a tweet, Trump said earlier Wednesday that he had "just instructed the Secretary of the Treasury to substantially increase Sanctions on the country of Iran!" The day before, the president said it was "looking like" Iran was behind the attack, but did not go as far as Secretary of State Mike Pompeo, who quickly blamed Tehran on Saturday.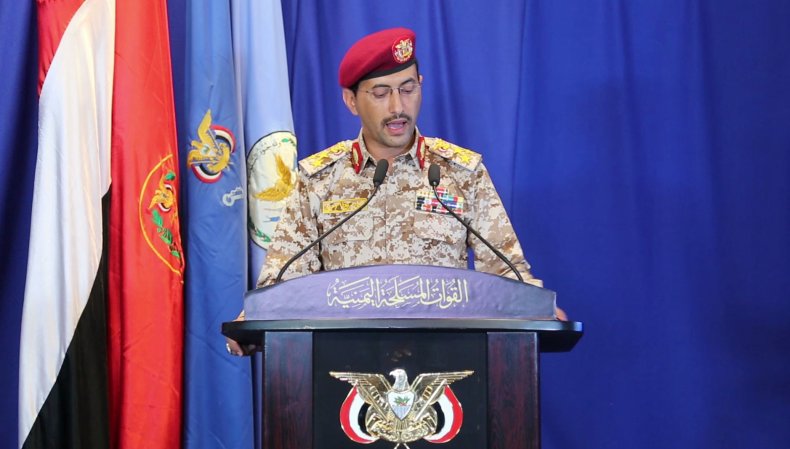 Tensions between Tehran and Riyadh have played out amid a U.S.-led campaign to isolate Iran's growing regional influence. Seen as a staunch ally of Iran's foes Saudi Arabia and Israel, President Donald Trump left a 2015 nuclear deal, accusing the Islamic Republic of using sanctions relief to further support militant groups and develop missile technology and imposing new economic restrictions that have put the U.S. at odds with China, the European Union, France, Germany, Russia and the United Kingdom, all of whom still support the agreement.
Beijing and Moscow have also condemned the attack in Saudi Arabia, but have called on Washington and the international community to hold off on making preemptive accusations as to Tehran's potential involvement. Russian President Vladimir Putin also offered to sell Saudi Arabia advanced S-300 and S-400 surface-to-air defense systems as he did Iran and Turkey, respectively, during a press conference alongside the leaders of both countries.
Saudi Arabia has mostly deployed U.S. defenses, which apparently failed to detect Saturday's reportedly low-flying strikes. Kremlin spokesperson Dmitry Peskov said Wednesday, however, that the potential arms sale was not discussed during a phone call earlier in the day between Putin and Saudi Crown Prince Mohammed bin Salman, according to the state-run Tass Russian News Agency.
Iranian supreme leader Ayatollah Ali Khamenei has dismissed the possibility of any meeting between Iranian President Hassan Rouhani and Trump at the upcoming United Nations General Assembly, or any other Tehran-Washington dialogue until the U.S. upheld its nuclear deal commitments. Trump has also rescinded his previous offers to meet without preconditions.