Russia Offers Saudi Arabia Same Missile Defense It Sold Iran After U.S. Systems Fail to Stop Attack
Russia has offered to sell Saudi Arabia the same missile defense it sold Iran and Turkey after U.S. systems failed to detect or intercept a recent attack on key oil sites in the kingdom.
Russian President Vladimir Putin said Monday his country was "ready to provide appropriate assistance to Saudi Arabia" in the wake of attacks claimed Saturday by the Yemeni Zaidi Shiite Muslim rebel group known as Ansar Allah, or the Houthis, against the Abqaiq oil-processing site and Khurais oil field. Putin said Saudi Arabia could better protect itself "by making a wise state decision, as Iran has already done in buying the S-300 Russian missile system and as [Turkish President Recep Tayyip] Erdogan has already done in buying the S-400 Russian missile system."
Putin made the offer during a tripartite meeting alongside his Iranian and Turkish counterparts in Ankara, hours after the Saudi-led coalition battling the Houthis in Yemen alleged that Iranian weapons were used in Saturday's strikes and were launched from outside of Yemen. Secretary of State Mike Pompeo has claimed Iran itself was behind the attack, something Tehran has denied.
The U.S. has an extensive network of military assets in the Persian Gulf region separating Iran from Saudi Arabia and its allies on the Arabian Peninsula, including several Patriot missile defense systems. These weapons have failed to intercept previous Houthi strikes closer to the battlefield in the west, nor did they prevent the latest attacks deep in Saudi Arabia's east.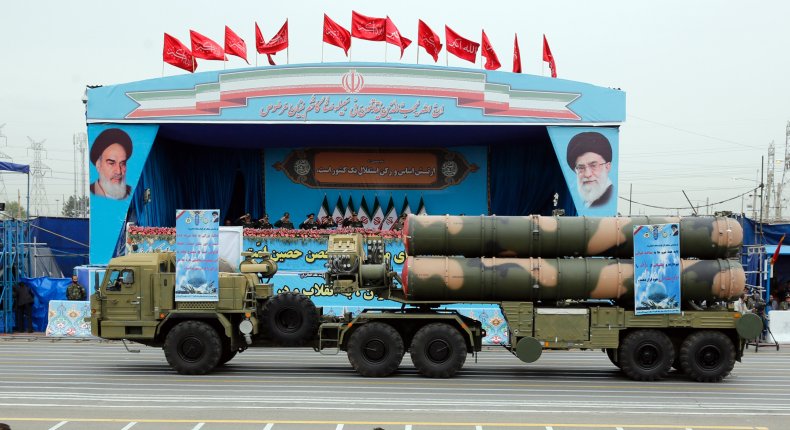 Russia has carefully balanced its relations across the Middle East, courting Iran along with its top foes, Saudi Arabia and Israel, and other major powers like Turkey, a member of the U.S.-led NATO Western military alliance. The U.S., on the other hand, has sided firmly with Israel and Saudi Arabia, along with the kingdom's allies Arabian Peninsula allies, and has punished Turkey for recently acquiring Russia's S-400 by canceling a planned sale of advanced F-35 fighter jets.
The S-400 has proven a coveted asset among regional powers with close U.S. ties, however, and Saudi Arabia too has previously expressed interest. Riyadh has instead moved forward with a purchase of the U.S.' Terminal High Altitude Area Defense (THAAD), a system with a longer-distance radar than the Patriot but designed only to intercept missiles and not aircraft, unlike the dual-use S-400 and Patriot.
Moscow has also deployed S-400 systems to its own military sites in Syria, where both Russia and Iran backed the government against a rebel and jihadi uprising once supported by the U.S. and a number of its regional allies, including Israel, Qatar, Saudi Arabia and Turkey, which continues to be primary international sponsor of the opposition. Last year, Russia also sent S-300 systems to Syria after older S-200 systems operated by Syrian troops accidentally downed a Russian Il-20 surveillance plane during an Israeli raid on suspected Iranian positions, though it was unclear whether control of these weapons have since been handed over from Moscow to Damascus.
While Moscow has managed to bring Tehran and Ankara together as part of its trilateral Syria peace process, regional tensions surrounding the Persian Gulf region have proven a more potent threat to regional stability in recent months. The Russian Foreign Ministry condemned Saturday's attacks in Saudi Arabia, but warned against issuing blame preemptively.
"We strongly recommend not rushing to conclusions about who carried out this attack on the Saudi refineries," the ministry said in a statement Monday. "We consider it counterproductive to use what happened to build up passions around Iran in line with the well-known U.S. line and all the more unacceptable are options that provide for retaliatory force measures, which are allegedly being discussed at present in Washington."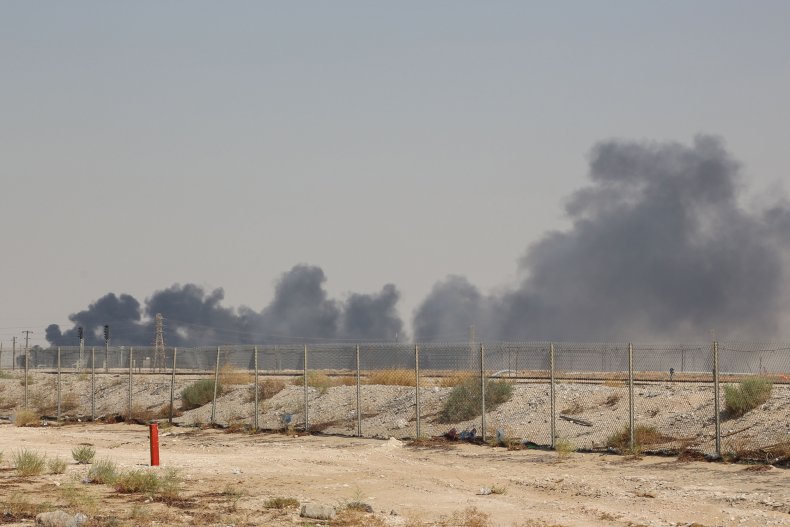 Trump tweeted Sunday that the U.S. was "locked and loaded depending on verification" of who or what was behind the attack as various outlets such as ABC News and CNN cited unnamed administration officials alleging intelligence pointed to an Iranian cruise missile and drone attack.
Trump also questioned the official account Monday by pointing to the Iran's claims in June of having shot down a U.S. drone within Iranian territory despite the Pentagon asserting the device was in international airspace. In that strike, the elite Revolutionary Guards said they used the indigenously-built 3rd Khordad surface-to-air missile system.
Trump doubled down on his suspicions later that same day, telling reporters at the White House that "it's looking" like Iran was the culprit in Saturday's strikes in Saudi Arabia. The president has long condemned Iran's alleged backing of militant groups abroad and its development of advanced missile technology, and the two charges were among the reasons he justified his decision to leave the 2015 nuclear deal with Iran.
Russia and China have continued to abide by the agreement, while European signatories have struggled to uphold their commitments as the Trump administration threatened to sanction those doing business with Iran. France has sought to foster a dialogue between the U.S. and Iran, but Iranian Foreign Ministry spokesperson dismissed speculation of a potential meeting between Trump and Iranian President Hassan Rouhani on the sidelines of the upcoming United Nations General Assembly.