Donald Trump Says 'We'll See' if Iran Attacked Saudi Arabia, As U.S. and Israel Accused of 'Aggression'
President Donald Trump has cast further suspicion upon Iran's over its potential involvement in a recent attack against Saudi oil sites, even after the Islamic Republic dismissed any role in the affair.
A day after warning the U.S. was "locked and loaded depending on verification" of who and what was behind Saturday's blasts at the Abqaiq oil-processing facility and Khurais oil field in eastern Saudi Arabia, Trump directly named Iran as a possible culprit in a tweet. He referenced a previous incident in June, when Iran's Revolutionary Guards shot down a U.S. Navy drone they claimed had breached their country's airspace in an account disputed by the Pentagon.
"Remember when Iran shot down a drone, saying knowingly that it was in their 'airspace' when, in fact, it was nowhere close. They stuck strongly to that story knowing that it was a very big lie. Now they say that they had nothing to do with the attack on Saudi Arabia. We'll see?" Trump tweeted Monday.
Secretary of State Mike Pompeo has already laid the blame on Iran, holding the longtime U.S. foe responsible just hours after reports of the incident emerged. He claimed in a tweet Saturday that there was "no evidence the attacks came from Yemen," where a Zaidi Shiite Muslim rebel group known as Ansar Allah, or the Houthis, claimed responsibility for the operation as part of their five-year war against a Riyadh-led coalition accusing the insurgents of receiving support from Tehran.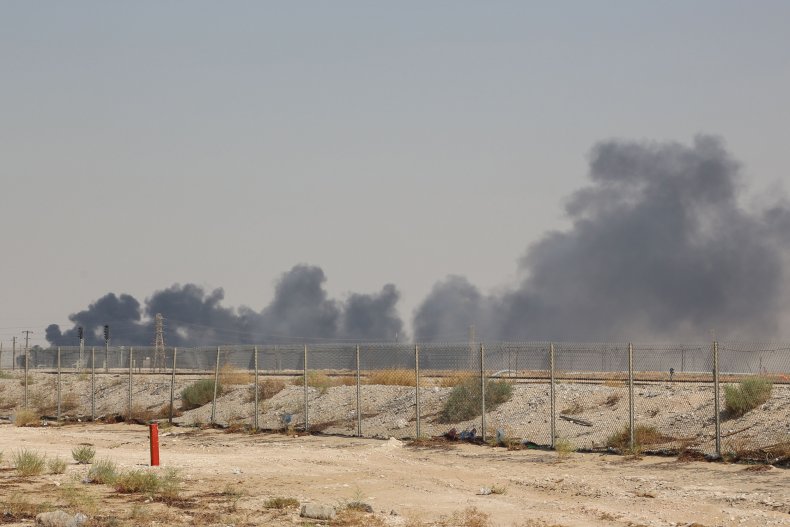 Pompeo's comments, in which the diplomat called "on all nations to publicly and unequivocally condemn Iran's attacks," drew a wave of condemnation from Iranian officials, including Foreign Ministry spokesperson Abbas Mousavi. He accused the Saudi-led coalition in Yemen of having "kept the flames of war alive in the region by repeatedly launching aggression against Yemen and committing different types of war crimes ,and the Yemenis have also shown that they are standing up to war and aggression."
"Such accusations as well as blind and futile comments are pointless and not understandable within the framework of diplomacy," Mousavi argued Sunday in a statement. "In international relations, even 'animosity' must have some minimum requirements and logical frameworks to be believable, but US official have ignored even these minimum requirements."
Mousavi further warned that "such comments and actions are more like planning by secret and intelligence services to tarnish the image of a country in order to set the scene for future moves" and suggested that the Trump administration's so-called "maximum pressure" strategy had failed, leading it to turn to "maximum lies."
Iranian President Hassan Rouhani also accused Saudi Arabia and its allies of having killed civilians in Yemen, where nearly 100,000 have been killed, according to data published by the Armed Conflict Location and Event Data project. The Iranian leader also said that in order to achieve regional security, "a full stop must be put to acts of aggression by the U.S. and provocative interventions by the Zionist regime," a reference to Israel.
Israel and Saudi Arabia were among the few international countries to back Trump's decision last year to abandon a 2015 nuclear deal with Iran, an agreement also endorsed and still supported by China, the European Union, France, Germany, Russia and the United Kingdom. As the U.S. constricted Iran's economy with sanctions and expanded its military presence in the Middle East, further unrest has broken out in the Persian Gulf region and Israel has stepped up its cross-country strikes against international targets allegedly associated with Iran, raising regional concerns of a wider conflict erupting.
As conditions surrounding what the United Nations has described as "the world's worst humanitarian crisis" in Yemen further deteriorated, the Houthis have expanded their war effort against Saudi Arabia itself, using ballistic missiles and unmanned aerial vehicles to target strategic positions such as bases and airports. In the wake of the blasts at Abqaiq, the Houthis claimed to have utilized ten of their Qasef 2k armed drones in the operation that managed to disrupt global oil supplies.
The U.S. and Saudi Arabia have previously accused Iran of providing the Houthis with direct support, but outlets such as ABC News and CNN have cited senior Trump administration officials as saying intelligence suggested the attack may have involved cruise missiles and drones launched directly from Iran. Images of the sites released by the U.S. government showed what the Associated Press cited officials as arguing was evidence that the attacks were more likely to have originated from Iraq or Iran than from Yemen, but Pompeo later agreed with Iraq's denial of having hosted such an operation following a phone call with Iraqi Prime Minister Adel Abdul-Mahdi.
While Saudi Arabia, the United Arab Emirates, Bahrain and Egypt have condemned what they called "Iran's role in destabilizing the security and stability in the region," other countries such as Oman simply condemned the move, without directly identifying a culprit.
Chinese Foreign Ministry spokesperson Hua Chunying said her country does not "think it is responsible to assert who is responsible before a conclusive investigation" and "is against any move that will aggravate conflict" at a press conference Monday. That same day, the Russian Foreign Ministry criticized the strikes in a statement, but said it would also "strongly recommend not rushing to conclusions about who carried out this attack," arguing it was "it counterproductive to use what happened to build up passions around Iran in line with the well-known U.S. line."
Since 2015, Moscow has joined Tehran in supporting the Syrian government against a rebel and jihadi uprising once backed by the U.S. and regional allies including Israel, Qatar and Saudi Arabia. Turkey, which continues to sponsor opposition forces, has since joined Russia and Iran for trilateral talks in an effort to resolve the eight-year conflict, and the heads of the three countries met in Ankara in recent days as part of this peace process.
Despite its strategic partnership with Iran, Russia has also attempted to maintain close security ties with Israel, which has launched hundreds of strikes against targets suspected of being associated with Tehran in Syria. Citing an unnamed Russian source, The Independent's Arabic-language publication reported that Russia has intervened to prevent several Israeli strikes against Syrian military positions in recent weeks.