Iran Dismisses U.S. Blame Over Saudi Oil Field Attack As 'Maximum Falsification' That 'Ignored' Logic
Iran has dismissed accusations by the U.S. that it was behind coordinated strikes on Saudi Arabia's oil fields, saying that this assessment was a "maximum falsification" that "ignored" logic.
"In international relations, even 'hostility' [should have] a minimum degree of credibility and logical frameworks, but the U.S. officials have ignored even such minimum principles," Abbas Mousavi, a spokesperson for Iran's Foreign Ministry, said in a Sunday statement, according to Iran's Tasnim News Agency.
"Such [American] comments and measures are more akin to the plots hatched by secret and intelligence services for damaging the image of a state to prepare the ground for a series of [hostile] measures in [the] future," he continued.
Mousavi argued that President Donald Trump's administration's "maximum pressure" policy toward Iran has become one of "maximum falsification in the wake of failures."
The Houthis, which are backed by Iran and control a large portion of Yemen, on Saturday claimed responsibility for the attack on Saudi Arabia's Aramco oil fields. The Middle Eastern kingdom is one of the leading producers of oil globally, producing about 10 percent of the world's daily supply. According to Saudi officials, nearly half of its oil supply, or 5 percent of the global oil supply, was disrupted by the drone attacks.
Yemen has been embroiled in a civil war since 2015, with the Houthis fighting against a Saudi-led coalition backing the country's deposed government. The U.S. provides military support to the alliance, despite bipartisan efforts by Congress – which have been blocked by Trump – to cut off the assistance. Coalition strikes have been blamed for large numbers of civilian casualties in Yemen as well as humanitarian crises, leading to international condemnation.
Responding to the attack on Saudi Arabia on Saturday, Secretary of State Mike Pompeo placed the blame squarely on Iran.
"Tehran is behind nearly 100 attacks on Saudi Arabia while Rouhani and Zarif pretend to engage in diplomacy. Amid all the calls for de-escalation, Iran has now launched an unprecedented attack on the world's energy supply. There is no evidence the attacks came from Yemen," Pompeo wrote on Twitter.
"We call on all nations to publicly and unequivocally condemn Iran's attacks," the top Trump administration official added in a follow-up tweet.
Iranian Foreign Minister Javad Zarif responded with a Sunday tweet of his own, echoing the statement by his ministry's spokesperson.
"Having failed at 'max pressure', @SecPompeo's turning to 'max deceit'. US & its clients are stuck in Yemen because of illusion that weapon superiority will lead to military victory," Zarif wrote. "Blaming Iran won't end disaster. Accepting our April '15 proposal to end war & begin talks may."
Jamal Abdi, president of the National Iranian American Council, warned that Pompeo's assessment of the attack on Saudi Arabia should not be trusted.
"Unfortunately, it's impossible to take anything from this administration at face value. Even Pompeo's comments seem aimed at obscuring whether there is evidence of Iranian involvement," Abdi told Newsweek. "From someone who has tried to falsely tie Iran to 9/11 in order to justify potential war, anything Pompeo says about the Iranian bogeyman is suspect."
Abdi also urged the Trump administration to return to dialogue instead of maximum pressure. "The US has the greatest power to seek balance through engagement and that starts by returning to our obligations under the Iran deal and getting all equities to the table and off of the battle fields," he said.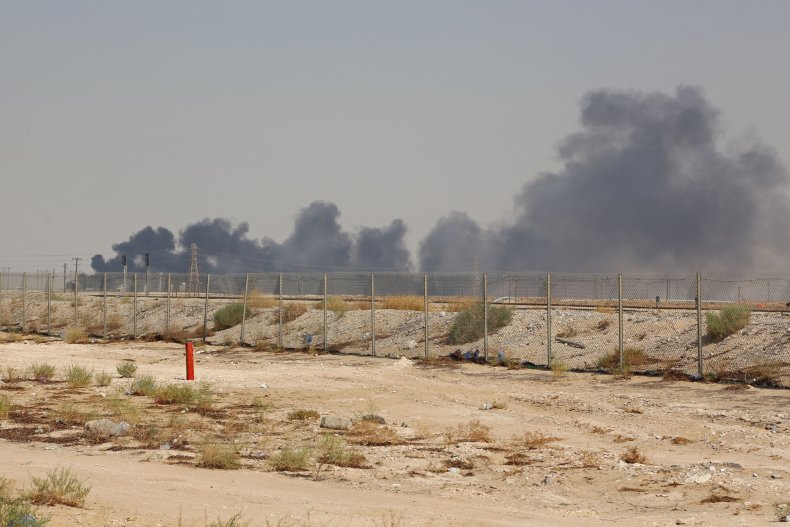 Although tensions between the U.S. and Iran have been high for decades, they have escalated under Trump after a period of improvement under former President Barack Obama. In May 2018, Trump withdrew the U.S. from the international Joint Comprehensive Plan of Action treaty, known commonly as the Iran Nuclear Deal, which was signed by Obama in coordination with Iran, the European Union, the United Kingdom, France, Germany, Russia and China.
That agreement aimed to curb Iran's nuclear capabilities in exchange for international sanctions relief and investment. While consistent reports by the United Nations nuclear watchdog found that Iran remained in compliance with the treaty's terms, Trump chose to leave the agreement, believing it was a bad deal for the U.S.
The Trump administration has since implemented crippling financial sanctions targeting the Persian Gulf nation, despite significant pushback from the treaty's other signatories. A year after Trump's withdrawal, Iran began stepping back from its commitments under the agreement.