Saudi Arabia said it still has not identified the perpetrator of an attack on its oil sites, despite it being claimed by a Yemeni rebel group and blamed on Iran by the United States.
Saudi Energy Minister Prince Abdulaziz bin Salman told a press conference Tuesday that "we do not know at this moment who caused the attacks on Aramco," the kingdom's state-run oil company tasked with running the Abqaiq oil-processing site and nearby Khurais oil field targeted in attacks Saturday. The royal vowed to identify the culprits, however, and hold them responsible.
The Yemeni Zaidi Shiite Muslim movement known as Ansar Allah, or the Houthis, claimed responsibility for what they said they said was a drone attack against the crucial energy sites, but Secretary of State Mike Pompeo almost immediately blamed Iran, with President Donald Trump also later expressing suspicions about the Islamic Republic's potential role.
Since then, various outlets have cited unnamed U.S. officials suggesting Iran was behind a combined cruise missile and drone strike on the facilities, though no evidence has been presented beyond satellite imagery of the attack sites. In the latest development, CBS News cited a U.S. official Tuesday pinpointing the supposed exact launch site as being in the south of Iran, despite Tehran's repeated denials.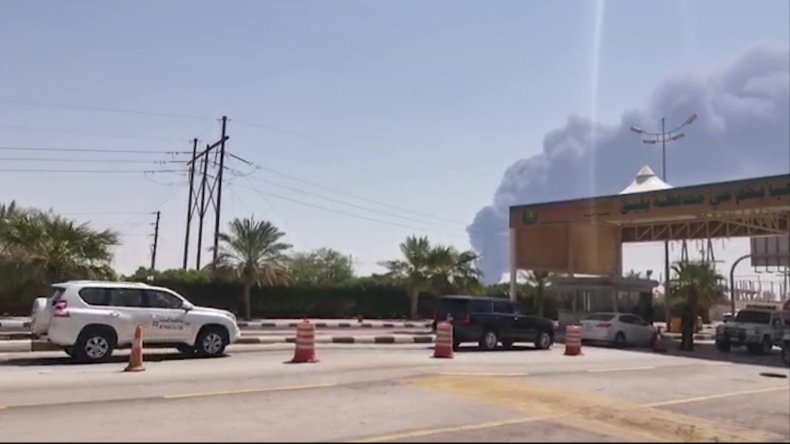 Riyadh itself has so far held off on stating an official opinion, though the Saudi-led coalition battling the Houthis suggested the attack appeared to have utilized Iranian weapons and to have originated from outside of Yemen, where its struggled to limit the group's influence for more than four years. Saudi Arabia and its allies, including the U.S., have accused the Houthis of receiving Iranian assistance, though both parties deny this — however, Tehran has continued its foes' roles in the deadly conflict.
"US is in denial if it thinks that Yemeni victims of 4.5 yrs of the worst war crimes wouldn't do all to strike back. Perhaps it's embarrassed that $100s of blns of its arms didn't intercept Yemeni fire. But blaming Iran won't change that. Ending the war=only solution for all," Iranian Foreign Minister Mohammad Javad Zarif tweeted Tuesday.
"Just imagine: The US isn't upset when its allies mercilessly BOMB babies in Yemen for over 4 years—with its arms and its military assistance. But it is terribly upset when the victims react the only way they can—against the aggressor's OIL refineries," he added.
Asked Monday if he believed Iran was behind the attacks, Trump told reporters "it's looking that way" during a press conference alongside Bahraini Crown Prince Salman bin Hamad, another close ally of Saudi Arabia. He said his administration was "having some very strong studies done" as to who was responsible for the attacks, adding: "I don't want war with anybody, but we're prepared more than anybody."
Trump denied promising Saudi officials he would conduct military action on their behalf, but said that "we would certainly help them." He called the kingdom a "great ally" and said "Saudi Arabia pays cash," arguing they created U.S. jobs and have proven a greater international partner "unlike some countries, where they want terms and conditions."
The Persian Gulf region has witnessed greater unrest since Trump's decision last year to abandon a 2015 nuclear deal with Iran. Despite ongoing support for the agreement from fellow signatories China, the European Union, France, Germany, Russia and the United Kingdom, Trump abandoned it, claiming the terms did not go far enough in curbing Iran's alleged support for militant groups abroad and its development of missile technology.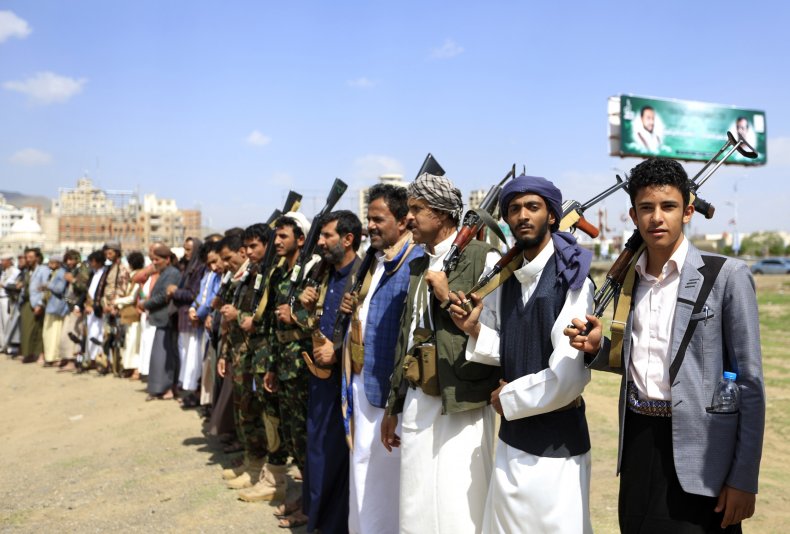 As the Pentagon expanded its own military presence in the region, including the first deployment of U.S. troops to Saudi Arabia in 16 years, the White House blamed Iran for a series of attacks targeting oil tankers in the Gulf of Oman. Saudi Arabia also held Iran responsible, though its close partner, the United Arab Emirates, said there was insufficient evidence and cautioned against casting preemptive judgment.
Many other countries have also avoided choosing sides on the latest incident, which disrupted the same global oil market to which the U.S. has been attempting to sever Iran's ties via sanctions. Chinese Foreign Ministry spokesperson Hua Chunying said Beijing "condemns the attacks on Saudi Arabia's oil facilities" and was "against any attack on civilians and civil facilities," while calling "on relevant sides to refrain from actions leading to escalation of tensions in the region."
The previous day, she said China does not "think it is responsible to assert who is responsible before a conclusive investigation." The Russian Foreign Ministry also issued a statement Monday, condemning the strikes while at the same time warning against rushing to conclusions about who carried out this attack" as it would be "counterproductive to use what happened to build up passions around Iran in line with the well-known U.S. line."
With the United Nations General Assembly approaching later this month, hopes for a potential U.S.-Iran dialogue have continued to fade with Trump dismissing his earlier offer to meet without preconditions and Iranian supreme leader Ayatollah Ali Khamenei saying there could no dialogue until the U.S. respected its nuclear deal commitments.