Dachshund Goes Viral Thanks to Owner's Inventive Balloon Hack on Walkies
An adorable video of a dog owner's solution to their wandering Dachshund has delighted viewers online.
In the video, entitled 'Why We Never Lose Lola,' Lola the sausage dog can be seen frolicking around in nature with a heart-shaped balloon tied on to her harness, so she can be seen in long grass.
The video, posted to TikTok page 3sausages1lab, has amassed over 150 thousand likes, and 1.3 million views.
According to U.K. pets charity PDSA, "Dachshunds are surprisingly high energy, so giving them plenty of exercise is an absolute must to keep them happy and healthy.
"Your Dachshund will need a minimum of an hour exercise every day (half an hour if you have a miniature variety). This should be split into a couple of walks, one slightly longer to allow lots of time for sniffing.
"They will also need plenty of time to run and play off-lead in a secure area. However, you should be careful with the type of exercise they do: Dachshunds shouldn't jump as they can easily damage their backs."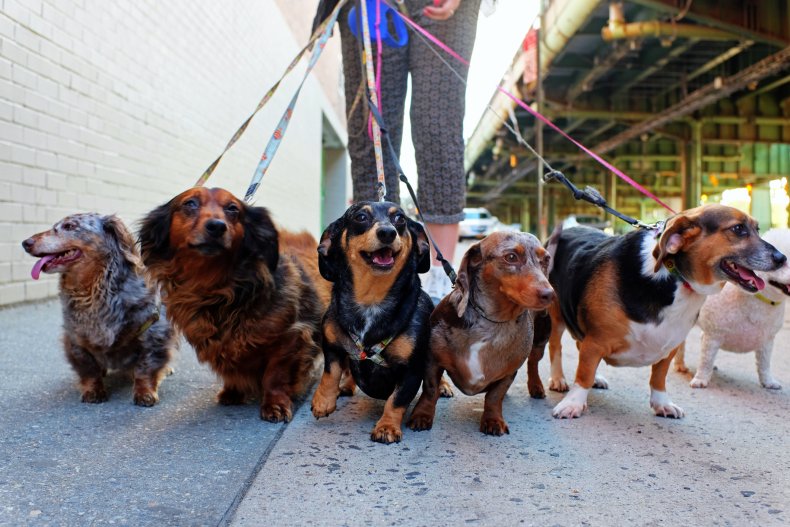 Website Sweet Dachshunds emphasizes the need to let your sausage dog off the lead to sniff around in nature, due to their incredibly strong sense of smell.
"First and foremost, it means that your dog will listen to its nose way more than it listens to you. Again, this is true for all scent hounds: as soon as they smell something funny, interesting, or delicious, their long ears will suddenly stop 'working' and your dog will spring into tracking mode.
"This is where not just the Dachshund's strong nose but its willful and driven personality comes in. These dogs were purposefully bred to be quite stubborn precisely in order to ignore all distractions once they catch the badger's sense on the ground."
So, maybe a balloon is the way forward if your dogs nose is stronger than its desire for recall!
Hilariously, many users commented that they thought the video was going to be about how not to lose a grandmother, with one user commenting, "Not me thinking she/he was talking about his/her grandma... (only Filipinos will understand)," while another person wrote, "I gasped in Filipino. I thought you were referring to your grandma."
'Lola' is the most commonly used Filipino word for grandmother, while the suffix 'sa tuhod' is added for great grandmother, 'lola sa tuhod'.
One user commented they will be trying this with their own pooch.
"This is an amazing idea. I have a small dog and this would be perfect," while another person wrote, "All fun and games until the balloon starts going up."
Do you have funny and adorable videos or pictures of your pet you want to share? We want to see the best ones! Send them in to life@newsweek.com and they could appear on our site.