'Sausage Rescue': Owners in Hysterics After Dog Climbs Tree and Gets Stuck
Dachshunds are known for their tiny but adorable legs. Still, one sausage dog showed the world that size doesn't matter after getting trapped while climbing a conifer.
In a video shared on 26 June by TikToker @dewey_doll_28, Willow Dewey is seen being pulled from the tree by a rescuer. Surrounded by branches, the sausage dog seems tiny in comparison to the foliage engulfing her.
"Oh Wills," giggles the pup's owner. "Proper sausage."
"That's really high," another voice can be heard saying. "What were you doing?"
Captioned "Sausage rescue!,"TikTok users couldn't get enough of the hilarious clip, with the post receiving over 22,000 likes.
"So smol," said christianross02.
"'What are you doing!?! Put me back immediately!!'" joked JustNatalieK.
"She is like 'damn they found my secret stake out spot,'" wrote User18383.
"Why are dachshunds like this?" asked Nic.
According to research on breed intelligence by canine psychologist Stanley Coren, dachshunds are not the smartest of canines. Measuring a dog's intelligence through their ability to learn work-related tasks and obey, dachshunds ranked #92 out of 138 breeds. However, critics of Cohen's study, published in 1994, have argued that rating dogs solely on work-related abilities and how quickly they obey isn't an accurate measure of canine intelligence.
Whether or not they're brainiacs, sausage dogs are excellent hunters. Dachshunds were originally bred in 17th Germany as hunting dogs. Their tiny frames allowed them to enter tunnels and hunt badgers, with their floppy ears preventing dirt and debris from their ear canals as they burrowed.
The breed's supposedly stubborn and playful nature can land them into plenty of interesting situations, especially when Pup Cups or bath time are involved.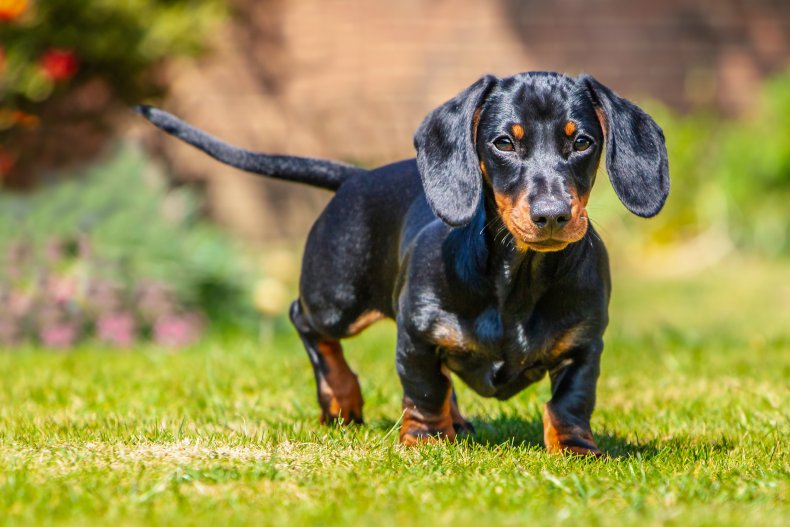 Since most Dachshunds can't even leap on the sofa, Willow's ability to climb up a tree (even if she only made it waist-high) is pretty impressive.
"I mean how the heck did that small dog get all the way up that tree bush?" said Crystal Marie Harrell.
"Mine struggles to even climb the stairs!" wrote Ted and the Twins.
Others wanted to know where they could get their own "wild sausage tree."
"So…do we buy the sausage trees at a regular garden center or specialist online shops?…asking for a friend," said Nat.
"That's how sausage dogs are born," commented Lilly's Adventures.
Newsweek has reached out to @dewey_doll_28 for comment.
Do you have funny and adorable videos or pictures of your pet you want to share? We want to see the best ones! Send them in to life@newsweek.com and they could appear on our site.