Save 'Sanditon!' All The Reasons We Need to Save This Charming Romance Now More Than Ever
In growing numbers, passionate fans are reaching out on social media to revive the charming British romantic drama, Sanditon, from cancellation and continue with a second season.
After airing on two television channels, the British channel ITV was unsatisfied with the ratings and decided to ultimately not renew the 2019 series. American audiences though flocked towards PBS' Masterpiece to watch the eight-episode run of the first season. From the video below, the hosts of Nine Network of Public Media, an affiliate of PBS, reported two months ago that the historical drama was a streaming hit and a popular show most-watched on Sunday nights.
Fans of the show though were enamored by the romantic chase between Charlotte Heywood (Rose Williams) and Sidney Parker (Theo James). Though the would-be lovers were destined to be together, Sidney abandoned Charlotte after inexplicably reuniting with his former love, Eliza (Ruth Kearney).
The first season finale concluded with a dreary and bleak cliffhanger, one on actual cliff, no less! While Charlotte ended up alone, Sidney was going to marry a woman he doesn't love. This unhappy ending doesn't ring true to the original source material, Jane Austen's 1817 unfinished novel. Austen is mostly known for creating happy endings for her strong and independent characters, especially with Sense and Sensibility and Emma.
Thank goodness though for the passionate devotees who continue to root for their favorite show. In hopes of a second season, the notable fan group, #sanditonsisterhood, wish for Charlotte and Sidney get the happy ending they deserve. The online demand for the show's renewal continues to increase with American audiences, per Parrot Analytics.
In order for their voices to be heard, Sanditon fans are urging each other to buy the DVD and demonstrate that demand will not diminish.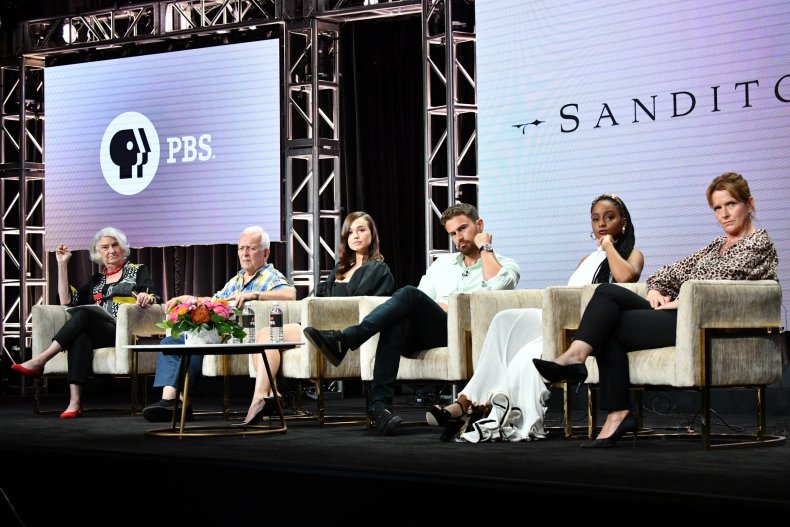 There is a petition on Change.org asking for ITV to renew the TV show for a second season. As of publication, there are more than 52,930 signatures and counting on the petition. ITV cannot ignore the fanbase much longer, especially if Isabel King's petition reaches its goal of 75,000 signatures.
Just look at all the reasons the fanbase are clamoring for more!
The Chemistry
Obviously, the show wouldn't have worked if there wasn't any chemistry between the two leads. Because of the on-screen chemistry between James and Williams, we're rooting for the lovebirds to get together.
More Story To Tell
Last month, Williams told TV Insider that there is more of Charlotte's story to tell. Williams said, "If it was to continue, I wouldn't want to just see a marriage and that be it. I'd like to see her be fulfilled in the world of work and fulfilled in the world of romance."
"I think if I was in charge, I'd like there to be a balance between her pursuing her dreams and still exploring, and also finding a little reconciliation in the heart," added Williams.
The Wardrobe
I am a huge fan of period dramas. The ensemble cast looks marvelous with their pristine and elegant wardrobe. I really enjoyed watching the ballroom dancing scene between Sidney and Charlotte.
A Different Ending
Viewers weren't very pleased with how the first season ended. Back in February, Sanditon writer Andrew Davies promised Town and Country that he would change all that, "If we get a second series, we're certainly going to eventually give Charlotte an ending that she would like."
The Sex Scenes
This racy Austen adaptation contains sex scenes and male nudity. The first episode featured nude swimming at the quaint fishing village. This ain't your granny's Jane Austen.
The Love Triangle
I loved how the show made you question who Charlotte should be with. Even though Sidney was likable, he could be manipulative at his worst. Sometimes, Young Stringer (Leo Suter) proved he had better potential as Charlotte's suitor. Let's see how this plays out!
There's Still Lots of Love to Give
Back in January, Davies told Decider, "Hang on in there. Keep giving the show all your love because we'd love to give you lots more of it." If Davies is ready to go, and the fans are this amped, what's to lose?
Sanditon Itself
I loved how the drama just took me to a different place. The production design added so much detail to the quiet and small village, Sanditon. It felt like an actual location I would enjoy visiting.
She Wants To Return
Two months ago, Williams said to Decider that she would like to return for a sophomore season, "I love my time on this show. I absolutely had the most brilliant time with everybody. it was such a great group of actors and the most wonderful crew."
Williams stated, "I'd really like to come back to do it." And you can't say no to that!