Two organizations are using billboards to make their voice heard around the country on what they view as anti-LGBTQ+ bills on Transgender Day of Visibility, March 31.
Southern Progress PAC and FOLX Health, the latter of which says it's the "first digitally native queer and trans telehealth provider," recently put up billboards with such messages as "Say Gay" and "Protect Trans Youth" in several cities throughout the country. One even popped up in Orlando, Florida, the same day that the controversial so-called "Don't Say Gay" bill was signed by Florida Governor Ron DeSantis, according to WESH.
The bill, HB1557, states that "the bill reinforces a parent's fundamental right to make decisions regarding the care and upbringing of his or her child in the public school setting."
Also, according to the text in the bill, "classroom instruction by school personnel or third parties on sexual orientation or gender identity may not occur in kindergarten through grade 3 or in a manner that is not age appropriate or developmentally appropriate for students in accordance with state standards."
In response to Newsweek, Southern Progress PAC volunteer Ally Sammarco said the group is doing this in order to "combat the harmful and unnecessary 'Don't Say Gay' bill."
"The bill is quite frankly, a solution looking for a problem. We should let kids talk about who they are and where they come from, without fear of repercussions. The idea that teachers are grooming children is a weird conservative fantasy that helps them 'explain' why some kids are gay. It's just not true. Most people know what the real intent of this bill is, and if you ask anyone from the LGBTQ community, they know what the consequences will be," she said.
Sammarco told WESH that the billboards come with a very straightforward message and purpose.
"It's OK to say gay. It's more than OK. It's encouraged," Sammarco said. "We want to make it very clear that it's OK to talk about who you are and where you come from and no one can stop you from doing that."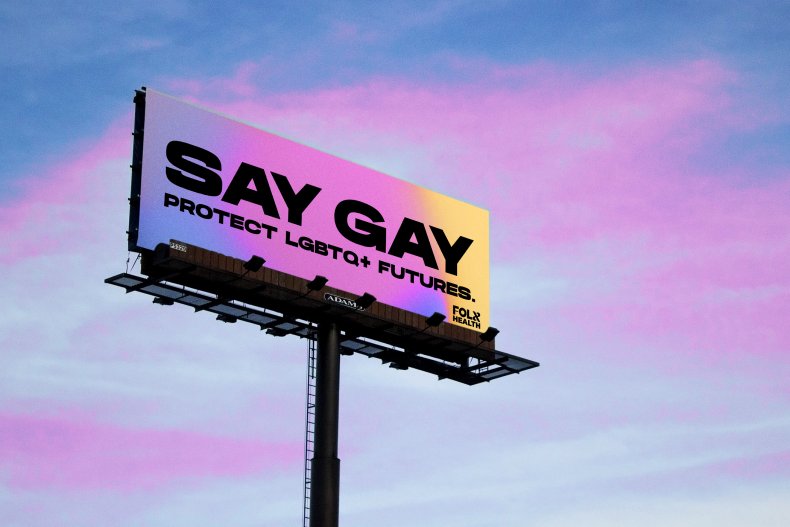 The company added that its campaign is meant to show support for those individuals who may be affected by some of the new legislation across the country and to "speak out against the discriminatory laws."
In a response to Newsweek, Rocco Kayiatos, FOLX Health's chief content officer, mentioned that love for one's child should not be up for debate.
"Supporting and protecting kids should not be not political—it's deeply personal. Unconditional love for one's child is none of lawmakers' business. FOLX Health stands by and honors the courage of families that prioritize the love and care of their children. Healthcare is a human right. We stand with trans and LGBQ kids across the nation," Kayiatos said.
FOLX Health billboards can be seen in Tallahassee, Florida; Des Moines, Iowa; Nashville, Tennessee; Boise, Idaho; and Austin, Texas. The company says the billboards are in places where anti-LGBTQ+ legislation is either currently under consideration or has recently become law.
While FOLX Health has put up billboards in different cities across the country, the Southern Progress PAC seems to be focusing its efforts on the state of Florida, adding billboards in both Tallahassee and Jacksonville.
In a response to Newsweek, a press secretary for DeSantis sent a statement that said the billboards are being paid for by people who do not reside in the state of Florida.
"Many of these billboards have been funded by out-of-state political entities and figures. Regardless, neither deep pockets nor woke corporations nor political lobbyists will prevent Governor DeSantis from doing what is right for Florida parents and children," he said.
This comes just one day after, during a press conference, DeSantis accused the Walt Disney Company of having "crossed a line" after the company announced a plan to help repeal the newly signed law.
Update: 03/31/22 1:40 ET: This article was updated with a comment from Governor Ron DeSantis' office.