Scandal-Hit Prince Andrew's Controversial Birthday Tribute Axed
Prince Andrew has lost a controversial birthday tribute at Britain's most famous royal church, Newsweek can reveal.
Westminster Abbey was the scene of Queen Elizabeth II's coronation, Princess Diana's funeral and Prince William and Kate Middleton's wedding.
Its origins date back more than 1,000 years, 17 monarch's are buried there, and its relationship with the royals is so strong that it rings its bells on the birthdays of senior family members.
However, the practice has become controversial in relation to Prince Andrew after he quit public life over his relationship with Jeffrey Epstein in November 2019.
The following year, the Abbey rang its bells for his birthday and his name was included on the timetable for this year too.
Amid a backlash, including in People and Vanity Fair, sources within the Abbey last year told Newsweek discussions had been taking place privately about slimming down the birthday list.
However, COVID-19 took the decision out of the church's hands as restrictions stopped all bell ringing during the early part of this year.
A new timetable has now been drawn up with the Abbey's bells to ring from next month—and Prince Andrew's name is not on the list for February.
A spokesperson for the church told Newsweek: "Because of the financial challenges the Abbey faces, we are looking to save costs and it means now the only times we should be ringing are for the Queen and Prince of Wales.
"We are looking at the cost bringing bell ringers in for everything. It is entirely because of COVID."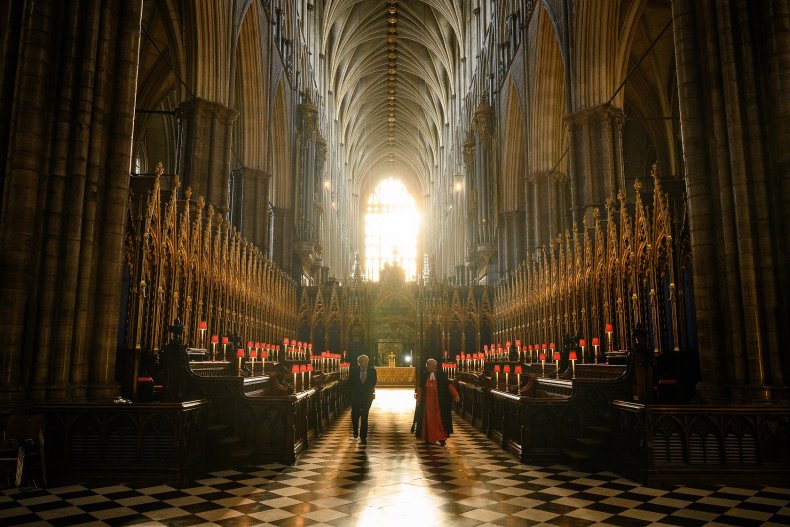 In Focus
The Dean of Westminster, the Very Reverend Dr David Hoyle, and Britain's Prime Minister Boris Johnson at Westminster Abbey during a visit to start VE Day commemorations, on May 07, 2020 in London, England. The Abbey will not ring its bells on Prince Andrew's birthday.
Launch Slideshow

3 PHOTOS
The spokesperson did not rule out the bells ringing for Prince William but said there was an ongoing assessment of costs.
While the decision may not officially have been taken because of Epstein, it will allow the church to swerve an outcry.
The bells will ring on Sunday, November 14, to mark Prince Charles' 73rd birthday that day.
However, they will be silent on February 19 when Prince Andrew turns 62 just two weeks into the queen's Platinum Jubilee celebrations.
The Abbey is one of the last few "royal peculiar" churches in Britain, which have strong ties to the royals and do not come under a particular diocese.
The scandal over birthday tributes to Prince Andrew reached the corridors of power in Britain in 2020, when the government ruled council buildings would not be required to fly the flag in his honor.
The Department for Digital, Culture, Media and Sport said in a statement: "Following the decision by the Duke of York to step back from public duties for the foreseeable future, there is no longer a requirement for UK government buildings to fly the Union flag on Wednesday February 19."
The latest decision comes as Prince Andrew waits to find out whether his Epstein accuser will bring a civil lawsuit against him in New York.
Virginia Giuffre says she was made to have sex with the Duke of York in London, New York and the U.S. Virgin Islands.
Her lawyer David Boies told the Mail on Sunday: "[The case] would be based on her being lent out to Prince Andrew for sex by Jeffrey Epstein and [her] being under 18."
Giuffre has until Saturday to decide whether to file a case and her lawyer called on Prince Andrew to engage with their team over a possible out-of-court settlement.