Scandinavian Backpacker Murders Linked to Terrorism, Morocco Prosecutor Says As Beheading Video Confirmed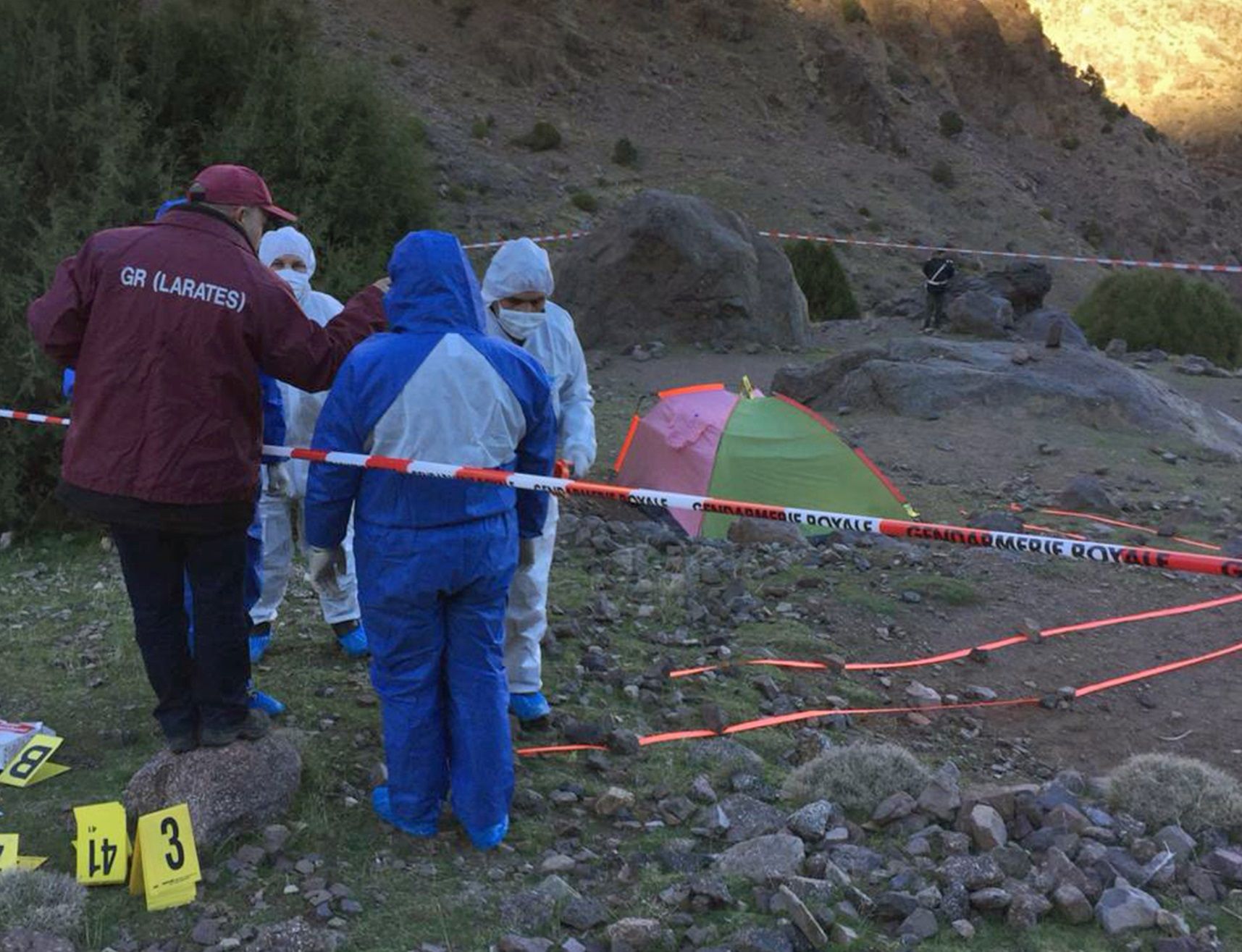 The men suspected of murdering two Scandinavian backpackers in Morocco are believed to have belonged to an Islamic extremist militant group, according to a prosecutor investigating the case.
Four suspects have been arrested after the bodies of Louisa Vesterager Jespersen, 24, of Denmark, and Maren Ueland, 28, of Norway, were found in a remote area of the High Atlas mountains on Monday.
Read More: New York students, including 10-year-old girl, charged with terrorism offenses over Instagram video
According to AFP, police spokesperson Boubker Sabik said Wednesday one of the men had "a court record linked to terrorist acts." Moroccan police earlier released images of the three suspects, all of whom come from the large city of Marrakesh, a popular tourist destination close to the foothills of the High Atlas range. At least one of those detained was captured in the city.
Jespersen and Ueland were on a month-long trip when they were killed, Ueland's mother told Norwegian broadcaster NRK. They were camping at an isolated mountain site around two hours from the tourist village of Imlil when they died. The village is on the way to Toubkal, North Africa's highest peak and a popular hiking destination.
Both died from knife wounds to the neck. Danish intelligence services confirmed the veracity of a video apparently shot by the attackers as they murdered one of the women. In it, two men can be seen holding one woman down as she is beheaded with what appears to be a kitchen knife. An unnamed Reuters source in Imlil said one of the victims was found dead inside her tent while the second was found outside.
Danish Prime Minister Lars Lokke Rasmussen said the "bestial" killings were being investigated as a terror attack, the BBC reported. He had earlier suggested, "We do not know the circumstances, but there are many indications that the cruel killing may be a terrorist act."
Norwegian Prime Minister Erna Solberg lamented the "brutal and meaningless attack on innocent people," and said she had trust in Moroccan law enforcement to find those responsible.
Islamic extremism is a significant problem in Morocco, though the north African nation has largely been spared from the terrorism that has plagued other nations in the region, Reuters noted.
More than 1,000 Moroccan youths have left the country to join militant groups in the Middle East. In 2015, Morocco created its own version of the FBI—known as the Central Bureau for Judicial Investigations—to track and counter the proliferation of domestic militant groups. The organization has so far broken up 57 militant cells, eight of which were taken down in 2018.