Ex-Trump Aide Anthony Scaramucci Says President Is 'Disassembling' And 'Sounding More and More Nonsensical'
Anthony Scaramucci, who briefly served in Donald Trump's administration, slammed the president in a Monday morning interview, saying he is "disassembling" and "sounding more and more nonsensical."
During a segment of CNN's New Day, co-anchor John Berman asked Scaramucci to confirm that he was "no longer an active supporter of President Trump and his re-election bid." The former Trump aide responded: "Yeah, I think that's pretty obvious."
"The guys actually disassembling a little bit and he's sounding more and more nonsensical," he continued. "And we're sort of anesthetized to it and people inside of Washington: 'Oh yeah, that's just President Trump, just let him act like that.' But, you know, you're fracturing the institutions and all of the things that the country stands for," he said.
Although Scaramucci donated significantly to Trump's 2016 campaign and served for a short period as White House director of communications, he has become increasingly critical of the president in the past month. He was particularly frustrated after Trump made a series of racist remarks in July, arguing that four Democratic congresswomen should be "go back" to the countries "from which they came." As a descendent of Italian immigrants, Scaramucci has said the highly controversial comments went against American values.
However, despite his criticism of Trump and suggesting that he and other Republicans would stop supporting the president if the racist rhetoric continued, Scaramucci previously stated that he liked the economic policies coming out of the White House. In his interview with Berman, he now said that Trump's "fracturing" of the country is "not worth the economic policies."
"That's not worth the GDP growth, which by the way is slowing down and the stock market's exactly where it was a year ago," he added.
Scaramucci's comments to Berman came after he told Axios on Sunday that he and many other Republicans "will be considering helping to find a replacement [to Trump] in 2020" if the president's behavior doesn't change.
"We are now in the early episodes of 'Chernobyl' on HBO, where the reactor is melting down and the apparatchiks are trying to figure out whether to cover it up or start the clean-up process," he said to describe how he sees the current situation in Washington.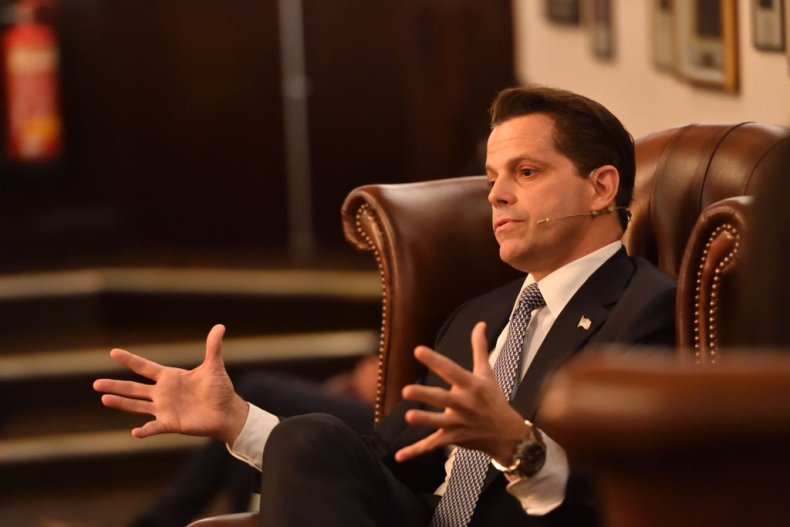 Over the weekend, Trump attacked the former administration official in a couple of Saturday tweets, pointing out that Scaramucci was fired after a very brief tenure as communications director.
"Anthony Scaramucci, who was quickly terminated (11 days) from a position that he was totally incapable of handling, now seems to do nothing but television as the all time expert on 'President Trump,'" the president wrote. "Like many other so-called television experts, he knows very little about me other than the fact that this Administration has probably done more than any other Administration in its first 2 1/2 years of existence. Anthony, who would do anything to come back in, should remember the only reason he is on TV, and it's not for being the Mooch!"
As Trump pointed out, Scaramucci was fired from his White House role after he gave an interview to The New Yorker and made derogatory remarks about several fellow administration officials.