Ex Trump Official Scaramucci Says President's Racist Rhetoric Is 'Against the Idealistic Values of America' But May be a 'Winning Strategy'
Anthony Scaramucci, who briefly served as Donald Trump's White House director of communications, criticized the president's racist rhetoric targeting four progressive Democratic congresswomen, but suggested it may be a "winnable strategy" in 2020.
Appearing Thursday morning on CNN's New Day for an interview, Scaramucci was asked if Trump saying Representatives Alexandria Ocasio-Cortez of New York, Rashida Tlaib of Michigan, Ilhan Omar of Minnesota and Ayanna Pressley of Massachusetts should "leave" and "go back" to their countries — despite the fact that almost all of them were born in the U.S. — could be a winning strategy. Although he voiced his personal discomfort with the rhetoric, Scaramucci pointed out that the president's 2016 electoral victory showed Trump knows how to win.
"Well, listen, they won last time so it may be a winning campaign strategy but it is against the idealistic values of America," he said. "And so, what ends up happening is, it's such a turn off to a large group of people, that you are running a risk that 15 percent of the people that you want to get you through that electoral map and back into the presidency say, 'you know what, I love the policies but I don't like the send her back rhetoric, I don't like racist rhetoric of sending people back to, you know, the homes that they came from,' even though these three– three of the four people were born in the United States."
Scaramucci also said he likes the president, arguing that he has a "great economic agenda." But he said he didn't understand why the president isn't talking more about economics, and is instead choosing to spew racist remarks.
"What the president needs to know from his friends, who are too afraid to tell him to his face what they really think of those tweets, if he continues on that path he is going to lose — like a glacier of support is going to break off and float away from him in a way that he doesn't fully understand," the former Trump official said.
On Twitter, Scaramucci has in recent days been vocal in his criticism of the president's remarks. He has called on Trump to apologize and pointed to the immigrant experience of his Italian grandparents, saying they "endured endless 'WOP' taunts as they tried to build a better life."
Trump started the controversy on Sunday by tweeting that progressive Democratic Congresswomen should "go back" to the countries "from which they came." He added: "You can't leave fast enough." He has since doubled down, saying he doesn't like criticism and those who are critical of America and his administration should "leave" the U.S. The president has claimed that the four representatives "hate America," despite them serving in Congress and repeatedly voicing their love for the country. During a campaign rally in North Carolina on Wednesday, supporters of the president chanted "send her back" regarding Omar — the only one of the four congresswomen born outside of the U.S. — as the president repeated his racist attacks against the congresswomen.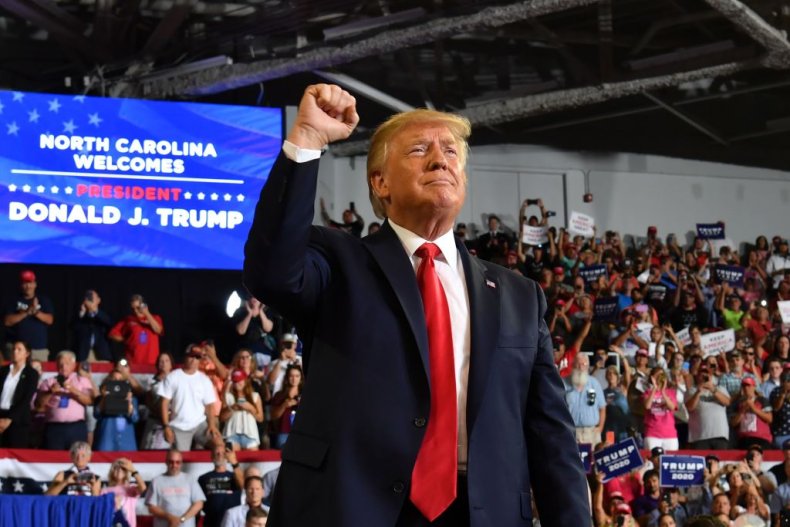 Omar was born in Somalia and immigrated to the U.S. as a young girl. She became a naturalized U.S. citizen nearly two decades ago in 2000. Omar represented her district in the Minnesota state legislature before being elected to the U.S. House in 2018.
The House of Representatives, which is controlled by Democrats, voted largely along party lines this week to formally condemn the president's remarks as "racist." Only four Republicans and newly Independent Representative Justin Amash, who left the GOP earlier this month, joined their Democratic colleagues to vote in favor of the resolution.