Eric Trump Says He Loves His Dad's Racist Tweets: 'I Like His Message, Leave'
President Donald Trump's son Eric Trump has defended his father's racist tweets telling progressive Democratic congresswomen to "go back" to their countries, saying: "I love the tweet" and "I like his message."
During an interview on Fox News' morning show Fox & Friends, co-host Steve Doocy pressed Eric Trump, who is an executive vice president at The Trump Organization, about his father's tweets. He pointed out that even some Republicans had criticized Trump over the remarks. But the president's son was unfazed.
"I love the tweet. If you don't love our country, get out, leave," Trump replied to Doocy. "You know, if you complain about our country, you know, go to somewhere – go experience somewhere else in the world," he continued.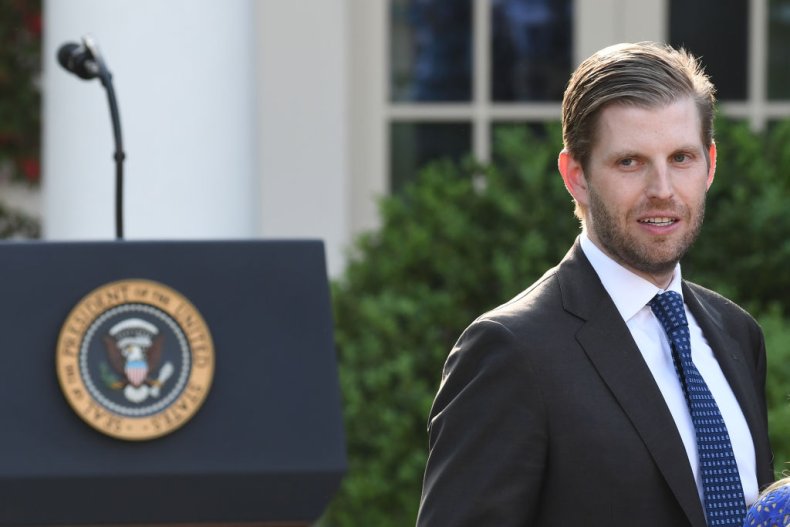 Trump then insisted that Amercans have it "so good" and that the U.S. is the "best at absolutely everything," a claim that lacks evidence. "We are blessed to live in this country, and if you're not happy about it, I like his message, leave," he asserted.
The president on Sunday leveled a Twitter attack against progressive Democratic Congresswomen Ayanna Pressley of Massachusetts, Alexandria Ocasio-Cortez of New York, Rashida Tlaib of Michigan and Ilhan Omar of Minnesota. He argued that they should "go back" to the countries "from which they came," adding: "you can't leave soon enough." All the representatives are women of color, and three of the four were born as American citizens in the U.S. Omar was born in Somalia and immigrated to the U.S. as a young girl, becoming a naturalized citizen nearly two decades ago in 2000.
Critics, including some Republicans, pointed to the long history of people telling non-white Americans to leave or go back to their countries as a vile racist trope. In fact, according to the federal U.S. Equal Employment Opportunity Commission (EEOC), making such comments is legally considered discrimination. If an employer were to make the same remarks that Trump did to an employee, the worker could file a legal complaint because that would be against the law.
The House of Representatives formally condemned the president for the racist tweets on Tuesday, which he had doubled down on multiple times this week. The resolution passed nearly along party lines, with the exception of four Republicans and Representative Justin Amash, who left the GOP to become an independent earlier this month, joining their Democratic colleagues in condemning the president's comments.
"Today's resolution was targeted at the specific words that frankly are not acceptable from a leader in any work place large or small," Republican Representative Fred Upton of Michigan wrote on Twitter after voting in support of the resolution. "If we're going to bring civility back to the center of our politics, we must speak out against inflammatory rhetoric from anyone in any party anytime it happens. America embraces diversity, and that must continue."
But Eric Trump, like his father, doubled down defending the comments and attacking the Democratic party. He told Fox & Friends that Democrats have become a "radical socialist party." He argued that if "one of these lunatics gets into office" it would have a negative impact on the economy.
"You might as well pull your money out of the bank and hide it under your mattress," he said.