A man went viral on TikTok after posting a video where he explained why he declined a job offer at Cheesecake Factory after reviewing the employment contract.
The video, uploaded by Austin Newtoff or @austinnewtoff on TikTok, amassed more than 489,000 views and 1,200 comments since it was posted on Sunday.
"WHY I wouldn't work for cheesecake factory," the on-screen text of the video read.
In the video, Newtoff explained that he went through the entire hiring process before he reviewed the contract and declined the offer. He said he was hired at $19 an hour and already had an interview and was given a schedule.
Newtoff said in the video that he has 10 years of cooking and four years of management experience and that he was looking for a part-time job for the winter. He said in the employment packet he received after the interview, there was an arbitration clause inside the employment contract he reviewed.
"They have a packet where you sign off your right to be able to go to the state government and be heard by a judge and have a trial of your peers if there's an issue with that corporation," Newtoff said in the video.
In the comments of the video, many users mentioned that corporations always protect themselves and that similar clauses are common. But some thought the contract, as described by Newtoff, was asking for too much from its employees.
"I work in HR and 99% of companies don't have this," one user wrote. "It's an overreach of an employees personal life. Don't work at these places."
"I studied contracts in law school and you actually can't contractually be held to some of these things," one user mentioned. "Although they do put them as a scare tactic."
Newtoff replied to the comment explaining that he could tell immediately from the team and the amount of personal information they tried to gather from his life that it "wasn't the right place to stay."
Others argued that arbitration is standard for large corporations, regardless of if they are in the restaurant industry or not. Arbitration clauses essentially serve as an agreement between the company and the employee that any disputes will be settled out of court with a mediator.
While arbitration clauses are common, many believe they cheat women in the workplace and provide special interest to large corporations rather than individual employees. For many, forced arbitration agreements make it more difficult for employees to pursue sexual misconduct cases.
"So for example, let's say you're the victim of sexual assault," Newtoff explained in the video. "If you do not contact corporate and go through the appropriate channels to allow the corporation to compensate you for that, or there be some disciplinary action, and you go straight to the police you are up for termination.
He also said that if you choose to go to the police and attempt to sue the corporation and "lawyer up" for court, they have a signed contract that says there is no right to arbitration and technically no case.
According to Newtoff, the contract he reviewed for the job at the Cheesecake Factory also included a "social media clause" which states that by becoming an employee, the company "retains the right to enter your social media on all platforms."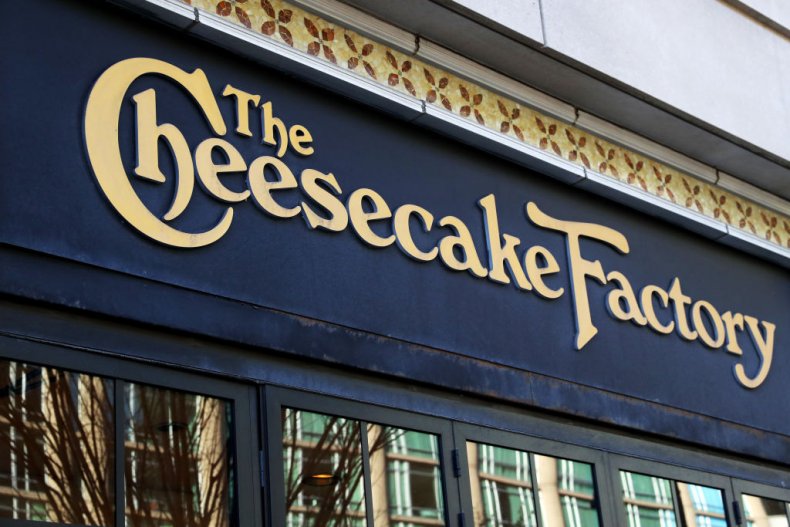 He said that upon request of management, the corporation can enter an employee's accounts including Gmail, Snapchat, Facebook, and Instagram. The corporation also retains the right to sell any information to third parties.
"There are a few more reasons but these stood out the most," the caption of the video read.
"I've been in this industry a long time," Newtoff explained in the video. "I've seen a lot of stuff. I have never seen anything like that...what they're doing is they're cashing a check on top of you based off of your personal information that you're feeding them. Guys this is called 'company overreach.' It's also called 'corporate fascism.'"
However, Vice President of Legal Services at The Cheesecake Factory Sidney M. Greathouse told Newsweek that aspects of Newtoff's video misinterpreted parts of the contract.
"Certain information in this video does not accurately reflect our policies," Greathouse told Newsweek. "The company's social media policy does not require staff members to waive their rights or to give up their passwords. We do not sell our staff members' personal information nor do we proactively monitor their personal social media pages."
He also explained that while staff members do sign arbitration agreements, their contract specifically excludes "certain claims that are not legally subject to arbitration."