School Board Member Punched in Face During Meeting to Weigh Changing High School Mascot
A Connecticut school board meeting got heated, resulting in a fight breaking out between a board member and an attendant.
The meeting was called to debate a petition for a reversal of an August 2020 decision to replace the Tomahawk as the mascot of Glastonbury High School. According to local news station Eyewitness News 3, the incident took place during a recess, with the two men standing nearly nose-to-nose with each other. The board member then pushes the man, who then proceeds to swing and hit the board member in the face, causing the board member to fall backward. Nearby audience members then separated the two men and the meeting was officially called off.
No decision was made on whether or not to abide by the petition's requests. Glastonbury Superintendent Alan Bookman released a statement shortly after the incident.
"The Board of Education welcomes public comment and appreciates that there will always be passionate testimony when controversial issues are considered," he said. "But it is critical that we listen to each other with respect and follow meeting rules so that everyone can be heard."
It is unknown when the meeting will reconvene, although Bookman said that all future meetings will be posted on the Board of Education website. No arrests were made.
The tomahawk mascot has been at the center of a nationwide reckoning when it comes to appropriation of Native American imagery for commercial purposes. Former President Donald Trump was seen performing the controversial "tomahawk chop" gesture while cheering for the Atlanta Braves baseball team during the World Series. The gesture and the mainstream usage of tomahawks, in general, have been called degrading by organizations such as the National Congress of American Indians. The Braves team mascot is also a tomahawk, and no plans to change it are currently in place.
However, some teams have taken steps to distance themselves from the racist imagery of their franchises' past. Perhaps the most notable is the Cleveland Guardians, whose name was officially changed from the Cleveland Indians in November. Its team logo was also changed from a caricature of a Native American chief to a baseball with wings.
As for institutions such as Glastonbury High School, the debate is slightly murkier. The Native American Guardian's Association recently filed a lawsuit against a Colorado law that would ban schools in the state from using derogatory terms under the pretense that it would erase indigenous history.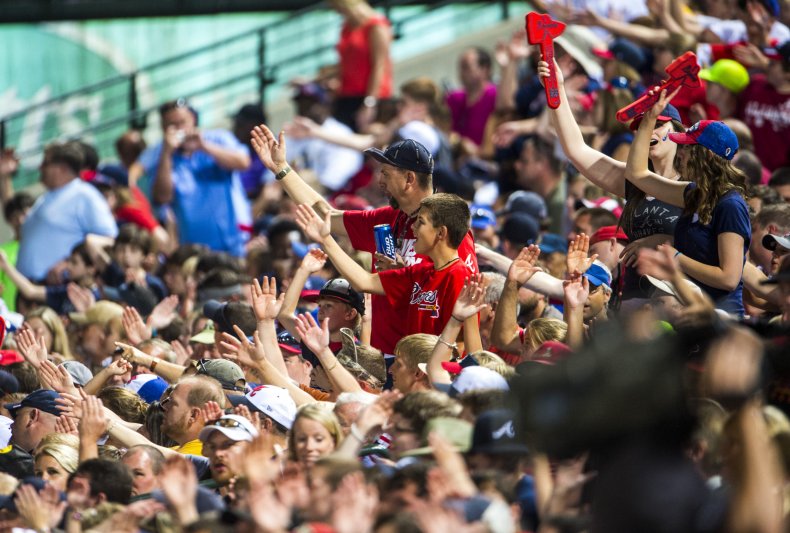 The meeting was about reverting the school's mascot back to the tomahawk. The district last year got rid of its tomahawk logo and replaced it with a "guardians" mascot. Petitioners argued that the public didn't get enough input because in-person meetings were suspended due to the pandemic, according to WFSB-TV.
Police are investigating.
The Associated Press contributed to this report.