School Bus Drivers Near Same Hourly Rate as Teachers in Major District
A school district in Georgia recently announced that it was planning to increase the hourly wage for bus drivers, which places their hourly near the same amount that many teachers in the district make.
The Hall County School District this month issued an alert that it had an immediate need for bus drivers. The announcement said that new bus drivers would receive a bonus of up to $1,000 and hourly pay was listed at $26-plus per hour. The alert also said that bus drivers would receive full-time benefits, paid sick days and summers off with a paycheck.
Hall County School District Public Relations Manager Stan Lewis said in an email to Newsweek on Friday that following a new budget, the district will pay teachers with a college degree a starting salary of $47,598. He said the salary breaks down to $31.31 per hour, based on 190 days of work, with eight hours each day.
Since the onset of the COVID-19 pandemic, many school districts across the nation have faced issued with staffing shortages, including a lack of bus drivers.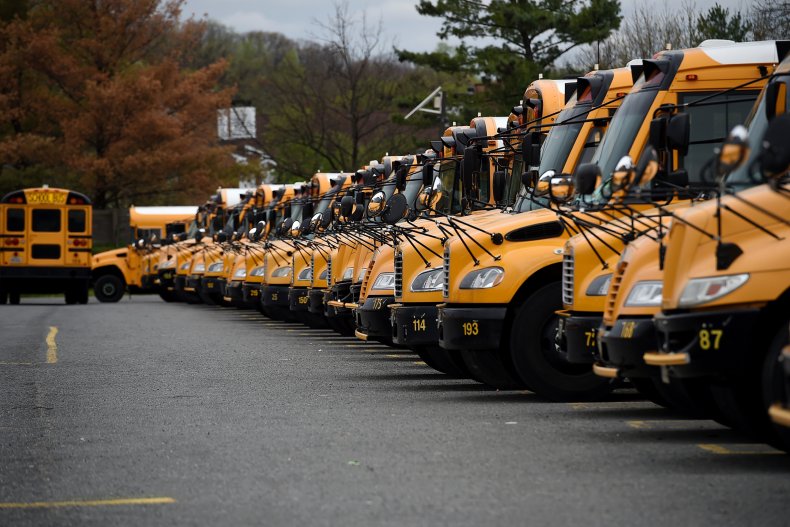 While speaking with WSB-TV on Friday, Hall County Schools Director of Communications Stan Lewis said that despite the pay bump for new drivers, many teachers in the district will continue to make more money yearly, due to bus drivers working less hours per day.
The Hall County School District website says that there are 37 schools in the district, including 20 elementary schools and seven high schools. In 2021, the district was home to about 26,843 students, 2,184 teachers and 1,255 staff members, according to the website.
In January, the U.S. Department of Transportation and Department of Education announced that they were taking steps to help alleviate bus driver shortages by temporarily waiving a portion of the commercial driver's license (CDL) skills test.
"We've heard from educators and parents that labor shortages, particularly of bus drivers, are a roadblock to keeping kids in schools," Secretary of Education Miguel Cardona said in a statement.
"Today's announcement will give states the flexibility they need to help increase the pool of drivers, who are a key part of the school community, and get kids to school safely each day where students learn best,"
According to WTOL news in Ohio, several school districts, such as the Bowling Green School District, are facing driver shortages ahead of the new school year. Similarly, WTVM news in Georgia reported that the Harris County School District is 14 drivers short but plans to bring back some retired employees and combine routes.
Correction 7/22/2022, 12:40 p.m. ET: The story and headline have been adjusted to say that the hourly pay for school bus drivers puts them near what teachers are paid.