School District Bans All Things 'Squid Game' After Students 'Mimic' Netflix Show at Recess
Undeniably, the debut of Squid Game on Netflix last month took the world by storm—but some fear that exposure to the violent show may have a detrimental effect on young children.
To combat these anxieties, one upstate New York school district has taken matters into its own hands, banning every- and anything Squid Game from its elementary school campuses.
It's not the first time parents and educators have voiced concern about the South Korean drama. Earlier this month, U.K. officials warned adults to "be vigilant" following multiple reports of children reenacting scenes from the show.
"We strongly advise that children should not watch Squid Game," said the message. "The show is quite graphic with a lot of violent content." Indeed, the series is notorious for its depictions of gruesome, violent versions of schoolyard games typically played by children.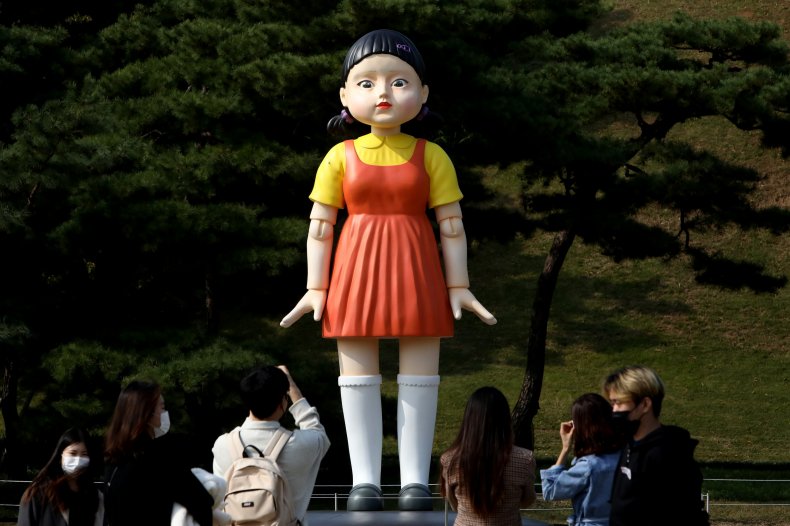 According to CNYCentral, the Fayetteville-Manlius Central School District, located in the town of Manlius, New York, has altogether banned the series from its three elementary schools. The move reportedly comes after students were found "mimicking" aspects of the show during recess.
Going forward, students are not allowed to recreate or play any of the games featured in Squid Game, nor are they allowed to dress in any of the iconic characters' costumes for the upcoming Halloween holiday.
Principals at each of the three schools sent emails to parents about the new policy. "We have observed that some students at recess have been playing a version of the squid game which is intended for mature audiences, ages 16 and older," wrote Mott Road elementary school's principal in the email, per CNYCentral.
"Due to concerns about the potential violent nature of the game, it is inappropriate for recess play or discussion at school," he said. "Additionally, a Halloween costume from this show does not meet our school costume guidelines due to the potential violent message aligned with the costume."
The school district's superintendent Dr. Craig Tice echoed this point in a statement released to Newsweek: "Each October, our elementary principals remind our families about our guidelines for Halloween costumes, namely that no items that can be interpreted as weapons should be brought to school, such as toy swords or guns, and that costumes should not be too gory or scary so as not to scare our younger students," he said.
Citing the "the violence depicted in the show," Dr. Tice explained: "Staff members have recently noted that some students at recess have been mimicking games from 'Squid Game'...Because of this activity, our principals wanted to make sure our families are aware that it would be inappropriate for any student to wear to school a Halloween costume from this show because of the potential violent messages aligned with the costume."
He added that he hoped "parents and guardians would have the opportunity to speak with their children...and reinforce the school message that games associated with violent behavior are not appropriate for recess."
Though banned in Fayetteville-Manlius' elementary schools, Squid Game-inspired costumes are expected to be all the rage this Halloween weekend. Searches for white, slip-on Vans sneakers like those worn by Squid Game contestants have spiked since the show's debut, as have search queries for their signature, retro-style tracksuits.