School District Nixes Christopher Columbus Ship Santa Maria in Logo
A high school district in Santa Maria, California, has decided to remove one of Christopher Columbus' ships from its logo in the near future, the Santa Maria Times reported.
The decision was made by the board of the Santa Maria Joint Union High School District on Tuesday. Production of the current logo will cease, and Superintendent Antonion Garcia will work out a timeline for replacing it with a new one.
"I'll be happy to bring that forward in the near future, maybe not next month, but in the next few months," Garcia said.
The superintendent noted that he would not be able to bring forward a timeline as quickly as possible, given that the district is currently devoting many of its resources to operating amid the COVID-19 pandemic.
The work will begin later in the fall, and district students will be welcomed to give input.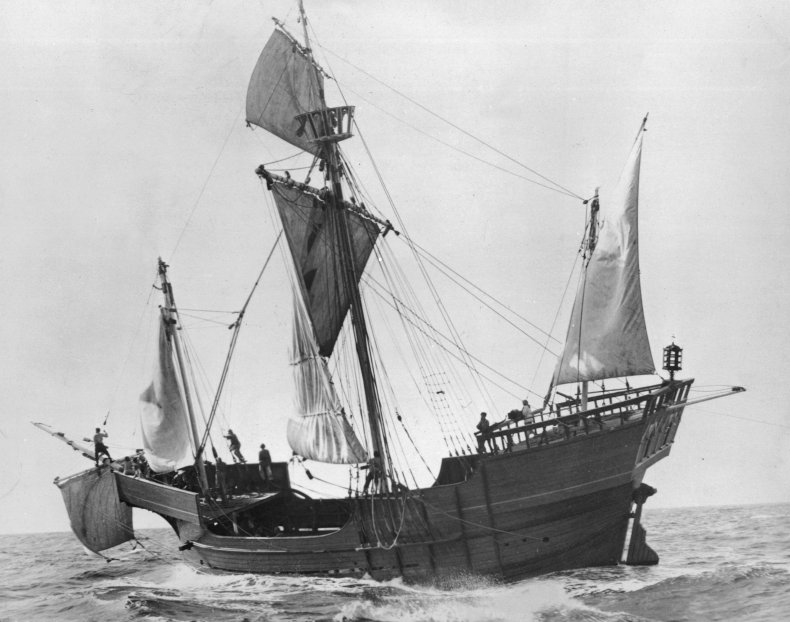 The district's logo currently depicts the Santa Maria, one of the ships used in Columbus' first voyage to America in 1492, according to Britannica.com—the other two being the Niña and the Pinta.
The decision to at least remove the ship came after concerns were raised by students. The Santa Maria Times noted that their issues centered around Columbus' association with the violence and genocide enacted against the indigenous peoples of the Americas by European explorers.
"When they remove the logo, for me and the community, it would be really symbolic showing that the district is willing to change," Yaquilina Aguirre, a student at Pioneer Valley High School and a member of Future Leaders of America group, said about the decision. "It would show Indigenous students support, that we've got your back, that you're allowed to embrace your culture."
Newsweek has reached out to the school district for comment.
The logo began appearing in district materials in 1971. The Santa Maria Times found that the image was seemingly never formally adopted by the school district, but was incorporated into its branding after the city officially adopted the ship as its seal in July of that year.
The city council has not indicated that it will be considering a replacement for the seal anytime soon, KSBY 6 reported.
"As a person from the Mixteco community, which is an indigenous community in Oaxaca, Mexico, but can also be found in Guerrero and Puebla, I think this is a first step to talk about a lot of the racism and discrimination that is ongoing," Sofia Altamirano, a youth leader at indigenous rights organization MICOP, said.
The issue of Columbus' legacy has caused myriad issues for schools in the U.S. in recent years. In deciding on whether to rename Columbus Day as "Indigenous Peoples Day" on its official calendar, one school in New Jersey opted instead to remove the names of all holidays, leaving students with several unspecified "days off."