School District's Art Department Calls Acronyms 'Symptom of White Supremacy,' Changes Name
The San Francisco School Board of Education has been considering new names for 44 of its campuses because they're named after people with ties to slavery or racism. Now the art department of the San Francisco Unified School District (SFUSD) is getting rid of its acronym VAPA (visual and performing arts) because, its director argues, acronyms are a "symptom of white supremacy."
A memo from the director explained the new name will be "SFUSD Arts Department" in the effort to disassociate school monikers from racism and slavery.
"We are prioritizing antiracist arts instruction in our work," department director Sam Bass told ABC7. "The use of so many acronyms within the educational field often tends to alienate those who may not speak English to understand the acronym."
Bass expressed in the letter that acronyms are a byproduct of white supremacy, citing a 1999 paper by Tema Okun entitled "White Supremacy Culture," in which the author states: "Our culture perpetuates racism when things continue to be written down in a certain way."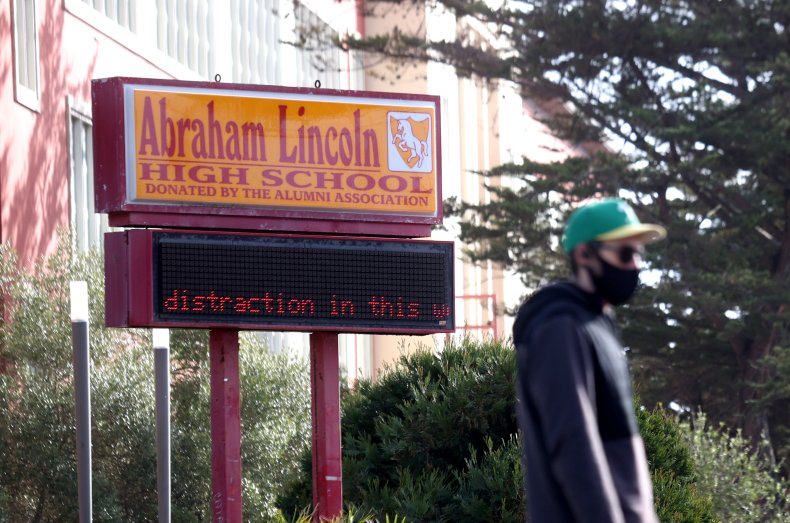 Critics of the decision were quick to weigh in.
"This is stupid," tweeted Rep. Ted Lieu (D-CA) in response on Tuesday. He noted that acronyms are used to make "communicating more efficient" and also to represent Asian-American groups and organizations that fight racism, rather than hinder cultural understanding.
San Francisco Mayor London Breed told ABC7 a "robust" but not "rushed" conversation was needed about acronyms, and she tweeted that school reopening was a bigger priority for the district.
"This is an opportunity for our students to learn about the history of our school's names, including the potential new ones," Board President Gabriela López said in a January 27 statement about the broader renaming effort. "This resolution came to the school board in the wake of the attacks in Charlottesville, and we are working alongside the rest of the country to dismantle symbols of racism and white supremacy culture. I am excited about the ideas schools will come up with."
After extensive review of each of the district's 46 campuses, the school board passed a resolution on January 26 to recommend renaming 44 of those schools, some of which included the names George Washington, Thomas Jefferson and Abraham Lincoln.
A portal has been launched on the district's website to submit alternative names to the School Names Advisory Committee, which will be holding a public panel on the renaming process on February 10.
ABC7 reported there is no official school policy or process to change acronyms across the district, and that the district has a number other acronyms used across its departments and programs.
Newsweek has reached out to the San Francisco United School District for comment.