Schools Are Dropping Mask Mandates En Masse—Is It Too Soon?
As school mask mandates are rolled back across the country, some experts fear it's too soon to lift mask requirements and that doing so could lead to another surge in coronavirus infections.
On Monday, the Democratic governors of four states—Connecticut, Delaware, New Jersey and Oregon—announced plans to lift statewide mask mandates in schools by the end of February or March as an Omicron-driven surge in COVID-19 cases subsides. Massachusetts and Rhode Island joined that list on Wednesday.
They are among 13 states, and Washington, D.C., where masks are still mandated for all students in K-12 schools, according to the National Academy for State Health Policy.
About 58 percent of the country's 500 largest school districts still have full mask requirements, according to Burbio, a company that tracks how schools are faring during the pandemic.
But as school districts across the country continue to face pressure to lift mask rules, some experts are concerned that doing so now could be shortsighted.
Eric Feigl-Ding, an epidemiologist and senior fellow at the Federation of American Scientists, said that while Omicron cases are declining, infections are still currently at much higher levels than the peaks of previous waves in the pandemic.
"We're not out of this," Feigl-Ding told Newsweek. "There's still so much COVID floating around."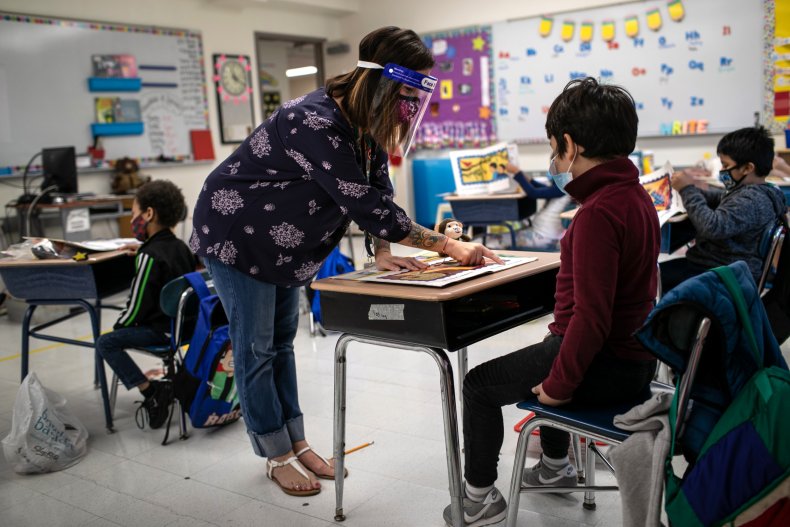 State leaders are "succumbing to political pressure" rather than responding to the science, he said. "We know that there's another variant of looming out there," he said, pointing to a rise in cases of the Omicron BA.2 sub-variant. "We know it's out there. We know it's surging."
But Ali Mokdad, a professor of health metrics at the University of Washington, told Newsweek that mask mandates are no longer needed in schools as the country moves towards COVID-19 becoming endemic. People need to "live with this virus," he said, but "remain vigilant."
A vast portion of the population has already been exposed to Omicron or another variant of COVID-19, Mokdad said. "We have better immunity, we have better medication, we have better vaccines coming up," he said. "So right now, this virus has become like a flu. We don't wear masks for flu."
Although he wouldn't back the lifting of mask mandates right now, he said the country will be in a better position by the end of the month. At that point, parents can choose whether to send their children to school in masks.
"We know anytime there is a new variant that's making a lot of infections, we can go back and put our masks on and do physical distancing," he added.
A number of doctors who have called for the lifting of mask requirements have cited the mental health strain on children during the pandemic and pointed to the availability of vaccines for children aged 5 and over.
But Feigl-Ding said masks should serve as an added later of protection in schools, as vaccination rates in children remain incredibly low and because Omicron has the potential to reinfect people.
While being vaccinated reduces the risk of hospitalization, he said masks are good for limiting virus transmission and reducing the risk of children suffering from Long COVID, pointing to data that shows one in seven children may suffer from lingering symptoms.
"If we keep transmission active, family members [could] be hospitalized... that has a long term mental health burden as well. Mental health, that's important. So is not orphaning kids and we know that many, many people have been orphaned."
The U.S. Centers for Disease Control and Prevention has maintained its stance, with director Dr. Rochelle Walensky saying coronavirus cases are still too high to abandon indoor masking rules.
The CDC "still recommends that all schools encourage students to wear well-fitting masks consistently and while indoors," Walensky said in an interview this week.
Michael Mina, the chief science officer at testing company eMed and a former associate professor at Harvard T.H. Chan School of Public Health, told Newsweek that masking is "moderately effective at reducing spread in the pre-K-through-12 age group, with likely reduced effectiveness in the younger ages.
"We should look towards more dynamic public health approaches that incorporate the changing landscape of viral spread and variants as well as vaccine uptake."
This is where "testing remains crucial," he said. "Rapid testing can be used to identify outbreaks early and to mitigate spread, schools can reintroduce masking until transmission has ceased."
Mokdad said people needed to do their own risk assessments to decide whether or not they should wear a mask when mandates are no longer in place.
"A school and a district has to look at what's happening outside the school," he said. "It doesn't matter if you wear a mask in school and are doing everything by the book, but the kids are going to the community and there is high infection in the community."
But if the goal is to keep children learning in-person and healthy, Feigl-Ding believes allowing them to go without masks in classrooms is a mistake.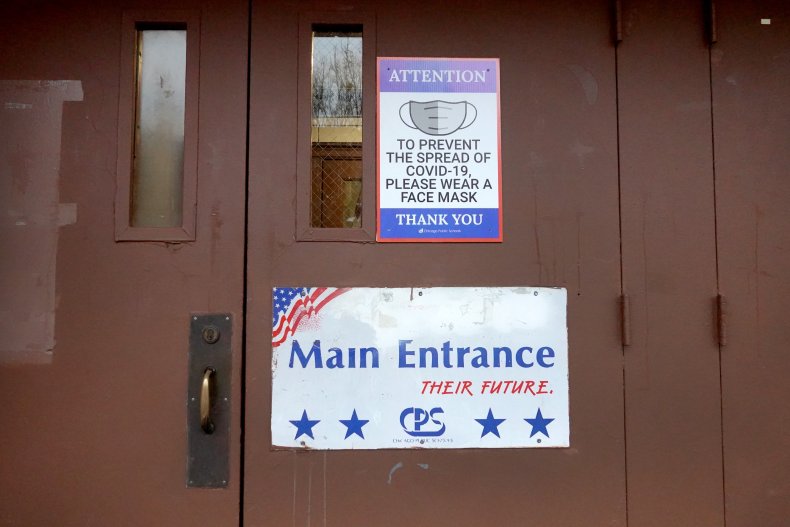 "Kids can handle it," he said. "It is better to have masks and keep them in school than not to have masks, have outbreaks, have quarantines, have disruption to parents' work, and then have the shuffling in and out of kids who are absent."
Where Feigl-Ding and Mokdad agree is that better ventilation and cleaning in schools is crucial.
"If you're going to remove masks, then we need ventilation and disinfection because not every classroom can open windows, not every classroom has windows," Feigl-Ding said. "Not doing that is just so irresponsible."