Schools throughout China are in the process of removing "illegal" books from their libraries to comply with instructions the Ministry of Education sent out last fall.
The directions were introduced in October 2019 in an effort to "further study Xi Jinping's socialist ideology with Chinese characteristics in the new era and the spirit" of the president's leadership, the ministry said.
Though the directive said books that were in poor condition were to be removed, its focus was on assessing titles that were not in line with the leadership's ideologies and sending lists of those titles to education officials for further review.
The guidelines were intended for all of the physical and electronic books, magazines and newspapers in China's primary and secondary schools, which instruct students ages 18 and younger. The majority of schools in mainland China have already complied with the directive, according to Reuters.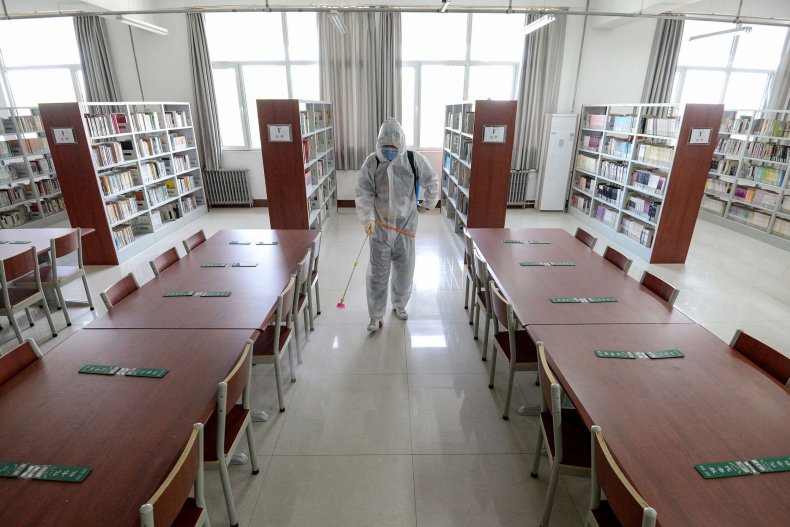 While dog-eared books were to be sent to other libraries for storage, the ministry said reading materials featuring illegal content must be removed from circulation and noted for a report that each school was told to send to the ministry. Teachers were directed to set aside books that "damage the unity of the country, sovereignty or its territory; books that upset society's order and damage societal stability; books that violate the Party's guidelines and policies, smear or defame the Party, the country's leaders and heroes," Reuters reported.
Though specific books were not mentioned in the directive, the news outlet said the ministry did provide schools with a list of books approved to replace the removed titles, which included writings by former Communist Party leader Mao Zedong. According to Reuters' review of social media posts by teachers in China since the directive was announced, religious texts and at least two of English author George Orwell's famous books—Animal Farm and 1984—were among those taken from some school libraries.
Newsweek reached out to the Chinese ambassador for comment, but did not receive a response in time for publication.
Censorship in China has not been uncommon under Xi's leadership, but this is the first time libraries have been targeted by such efforts since Mao's rule several decades ago, according to Reuters. Before the coronavirus pandemic, the focus of censorship activities varied widely from the protests in Hong Kong last summer to films and books depicting the fictional character Winnie the Pooh.
Reports of censorship efforts have only increased since the start of this year, as the U.S. and other countries launched investigations into the pandemic's origins and repeatedly criticized China for not alerting international health experts about the virus earlier.