Schools Slammed Over Decision to Remove Bible, Anne Frank Adaptation
A Texas school district's decision to temporarily remove from schools the Bible and an adaptation of Anne Frank's diary, among other books that were challenged last year, has generated criticism online this week, with some blaming state lawmakers.
"Oh my. A Texas School district is removing illustrated adaptations of Anne Frank's diary from their shelves," tweeted one person. "This comes after Ohio reps encouraged schools to teach "both sides" of the Holocaust. The GOP book-purge is beginning. Now we know why Nazis support the Republican Party."
The Keller Independent School District (ISD), which is near Fort Worth, said in a statement that its board of trustees set new standards on August 8 for the selection of books and educational materials in schools.
The school district's spokesperson told Newsweek on Wednesday that all books that have been "challenged" by parents and community members have been pulled for review on Tuesday in light of the new policy.
"Books that pass that new standards [sic], as determined by reviews conducted by librarians, will be promptly returned to shelves," the spokesperson said.
Some school districts across the state have seen negative reactions to similar actions on books in schools. Meanwhile, Texas Governor Greg Abbott asked the state's Association of School Boards last November to review public school library books to make sure that students are not exposed to "pornographic or obscene material."
In its statement, the Keller district said, "Right now, Keller ISD's administration is asking our campus staff and librarians to review books that were challenged last year to determine if they meet the requirements of the new policy." The statement was issued after principals received an email about the policy, which was obtained by The Texas Tribune.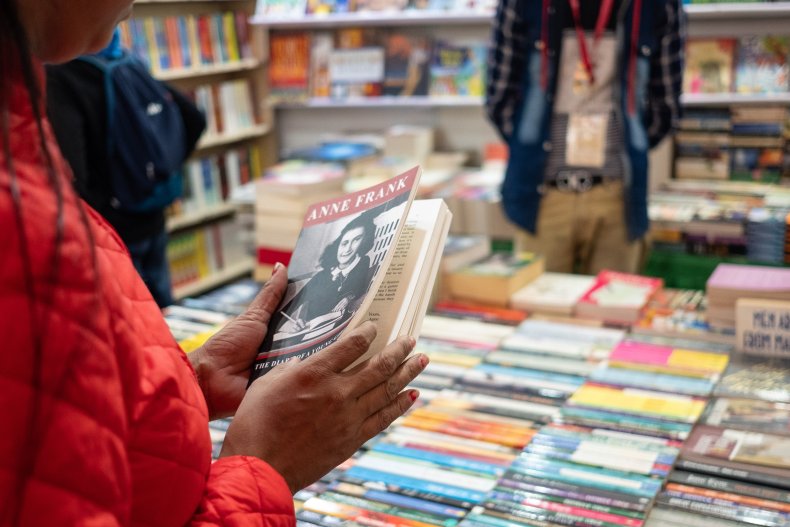 The email was sent by Jennifer Price, executive director of Keller ISD's curriculum and instruction, according to the Tribune. She wrote, "Attached is a list of all books that were challenged last year. By the end of today, I need all books pulled from the library and classrooms. Please collect these books and store them in a location. (book room, office, etc.)."
The guidelines set by the board of trustees include having books publicly reviewed over a period of up to 30 days before they are bought by libraries, CNN reported. Challenged books are removed from shelves during the time they are being reviewed, according to the policy.
"Books that meet the new guidelines will be returned to the libraries as soon as it is confirmed they comply with the new policy," the district said in its statement.
The list of materials that have been "challenged," mostly by parents and community members, contains over a dozen books, including all versions of the Bible and a graphic adaptation of Anne Frank's diary, which recounts her experiences while in hiding with her family during the German occupation of the Netherlands. She later died in a concentration camp.
The Keller Independent School District spokesperson told Newsweek the Bible was challenged by a parent because of "inappropriate content including: sexual content, violence including rape, murder, human sacrifice, misogyny, homophobia, discrimination, and other inappropriate content."
Meanwhile, the graphic adaptation of Anne Frank's Diary was challenged by a parent who requested moving the book to a high school level instead of young children, according to the spokesperson who added that the parent said that children's mentality is "premature to understand the concept that is given in the book."
"Texas schools pulled The Diary of Anne Frank. Here I thought I was being an alarmist about the nazis rising," another Twitter user wrote on Tuesday in response to the decision to temporarily remove the book. Meanwhile, another person tweeted about hating "what this country is becoming."
The U.S. Holocaust Memorial Museum hasn't commented on the school district's decision. But it tweeted on Wednesday that "Anne Frank is among the most well-known of the six million Jews who died in the Holocaust. For many students around the world, her diary is the first encounter they have with the history of Nazi Germany's attempt to murder all the Jews of Europe during World War II."
Other Challenges to Books in Texas Schools
Over the past few months, other school districts across Texas have evaluated materials in libraries to determine whether they are age appropriate and offer value for students.
In March, some state Republican lawmakers called on school districts to avoid buying books from vendors that have supplied what they described as a "pornographic" LGBTQ novel and to remove specific books from school campuses.
Meanwhile, the Granbury Independent School District launched a "book review" order in January that would pave the way for bans and restrictions on some books.
Newsweek reached out to the Keller Independent School District for comment.
Update [8/17/2022] 3:54 p.m. ET: the story has been updated to include comments from the Keller Independent School District communications' office