Schumer Calls Biden's Stimulus Bill 'Overwhelmingly Popular,' McConnell Says Plan Works 'Backwards'
Senate party leaders disagreed over the effectiveness of President Joe Biden's American Rescue Plan in their opening remarks on the Senate floor on Wednesday.
While Senate Majority Leader Chuck Schumer called the $1.9 trillion stimulus bill "overwhelmingly popular" among Americans, Senate Minority Leader Mitch McConnell accused congressional Democrats of "working backwards" on the coronavirus relief package.
Schumer said the plan has broad support, citing polls that seven out of 10 Americans approve of Biden's proposal.
"In some polls, I've seen a majority of Republicans [voters] approve of this plan," he said.
"It's easy to see why there's such broad support. The COVID pandemic is the worst economic crisis since the Great Depression. The worst public health crisis our nation has faced in 100 years," he continued. "But, our Republican colleagues say all these groups demanding the $1.9 trillion American Rescue Plan—business leaders, government officials from both parties, economists from across the spectrum and seven and 10 Americans—Republicans say all of them are wrong."
"Make no mistake, Republicans oppose the American rescue plan to the detriment of the country, and they do so at their own political peril," Schumer added.
Congressional Democrats have moved quickly to finalize Biden's stimulus package in hopes of providing Americans with relief funds before current federal assistance expires on March 14.
However, the proposal has been met with pushback from their GOP counterparts, who argue the price tag is too high and its provisions too varied.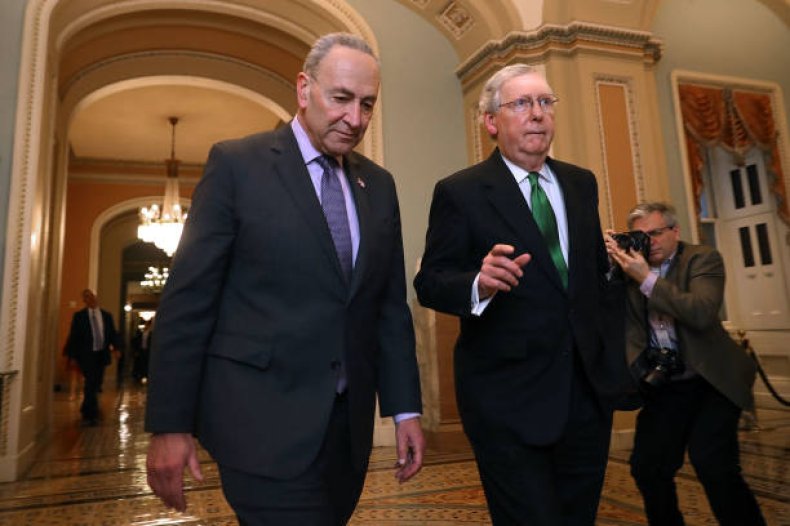 Discussing the reopening of schools, McConnell said Washington Democrats are overspending, citing a recent report from the Congressional Budget Office that estimated only five percent of school funding would be used this fiscal year.
"This is just one illustration of how Democrats started with preconceived ideological goals, and actually worked backwards, instead of starting with the actual needs of American families," the Senate minority leader said.
"Unfortunately, the Democrats' partisan proposal would not just be wasteful, but in certain ways, actually counterproductive," he argued. "It would have Washington go out of our way to discourage hiring discourage or return to work. and actually keep things shut down longer."
McConnell also slammed House Speaker Nancy Pelosi for the 9/11-style commission she has called for to investigate the deadly Capitol riot that took place on January 6.
"[Pelosi] cites the precedent of the 9/11 commission, but her draft bill fails to track with that precedent in key ways," McConnell said Wednesday.
"Speaker Pelosi started by proposing a commission that would be partisan by design," he said. "Seven appointments for Democrats, just four for Republicans."
McConnell quoted the former lawmakers who led the 9/11 commission and argued that Pelosi's "inquiry with a hardwired partisan slant would never be legitimate in the eyes of the American people."