Scotland's Free Period Products Praised By Americans as 'Tampon Tax' Still Exists in 35 States
Scotland has become the first country in the world to offer free sanitary products for anyone who needs them after a four-year campaign to end "period poverty."
Legislation which ensures local authorities have a legal duty to offer period products passed through the Scottish parliament unanimously on Tuesday—a move that is estimated to cost approximately £24 million ($32 million) a year.
"Why is it in 2020 that toilet paper is seen as a necessity but period products aren't? Being financially penalised for a natural bodily function is not equitable or just," said lawmaker Alison Johnstone during the debate.
Sanitary products in the United Kingdom are currently taxed at 5 percent and while the government had announced the levy would be removed in 2016, this has yet to happen. Elsewhere in Europe, the EU has pledged to remove all sales levies on period products from 2022, leaving member countries to determine how much to tax sanitary items.
But in the U.S., no nationwide law currently exists to provide free sanitary products.
Scotland's scheme has refocused attention on period poverty across America, where 35 states continue to impose a sales tax on those products, often branded a "tampon tax."
Groceries and medication are considered non-luxury items and are therefore tax-exempt in most states, and campaigners argue period products should be too.
A survey last year of low-income women in St. Louis, Missouri, found that nearly two-thirds (64 percent) had been unable to afford the items over the previous 12 months and around a fifth (21 percent) experienced this problem on a monthly basis.
Over the last decade, New York, Florida, Nevada, Connecticut and Illinois have eliminated the tax, while bills aimed at repealing the tax have been introduced in dozens of states—however the majority were not signed into law.
Groups said to be particualrly vulnerable to period poverty include students, those on low-incomes or who are homeless, and transgender and nonbinary individuals.
Responding to the Scottish measure, Sophia Yen, founder of Pandia Health, an online service that prescribes birth control to women without insurance, said: "Wherever there is free toilet paper, there should be free menstrual hygiene products. It's about dignity."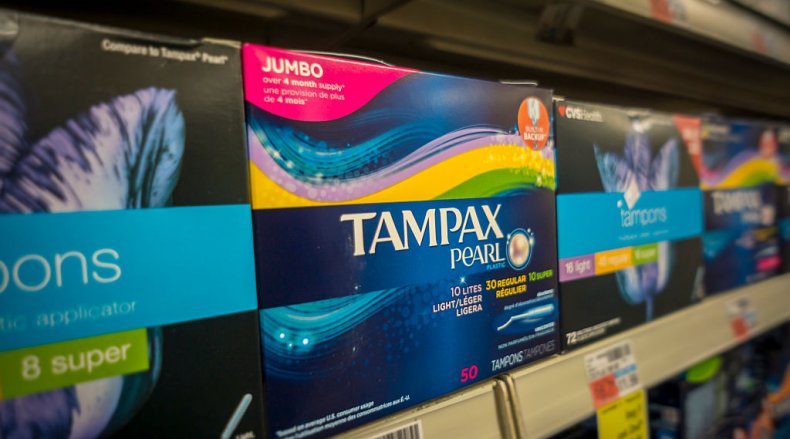 Manjit Gill, founder and CEO of Binti Period, a charity providing menstrual products to girls and women in the U.S., U.K., India, and Kenya, told Newsweek the legislation passed on Tuesday was the "beginning of a legacy that will ensure nobody has to menstruate without a period product in Scotland."
She added: "Menstruation is the foundation of life and if we create equality with period equity then we can build on other areas of women's health too."
The news was widely celebrated, with one person tweeting: "Period products aren't optional, we can't just bleed everywhere. So instead, women spend on average, $10-25 per month on period products, $120-300 a year, or nearly $10,000 over the course of their life. I'm seriously envying Scottish women."
Another wrote: "Love this! Everyone who has a period absolutely deserves free access to menstruation products."
A third said: "If men bled from their nethers once a month, there'd be free period products in machines on every street corner in the country."
A survey of 2,000 women in the U.S. last year on behalf of Intimina, a menstrual cup manufacturer, found that two thirds (67 percent) of respondents believed a tax on period products was sexist.
"In the U.S., and in other Western nations, there's a notion that [period poverty] couldn't possibly be the reality here," Jennifer Weiss-Wolf, co-founder of Period Equity, a campaign group, told online outlet Bustle last year.
"People menstruating intersect with and interact with all of public life. We go to school, we go to work, we use public restrooms, we live and exist everywhere.
"All of these places are the places where we should be working to destigmatize menstruation, ensure menstrual access, and ensure that the experience of menstruation doesn't cause a barrier for anybody."
The U.N. estimates that globally, 12.8 percent of women and girls live in poverty and the cost of menstrual products forces many to use newspapers, plastic bags or clothing instead.
11/25/20 9:22 a.m. ET: This article was updated to include a quote from Manjit Gill.