Scotland Set to Become First Country to Make Period Products Free For All Women
Scotland may soon become the first country in the world to make sanitary products free in a bid to tackle period poverty.
The Period Products (Free Provision) (Scotland) Bill passed the first stage of the approval process on Tuesday after receiving unanimous approval in the Scottish Parliament in Holyrood, with support from all parties.
If it completes the journey into legislation, it will require the Scottish government to make sure period products are available and free to all who need them.
Jennifer Weiss-Wolf, founder of Period Equity and vice president for development at the Brennan Center for Justice, described the moment as an "extraordinary achievement."
"We are rooting on and grateful for the good work in Scotland and look to see more of the same here in the United States," Weiss-Wolf told Newsweek.
The policy was introduced as a Member's Bill by Monica Lennon, a Labour member of the Scottish Parliament (MSP), on April 23, 2019. According to the BBC, there had been some initial opposition but ministers were swayed following pressure applied by campaign groups.
"I am thankful to everyone who made it possible," Lennon said on Twitter. "Was nice to have my daughter by my side as Scotland sent out a strong message on period dignity and gender equality."
"This is an amazing victory for everyone who has campaigned for free universal access to period products and who has convinced the Scottish Government to back this ground-breaking bill," she told Newsweek.
"Scotland has already taken important steps towards improving access to period products and tackling stigma but legislation will guarantee rights, ensure that current initiatives continue in future on a universal basis, and will help us to achieve period dignity and equality for all."
While the bill received 112 votes in favor to 0 objections (and one abstention), there are some wrinkles in the bill that need to be smoothed out if it is to make it to the second stage of the process. In particular, there are concerns over the cost of the policy, which are said to have been underestimated.
Communities Secretary Aileen Campbell expects "a whole lot of hard work and endeavor to make sure we can get something that is fit for purpose," the BBC reports.
Scottish schools are ahead of the curve—with free period products having been available in Scotland's educational institutions since 2018.
The Scottish government launched a £5.2 million ($6.7 million) scheme to tackle period poverty among young people, after a survey of more than 2,000 Scots found that one in four students had struggled to get hold of sanitary products in the last year.
The program made Scotland the first country in the world to enable students at all levels of education free sanitary products. If Lennon's bill is passed, this policy will be enshrined in law.
Speaking of the Period Products Bill, Lennon told Newsweek: "MSPs backing the principles of this pioneering legislation at the first stage is a huge step forward. It has the potential to make a huge difference to the lives of women and girls in Scotland, so I hope that all parties will continue to listen to those who would benefit from the Bill as it continues to proceed through Parliament."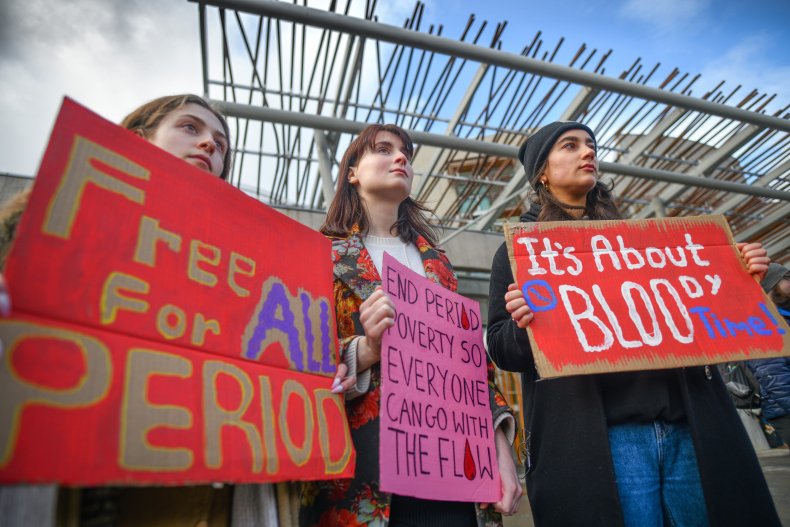 Period poverty in the U.S.
Women spend, on average, around five days of the month menstruating, which adds up to 2,535 days over a lifetime. At $5-10 plus per packet, the cost of having periods can add up with campaigners saying it puts burden on women and families who may already be struggling to put food on the table.
By some accounts, nearly 20 percent of girls in the U.S. have skipped school because they cannot access period products.
"Why does this matter?" said Weiss-Wolf. "We are not able to participate equitably in society if managing menstruation is something that holds us back, whether it's because products are not affordable or accessible.
"The idea that anybody is challenged from attending school or being productive and advancing in school, or similarly inhibited from participating in the workplace or the economy, on account of menstruation is no good for anybody in society."
Like many countries, including (for now) Scotland, women across much of the U.S. do not just pay for the product itself, but an additional tax—the so-called "tampon tax."

A number of states, such as Virginia, Kentucky, Michigan, and Vermont, have introduced bills looking to exempt feminine hygiene products from sales taxes.Seven states, including Ohio, Utah, New York and Florida, and Washington, D.C. have already passed legislation to eliminate the tax, while several more have introduced bills to this effect or similar.
"There are sweeping questions about what it needs to be to have full full on gender and sexual equality in our culture and in our government and in our laws," said Weiss-Wolf. "Tackling menstruation is surely part of that."
This article has been updated to include comments from Monica Lennon and Jennifer Weiss-Wolf. This article was updated to clarify which states have introduced bills or passed legislation on tax exemption for feminine hygiene products.