Former Wisconsin governor Scott Walker has been mocked online after he tweeted about being "massless" on an airplane.
Walker tweeted a picture of himself on a plane without wearing a mask on Sunday, nearly a week after a federal judge struck down the requirement for people to cover their face in airports and during flights amid the COVID-19 pandemic.
"Nice to be massless on an airplane again!," Walker tweeted while sharing a picture of his face at his seat.
In response, a number of social media users ridiculed the Republican for his error.
The Twitter account for the left-wing political blog Palmer Report wrote: "Scott Walker just tweeted that he's 'massless' on an airplane when he meant maskless. He's also witless, brainless, and clueless."
Wisconsin congressional candidate Amy Washburn wrote in reply to Walker's tweet: "You're massless? You have no mass? I knew your brain didn't weigh a lot, but that's really saying something."
David Gorski, an oncologist and professor of surgery at Wayne State University School of Medicine, tweeted: "The only thing that appears to be 'massless' about this guy is his intellect."
Lizz Winstead, comedian and the co-creator of The Daily Show, tweeted while sharing Walker's photo: "But now people know you're Scott Walker, so that's gotta suck."
Walker later blamed autocorrect for the error for replacing the word "maskless" to massless during his tweet.
"So far, there has been no mass on this flight (which should make Rep. Omar happy)," Walker wrote.
The ex-governor was making reference to Minnesota rep. Ilhan Omar's recent comments about a group of Christians who were singing during a commercial flight, with the Muslim congresswoman asking how people would react of if she and her family took part in a prayer session mid-flight.
Walker's follow-up tweet also contained a grammatical error after he mistakenly used "there" instead of "their."
"Regardless, it is nice to not be forced to wear a mask. Most on the flight are without masks and a few have them on (which is there right too)," Walker tweeted.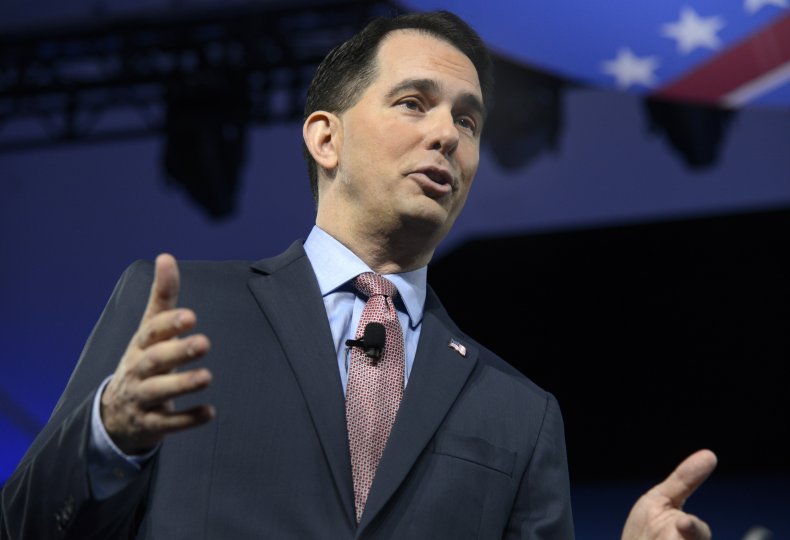 Walker was also criticized for a previous tweet about face masks he sent before he boarded his flight, in which he said: "I notice 8 people with masks at my gate. The rest of us are living free."
In response, a number of people pointed out that those who are still choosing to wear a mask despite no legal requirement to do so are also "free."
"So, it's not 'my body my choice' anymore? Aren't they living free too? Free to choose for themselves?" the @LadyJayPersisst Twitter account tweeted in reply.
"I thought that's what you wanted, the freedom to choose. I guess you'd rather impose your will on others, even though you've been railing against that for the last two years."
Texas congressional candidate Dennis Sherrard added: "You don't seem to understand the concept of 'free'. You can freely choose to wear a mask also."
The Department of Justice is appealing the ruling the drop the mask mandates on mass transits after the U.S. Centers for Disease Control and Prevention (CDC) said that keeping masks for travelers "remains necessary for the public health."
Walker has been contacted for comment.