Some things are worth the fight. After a three-year battle that went all the way to the Supreme Court, Sharonell Fulton, Toni Simms-Busch and the Catholic Archdiocese of Philadelphia can finally get back to offering safe and loving homes to neglected or abused children. The decision in Fulton v. Philadelphia, handed down on Thursday, is a victory for the countless children in America whose biological parents are unable or unwilling to care for them. It also offers much-needed guidance for reconciling the religious freedom guaranteed by the Constitution with the increasingly intolerant demands of progressive government officials.
The Archdiocese of Philadelphia has been involved in foster care for more than 200 years—even before the city assumed exclusive control over the process. Over the last 50 years, the church-run program had successfully partnered with the city. Today, 28 other private agencies work with the city as well.
In early 2018, the Philadelphia Inquirer ran a story about a Christian agency's unwillingness to work with same-sex couples as foster parents. City officials immediately confronted that agency, which shortly thereafter changed its policy. When the city took the same approach with the Catholic archdiocese, however, it ran into a problem: the church wouldn't buckle. The agency explained that it could not provide written endorsements of same-sex couples as foster parents since doing so would be inconsistent with Catholic teaching that marriage is between a man and a woman. It told the city it would happily refer any same-sex couple to another agency able to work with them.
A quick sidebar is important here. No same-sex couple ever actually approached the agency and was turned away from fostering. The agency's suggested referral would not have kept any couple from fostering.
Rather than accommodate the agency, city officials lectured it. "Times have changed," said the head of the city's Department of Human Services. "It is not 100 years ago." The city council even passed a resolution denouncing "discrimination that occurs under the guise of religious freedom." To add to the insults, the city refused to renew its contract with the agency.
Two longtime foster mothers and their agency, ably represented by the religious liberty law firm Becket, filed a lawsuit asking that the contract be reinstated. The free exercise of religion guaranteed by the Constitution, they argued, protects against such heavy-handedness by the government.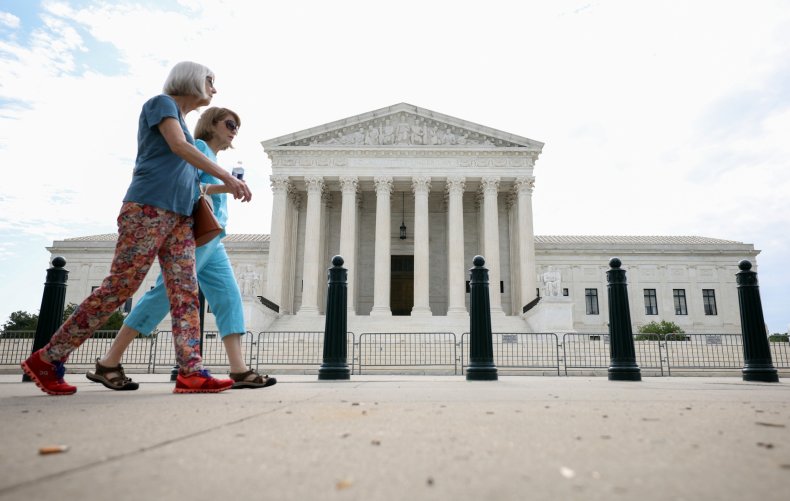 Enter the Supreme Court.
In a unanimous judgment issued on Thursday morning, the Court held that city officials violated the First Amendment's Free Exercise Clause. Writing for the Court, Chief Justice John Roberts stressed an important point: "CSS seeks only an accommodation that will allow it to continue serving the children of Philadelphia in a manner consistent with its religious beliefs; it does not seek to impose those beliefs on anyone else."
The Court was laser-focused in its review. The city's contractual non-discrimination requirement, observed Roberts, "imposes a burden on CSS's religious exercise and does not qualify as generally applicable." Consistent with its prior decisions, the Court subjected the city's actions to the "most rigorous of scrutiny." The question to be answered, it said, was not whether the city "has a compelling interest in enforcing its non-discrimination policies generally, but whether it has such an interest in denying an exception to CSS." The Court's answer to that question was a resounding "No."
I filed an amicus brief with the Court on behalf of former foster children and foster and adoptive parents who recounted their experience working with Catholic-run foster and adoption agencies. These agencies, the amici explain, offer unique support and accompaniment for children and parents. They courageously shared their personal stories to avoid the forced closure of yet another trusted Catholic foster care or adoption agency.
Adrienne Cox arrived as a newborn into the home of foster parents working with the Archdiocese's agency. Adrienne praises Catholic Social Services for its unique and lasting support. That's why, when Adrienne and her husband decided to become foster parents, they chose to work with Catholic Social Services—an agency that Adrienne says "gave me a family."
Karen Quinn, who has been a certified foster mother with Catholic Social Services for 30 years, credits the agency for its unstinting commitment to supporting her as a foster parent. Karen wants to continue to foster, but says, "I don't want to do it without the support of Catholic Social Services." One of Karen's foster daughters, Jamie Hill, is now grown up and married. Jamie joined Karen in expressing support of Catholic Social Services.
There is a foster care crisis in America. It should shock our consciences that city officials in Philadelphia were willing to cut ties with the Archdiocese's foster care placement agency because it refused to operate at odds with Catholic teaching on marriage. Then again, politics based on ideology rather than common sense leads to all sorts of unconscionable outcomes.
Andrea Picciotti-Bayer is director of the Conscience Project, a project advancing conscience rights through public education and amicus support in religious freedom cases.
The views expressed in this article are the writer's own.