SCOTUS Upholds Texas Abortion Law but Allows for Providers to Challenge Ban
The Supreme Court upheld Texas' abortion law on Friday but is allowing abortion providers to challenge the six-week ban.
The court released two rulings related to Texas' law, which prohibits abortions after six weeks of pregnancy and criminalizes any person who "aids or abets" an abortion, including clinics, doctors or even a driver taking someone to a place that performs the procedure. Under the law, any private citizen is permitted to file a lawsuit seeking damages against such a person.
By an 8-1 vote, the Supreme Court decided abortion providers would be allowed to challenge the ban in federal court by suing some defendants, like state licensing officials, but not others, such as state judges, clerks or Texas Attorney General Ken Paxton.
The Texas law, which has been in effect since September 1, can continue to be enforced.
In a separate ruling, the court also blocked a legal challenge from the Biden administration requesting that the justices block enforcement of the law. The justices dismissed the request as "improvidently granted."
This means that only the lawsuit from private parties will continue to go forward in lower courts.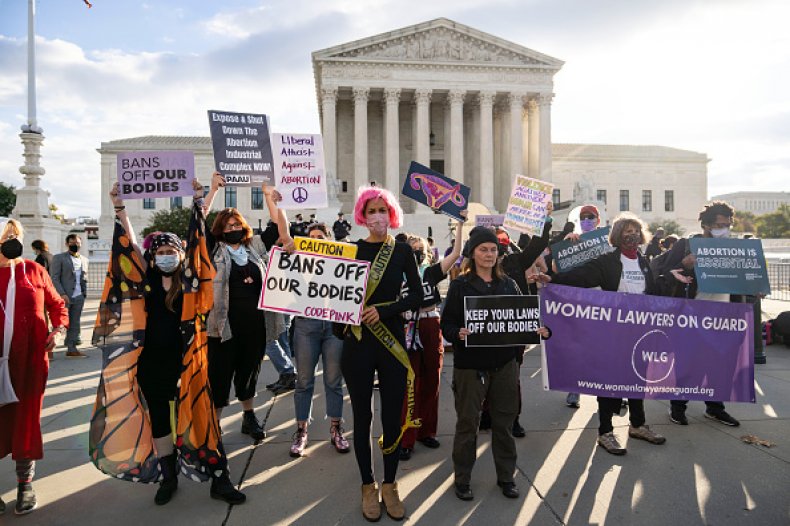 The court's decision in Whole Woman's Health v. Jackson was a small victory for abortion rights activists, but the ruling stopped short of saying Texas' ban is unconstitutional, which abortion supporters had hoped to see.
Delivering the Court's opinion, Justice Neil Gorsuch stressed that "the ultimate merits question" asking whether the law was constitutional "is not before the court."
In the dissenting part of Justice Sonia Sotomayor's opinion, she wrote, "While the Court properly holds that this suit may proceed against the licensing officials, it errs gravely in foreclosing relief against state-court officials and the state attorney general."
She added, "By so doing, the Court leaves all manner of constitutional rights more vulnerable than ever before, to the great detriment of our Constitution and our Republic."
Since the law went into effect, the number of legal abortions performed in Texas has dropped 50 percent, and many women in the state have been forced to travel out of state to obtain the procedure.
Friday's decision in the Texas case comes less than two weeks after the Supreme Court heard a direct challenge to Roe v. Wade in a Mississippi case.
Oral arguments suggested that the court's 6-3 conservative majority was ready to uphold Mississippi's law banning most abortions after 15 weeks and potentially overrule the 1973's landmark decision in Roe. A decision is not expected until June 2022.
Update 12/10/21, 11:25 a.m. ET: This story was updated with more background and information.