Scrat 'Finally Got His Nut': Closed Studio Posts 'Ice Age's' Triumphant End
Blue Sky Studios released a short clip featuring Scrat, one of its most beloved movie characters from the Ice Age movie franchise, that has since gone viral and tugged at the heartstrings of viewers.
The video, unlisted and titled "The End" on YouTube, shows Scrat, a saber-toothed squirrel, hopping along before coming across an acorn. While the running joke is that Scrat is constantly trying to keep his acorn safe, much to no avail, the new video shows a different outcome.
Rather than attempting to bury the acorn, Scrat pauses and studies it before he eats it. He looks around a few times but nibbles away at the acorn until there is nothing left.
Once he's finished, Scrat stares down at the acorn cap for just a moment and hops away before the screen fades to black.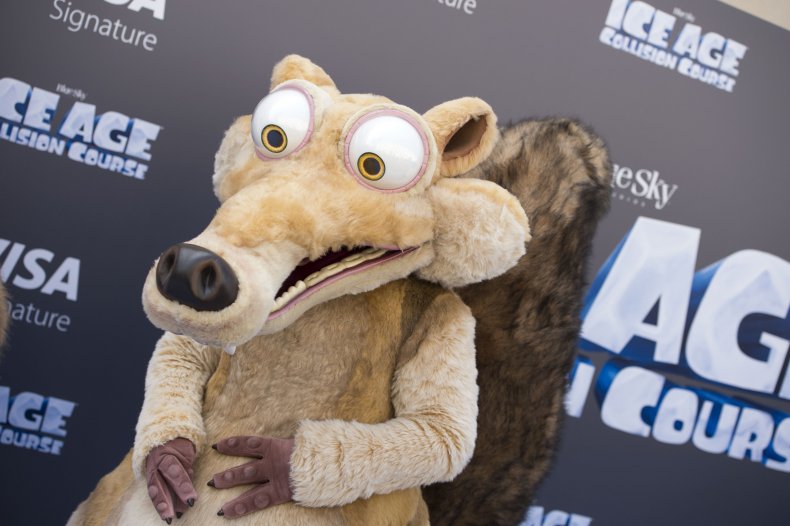 For 34 years, Blue Sky Studios worked on animated films, including the wildly popular Ice Age franchise. Deadline reported that the five Ice Age movies grossed $3.2 billion at the global box office.
However, the studio announced that it would be closing in April 2021.
"We've had more fun bringing our movies to life than anyone should be allowed," read a snippet of the letter the studio published. "We hope you've been able to feel some of that joy."
The video description on the YouTube video stated that in its final days, a small team of artists from Blue Sky Studios worked together to create the shot.
"This shot is a farewell, a send-off on our own terms," the description stated.
The clip rapidly spread throughout various social media platforms, including Twitter and Reddit, where viewers were quick to share their thoughts.
"Scrat finally got his nut," a Twitter user wrote, who accompanied the tweet with the video. "Now it's truly the end of an era."
Another Twitter user replied to the tweet and wrote that viewers can rest "knowing that he has finally won."
Many were glad to see the character get some closure.
"Damn this was my childhood, he finally got his acorn," a Twitter user wrote in response to another tweet that featured the video. "Wholesome moment."
One pointed out that it was just a brief and casual moment.
"There's no celebration, no joke not even a burp gag, no exaggerated sense of great achievement," they wrote. "He just achieves his goal in seconds. And then, he moves on."
Redditors also weighed in on the news and video clip on a post published on the "Movies" forum that received more than 21,000 votes.
One compared it to the Trix rabbit getting a chance to eat the cereal, while another likened the clip to Wile E. Coyote catching the roadrunner.
Although one wrote that the "anti-climatic" nature of the video made it "sadder," another said it can be seen as comforting.
"It can hurt when you feel like there should have been a bigger send off, but take solace that it ended in comfort," they wrote.
In other entertainment news, fans of ABC's Abbott Elementary may be happy to learn that it was picked up for a second season, while the series Conversations With Friends is expected to premiere on Hulu on May 15.
Game of Thrones star Maisie Williams also discussed the show's potential spin-offs in an extended interview.