'Sea of Thieves' Cursed Rogue Tall Tale Guide: How to Find Skeleton Key, Chest, Defeat Briggsy and More
Need help taking down Captain Briggsy in Sea of Thieves? Check out our complete guide to The Cursed Rogue, here.
Ahoy Mateys! Are you ready for another adventure? In this guide, we'll be delving into the second Sea of Thieves Tall Tale adventure — The Cursed Rogue. The adventure is one of several new Shores of Gold story quests introduced in the Sea of Thieves Anniversary update. Each Tall Tale requires players to solve a series of puzzles and travel to various locations in search of special artifacts. Once the tale has been completed, players earn special cosmetics and other in-game rewards. Below we've put together a complete guide to the second Sea of Thieves Tall Tale - The Cursed Rogue. With this guide, you should be able to successfully make your way through every part of the Tall Tale and claim Briggsy's skull. You can also check out our other Sea of Thieves Anniversary update guides and walkthroughs, here.
How To Start The Cursed Rogue Tall Tale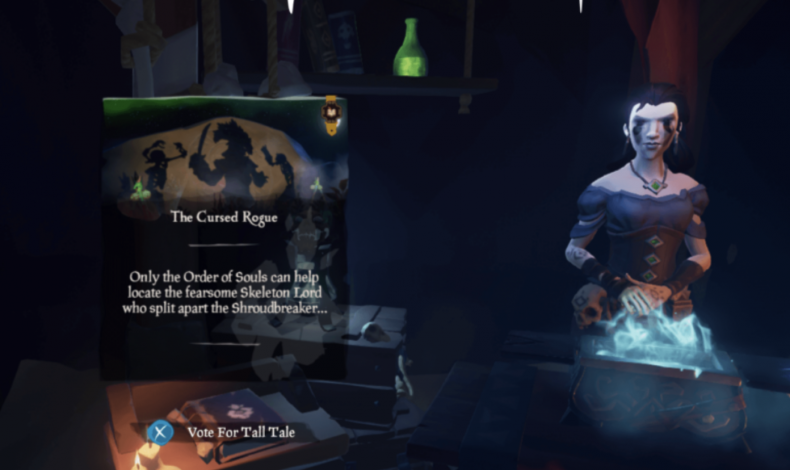 To get started with this Tall Tale, you will need to head to the Plunder Outpost. There, visit the Order of Souls tent and find Madame Olivia. The book should be located near her. Interact with the book until the "Vote for Tall Tale" option appears. Press X and The Cursed Rogue Tall Tale will be activated.
After activating the Tale, have a chat with Madame Olivia who will ask you to find and take down anyone still loyal to Captain Briggsy. You are also tasked with bringing back any of his old stuff you find.
When you've finished your chat, take a look inside your new Tall Tale and you'll find a pair of stories there. The stories will be important for finding two items: a Skeleton Key and a Skeleton Chest.
Part 1: Where to Find the Skeleton Key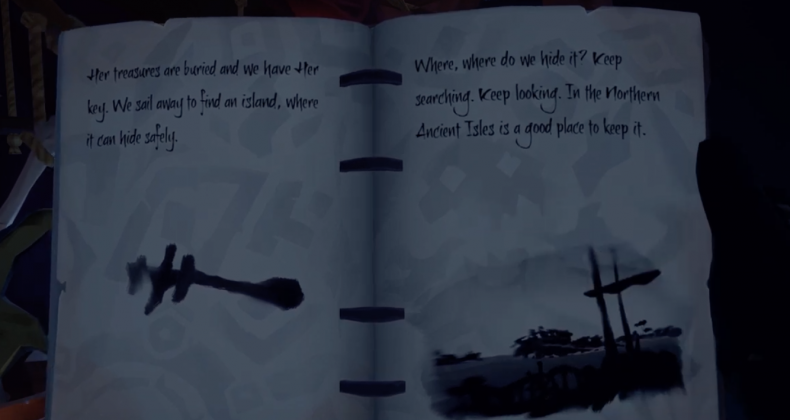 To find the Skeleton Key, you'll need to pay attention to the island pictures in the story. These pictures will be clues about the island where the Skeleton Key is located. The island will be different for every player so you'll have to rely on the photo clues to help you find the right one.
You'll know you've found the key's location when you run into Captain Avery — a skeleton captain who is protecting the key. You'll have to battle and kill the captain so that he'll drop the key. Once you get it from him, take it back with you and you'll be ready to start the next part of the adventure.
Part 2: Where to Find the Skeleton Chest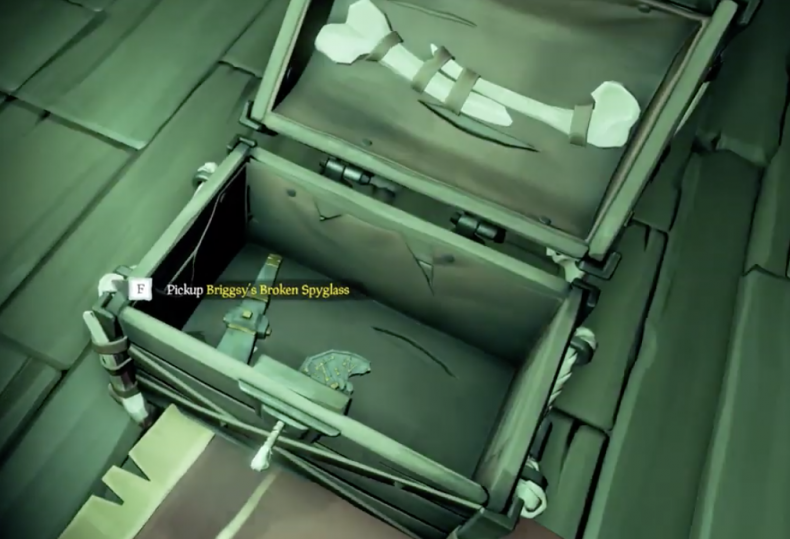 Return to your Tall Tale and look at the story related to the Skeleton Chest. The pictures there should hint at which island to visit in order to find the chest. Once you are on the right island, you'll have to dig up the buried chest. As with the Skeleton Key, there are multiple islands where the chest can be found. You'll know you've found the right place when you run into Captain Blake and Crew. You'll have to defeat them before you can start digging.
Once you find the chest, take it back to the ship and open it up. Inside you'll find the following items:
Briggsy's Star Map
Briggsy's Broken Spyglass
Opening the chest will also grant you the Relics of the Cursed Rogue commendation.
Part 3: How to Beat Captain Briggsy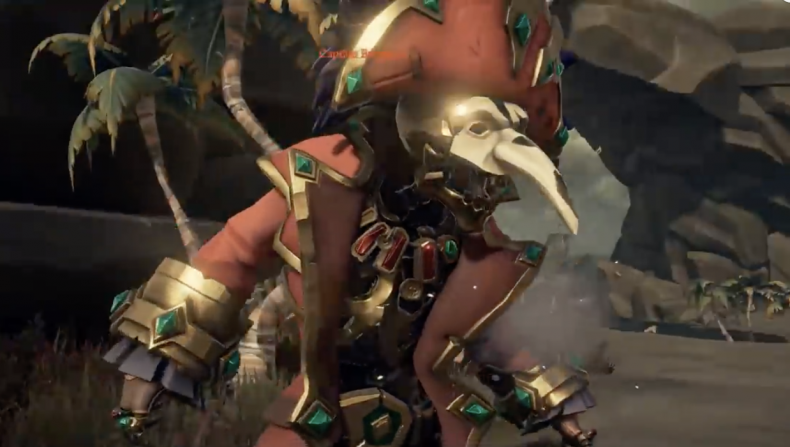 You might think your story ends here, but it doesn't. You will need to return to Plunder Outpost though and take Briggsy's stuff to Madame Olivia. She'll use them to perform a ritual of some kind and then give you an Enchanted Compass. You'll need to use the compass to guide you to the dreaded Captain Briggsy. The compass may lead you to various different islands so just follow wherever it points.
Once you've arrived at an island, climb out onto the shore and follow the compass to Briggsy's location. When you find her, be prepared for a really difficult battle. She'll use a lot of different tactics to throw you off guard like teleportation, bringing fallen skeletons back to life and sending you soaring through the air with her earth-shaking slam attack.
To defeat her, just keep shooting, slashing, cannonballing, etc. at her till she goes down. Many players are reporting it taking 30 minutes or more to defeat her so be ready for a long fight!
NOTE: It's unclear if the Briggsy fight is bugged, but several Redditors have reported the battle is MUCH easier against Briggsy when you complete the mission in a Sloop.
Part 4: Return Skull and Gather Reward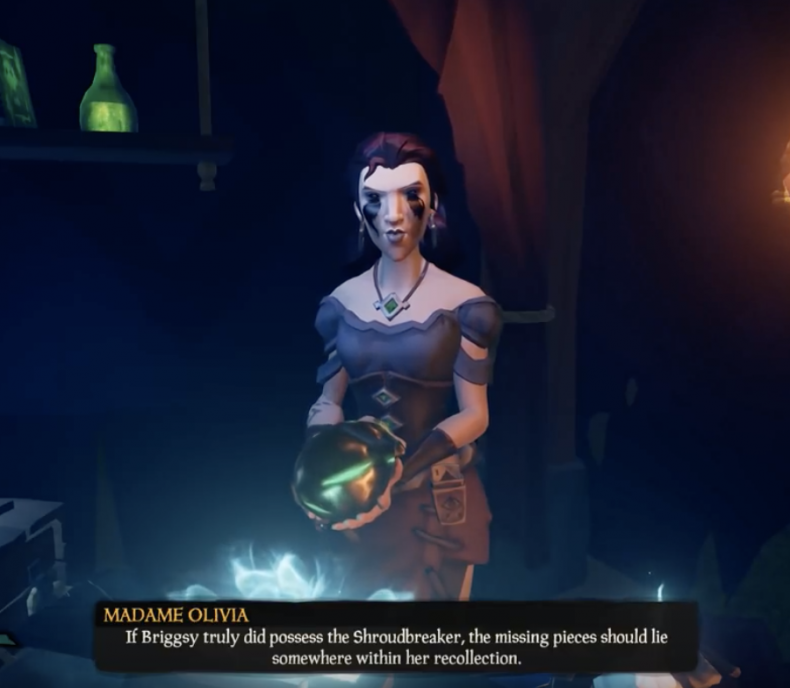 After defeating Briggsy, she'll drop a skull. Grab it and head back to Madame Oliva and Plunder Outpost. Once there, she'll use the skull to give you more information about where to find the Shroudbreaker's missing stones. As the story comes to a close, you'll receive The Cursed Rogue commendation. You will also unlock Tall Tale three — The Legendary Storyteller.
As a reward for completing the Tall Tale, you'll also receive Briggsy's Sword. You can also earn the Order of Souls Eye Curse by finding completing the Cursed Rogue five times and finding all five journals.
The Cursed Rogue Journal Locations
Journal #1

- Found on Sharkbait Cove near the tunnel. It will be inside a broken down rowboat

Journal #2

- Found on Discovery Ridge on the northeast side of the island near a wrecked rowboat and skeleton

Journal #3

- Found on Kraken's Fall on the southeast side of the island behind the skulls against a wood fence.

Journal #4

- - found on Wanderer's Refuge in the ruins on top of a hill. You'll find it between some wood planks.

Journal #5

- found on Crook's Hollow inside a cave with Endless Lizard rock paintings. It will be near a skeleton.