A host on CNN took a pointed shot at a competitor on Fox News on Tuesday. New Day's John Berman called Fox's Sean Hannity the "co-president" a reference to the reportedly cozy relationship between the conservative pundit and President Donald Trump.
On his show on Monday, Hannity ripped into a proposed deal that would reportedly allocate more than $1 billion for additional fencing across 55 miles. Hannity wasn't impressed, calling it a "garbage compromise."
"By the way, on this new so-called compromise, I'm getting details," Hannity said on Fox, amid a Trump rally in the Texas border town of El Paso."$1.3 billion? That's not even a wall, a barrier... Any Republican that supports this garbage compromise, you will have to explain. Look at this crowd, look at the country."
It's unclear if Trump would go for the deal, but Berman was skeptical considering Hannity's position.
"Upon getting word of the deal, the president chose not to learn the details. Instead of asking an aide, 'Hey, what's in it?'—he spoke at a rally, actually telling the crowd he was choosing politics over policy," Berman said on CNN, before going into details about the deal.
"Now, we do not know that the president will sign-on," Berman added. "We do know that the co-president doesn't like it. Sean Hannity called it a 'garbage compromise.'"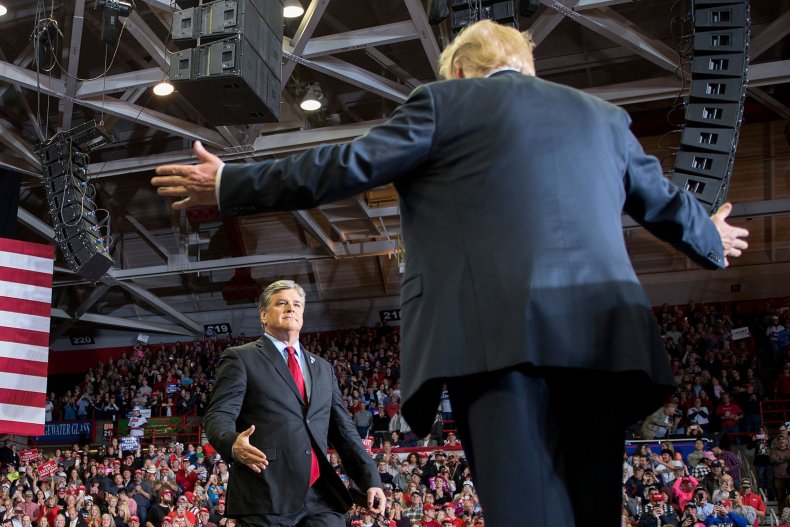 Berman was alluding to the reportedly very tight relationship between Hannity and Trump. The Fox host appeared on stage with Trump at a rally ahead of the 2018 elections, and the two often speak with another before bed-time, New York magazine reported last year.
Seemingly agreeing with Hannity's assessment, Trump indicated he wasn't a big fan of the proposed deal on Tuesday.
"I can't say I'm happy. I can't say I'm thrilled," he told reporters. He did not definitively say whether or not he'd sign-off on the proposed deal, however.
The U.S. is, of course, fresh off the longest-ever government shutdown that the president sparked by demanding funding for his long-promised border wall. He has asked for nearly $6 billion for the wall he said Mexico would pay for during his campaign. Lawmakers have until Friday to avoid another shutdown.