Sean Hannity Unsure Whether He'll Get COVID-19 Vaccine: 'Having Doubts'
Fox News host Sean Hannity said on his Tuesday night show that he wasn't sure whether he would take the COVID-19 vaccine.
Initial administering of the vaccine began in the U.S. in December 2020. President Joe Biden pledged on Tuesday to provide enough COVID-19 vaccine for 300 million Americans by the beginning of the fall.
According to the Centers for Disease Control and Prevention (CDC), 24,652,634 doses of the vaccine have been administered out of over 47,000,000 doses distributed as of Wednesday. Hannity said Tuesday that he had mixed emotions about receiving the vaccine.
"I don't know when my number gets called," Hannity said. "I'm actually beginning to have doubts. I've been telling my friends I'm getting the vaccine. Half of them agree and the other half think I'm absolutely nuts. They wouldn't take it in a million years. I don't know who to listen to."
Hannity also criticized recent advice from infectious diseases expert Dr. Anthony Fauci, who advised Americans to wear two face masks to help curb the spread of the virus. "What's next?" Hannity asked. "A hazmat suit?"
During a Tuesday appearance on NBC's Today show, Fauci explained that wearing two masks could help slow virus transmission. "If you have a physical covering with one layer and you put another layer on it," Fauci said, "it just makes common sense that it likely would be more effective."
Fauci has also touted the vaccine's safety, telling NPR in January that the vaccine was "highly efficacious" with an effectiveness rate of 94 percent to 95 percent. Fauci said that if enough people received the vaccination and a level of herd immunity is achieved, the U.S. could "approach some form of normality" by the fall.
Newsweek reached out to the CDC for comment.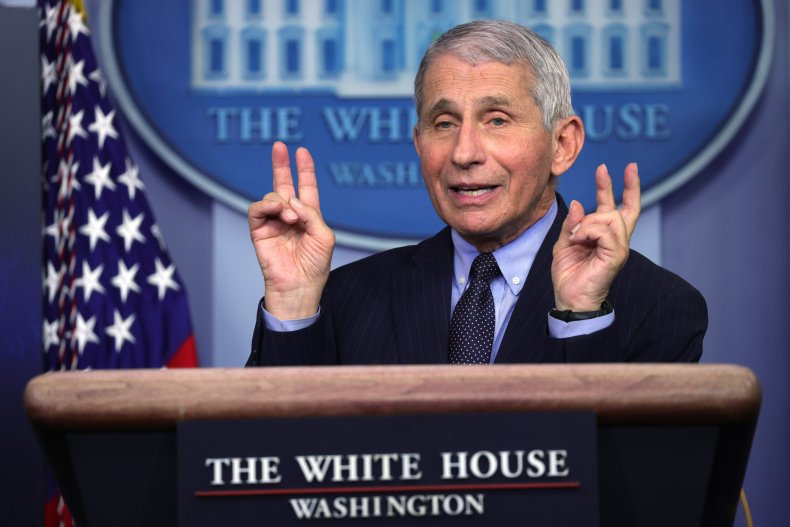 In an effort to encourage people to be vaccinated against COVID-19, Biden received his first dose of the vaccine in a televised event in December 2020.
"I'm doing this to demonstrate that people should be prepared when it's available to take the vaccine," Biden said. "There's nothing to worry about."
Vice President Kamala Harris and Second Gentleman Doug Emhoff were also vaccinated, with the two receiving their second doses of the vaccine on Tuesday. Harris said the shot was "relatively painless," adding that "it happens really quickly" and "it is safe."
Some individuals have died soon after being given the vaccine. On Sunday, authorities in Placer County, California said they were investigating the death of a person who died hours after receiving a COVID-19 vaccination. While some individuals immediately connected the two events, California Democrat Senator Dr. Richard Pan said Tuesday was no relation between the vaccination and the individual's death should be inferred.
"Unfortunately," Pan said in a statement, "because many news outlets decided to lead with a headline that a person died after receiving the COVID vaccine, this announcement will increase vaccine hesitancy and make it more difficult to achieve vaccination rates necessary to stop the pandemic."
As of Wednesday, data from Johns Hopkins University showed 25,565,874 confirmed positive cases of COVID-19 in the U.S. with 428,015 fatalities attributable to the virus.