Dr. Anthony Fauci Says Double-Masking Likely 'More Effective,' U.K. COVID Strain in 20 States
Dr. Anthony Fauci, America's leading infectious diseases expert, says wearing a double layer of masks "likely does" help protect against new COVID-19 strains.
Fauci's words come as the B.1.1.7 variant—a more transmissible strain first detected in the U.K. toward the end of last year—is confirmed in more than 20 states, according to the latest report from the Centers for Disease Control and Prevention.
Speaking to NBC's Today show, the director of the National Institute of Allergy and Infectious Diseases said: "This [a mask] is a physical covering to prevent droplets and virus" from entering the body.
"You put another layer on it just makes common sense that it likely would be more effective. And that's the reason why you see people either double-masking or doing a version of an N95," said the chief medical adviser to President Joe Biden.
The country's seven-day average of daily new cases has declined since earlier this month, after reaching a record 254,862 on January 11, according to data from Worldometer.
Fauci warned: "We don't want to get complacent and think, 'Oh, things are going in the right direction, we could pull back a bit.'
"We do have circulating in this country a variant from the U.K. that's in over 20 states right now. That is a variant that has a better capability of being transmitted more efficiently from person to person," he said.
If the U.K. variant becomes dominant, "we're gonna be faced with another challenge of a virus that has a more efficient capability of spreading," Fauci added.
Asked whether the recent drop in cases could mark the beginning of the end of the pandemic or be a sign that the worst is behind us, Fauci told Today: "It's [the recent drop in cases] just a natural peaking and then plateauing and coming back down.
"The number of vaccines that we've gotten into the arms of people [is] a good start. We wanna keep going. But I don't think the dynamics that we're seeing now with the plateauing is significantly influenced yet by the vaccine," he said. "It will be soon."
The B.1.1.7 variant has been identified in at least 24 states, according to the report published on Monday by the Centers for Disease Control and Prevention, including most recently in Washington state.
The state's first case of the U.K. strain was confirmed on Saturday in Snohomish County, where the first known case of COVID-19 in the U.S. was reported last January.
Speaking to Newsweek at the end of last month, Fauci said the vital safety measures that health officials have been "talking about all along" should be followed in order to mitigate any mutation that helps the virus spread more easily.
Asked what measures Americans could take against a more contagious strain, he replied: "If it's [the mutation] not interfering with the vaccine, you don't need to do anything about the vaccine.
"Wearing masks, keeping distances, avoiding congregate settings, doing things outdoors more than indoors, washing your hands frequently—those are the things that stop any virus, regardless of whether it mutates or not," Fauci told Newsweek at the time.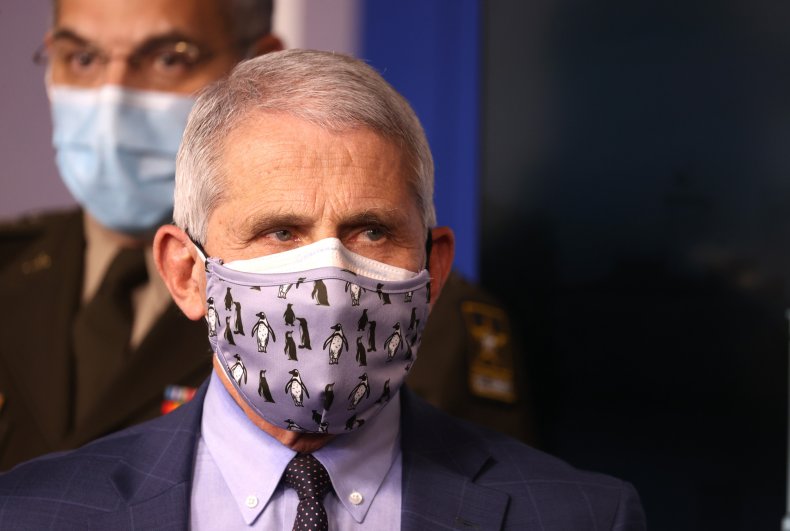 The wider picture
The novel coronavirus has infected more than 100.3 million people, including just over 25.4 million in the U.S., since it was first reported in Wuhan, China.
More than 2.1 million people have died worldwide and more than 55.4 million have recovered as of Wednesday, according to Johns Hopkins University.
The graphic below, produced by Statista, illustrates the spread of COVID-19 in the U.S.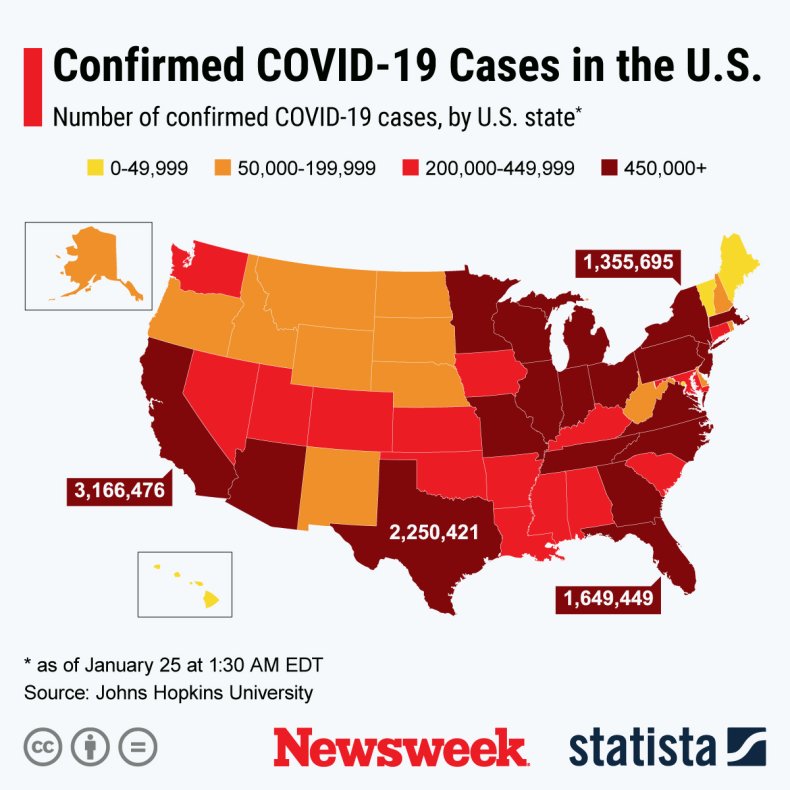 The graphic below, also produced by Statista, illustrates countries with the highest rate of vaccination.