Dr. Anthony Fauci Outlines His Top Priority for Working With Joe Biden
As chief medical adviser to President-elect Joe Biden, Dr. Anthony Fauci's first priority will be "to expeditiously get people vaccinated" against COVID-19, which he believes is the way "we can end this outbreak."
Asked what will be his priorities next year under the Biden administration, America's top infectious diseases expert told Newsweek: "The first one is to expeditiously get people vaccinated, there's no doubt about that. To me that is the critical issue. You know, if we didn't have the tools, I'd say 'well, let's get the tools.' We have the tools, so we've just got to implement them.
"We know what our path is ahead of us. We've got to get as many people as possible vaccinated. We are fortunate enough to have at least two, and likely more, highly efficacious vaccines.
"The real challenge is getting everybody vaccinated as quickly as you possibly can. Once we do that, we can end this outbreak. So we know what the end game is, we've just got to implement it."
The director of the National Institute of Allergy and Infectious Diseases believes there will be multiple COVID-19 vaccines approved next year, including a handful of others being developed by his team, one of which was expected to enter a phase three trial this week, to help expedite vaccinations across the country.
Fauci said: "We're already committed to developing six of them [COVID-19 vaccines]. Five of them are already in trial, one of them is going into a phase three trial very soon, maybe today [Monday] or tomorrow [Tuesday].
"I think we're going to get multiple approvals of vaccines in the first several months of 2021. I'm sure we'll get additional ones besides the Moderna and Pfizer [vaccines]."
Across the globe, there are currently 60 potential COVID-19 vaccines in clinical development, while 172 are at their pre-clinical stages, according to the latest report Tuesday by the World Health Organization.
Is it feasible to give people one dose of the vaccine?
Last week former British Prime Minister Tony Blair said on BBC Radio 4's Today program that although "you really need the two doses [of the COVID-19 vaccine]...the first dose gives you substantial immunity."
Blair argued there was a "strong case for not holding back the second doses of the vaccine" and instead using the supply reserved for second doses to inoculate as many as possible with their first dose of the vaccine.
When asked whether this would be feasible, Fauci warned: "The trouble with that approach is that you have to make sure that you have a supply that will get them the second dose. Because if they don't get the second dose, they will be inadequately vaccinated. So you could argue either way.
"The argument for vaccinating once and waiting for the new supply to come in is that initially you could vaccinate more people. The argument against it is that if you don't get the supply in time, you're gonna get an inadequate vaccination. So there are arguments for and against that [idea of administering one dose, instead of two]," Fauci said.
The graphic below, provided by Statista, shows the percentage of adult Americans who would or would not get a COVID-19 vaccine.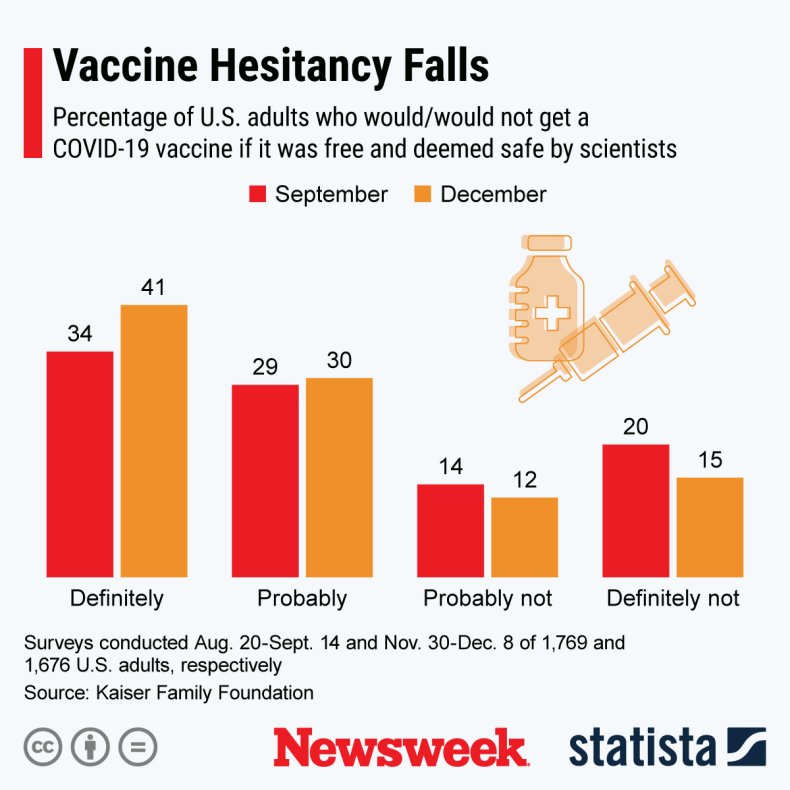 Who should be prioritized for vaccination?
On Tuesday, the Transportation Security Administration reported its fourth consecutive day of more than a million travelers, as the country hit a new single-day record number of deaths from COVID-19.
Fauci previously warned: "January is going to be terrible," with the outbreak expected to reach its worst level yet following the impact of travels over Thanksgiving and Christmas.
Asked who should be prioritized for vaccination and whether it could be worth prioritizing the younger generation, who tend to travel more and can raise the risk of spreading infection, Fauci said: "That's the reason why you get an advisory committee [to look at who should be prioritized], such as the Advisory Committee on Immunization Practices [ACIP, of the U.S. Centers for Disease Control and Prevention] to make the recommendations, which they have made.
"We know that for influenza, it's the younger children who transmit it to the elderly. We don't know that yet with COVID. In fact, it looks like they are not efficient spreaders," the immunologist told Newsweek.
Earlier this month, the ACIP recommended the country's millions of health care workers and elderly residents of long term care facilities be prioritized for vaccination.
Massachusetts Representative Ayanna Pressley believes inmates in correctional facilities should be prioritized to receive COVID-19 vaccines alongside health care and essential workers. Massachusetts has selected inmates as one of the first groups to receive vaccinations—ahead of seniors, home health aides and medically vulnerable state residents.
When asked whether inmates should also be prioritized for vaccination, as in Massachusetts, Fauci noted: "That [prioritizing inmates] goes along with vaccinating people who are in enclosed places, like nursing homes, prisons and meatpacking places and places like that. They are very susceptible, so that's probably why they are prioritizing them."
The biggest lesson learned in a year of COVID-19
Asked what were the biggest lessons learned since the COVID-19 outbreak began, Fauci said: "This [COVID-19] is a very difficult virus to deal with. There's many, many lessons that we've learned, one is that it's highly transmissible.
"The confounding part about that, something that was not realized early on but that we know now, is that people who have no symptoms at all can transmit the virus, [which] makes it very difficult to track the virus, very difficult to do contact tracing.
"So you have a highly transmissible virus that can be transmitted from someone who has no symptoms. That makes it extremely difficult to control," the NIAID director noted.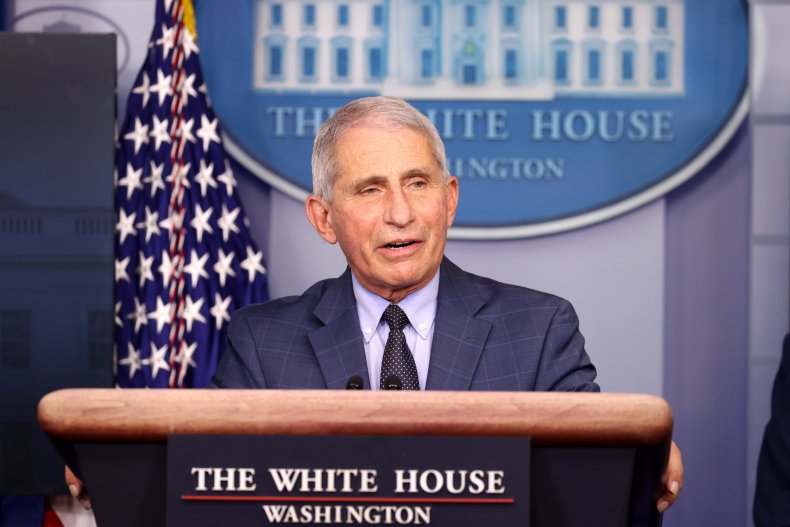 The wider picture
The novel coronavirus has infected more than 82.7 million people, including just over 19.7 million in the U.S., since it was first reported in Wuhan, China.
More than 1.8 million people have died worldwide and more than 46.8 million have recovered as of Thursday, according to Johns Hopkins University.
The graphic below, produced by Statista, shows the countries with the highest death tolls.