Sean Hannity Wants Special Prosecutor to Probe Trump's Voter Fraud Allegations
Fox News host Sean Hannity believes that Attorney General William Barr should hire a special prosecutor to investigate President Donald Trump's evidence-free claims that massive fraud led to President-elect Joe Biden winning the presidential election.
Quotes
During the Wednesday edition of Premiere Radio Networks' The Sean Hannity Show, the host agreed with his former Fox News colleague Bill O'Reilly's call for Barr to hire a special prosecutor to focus on claims that the election was "rigged."
"I want Attorney General Barr to call for a special prosecutor to investigate the election," O'Reilly said.
"I do too. I agree with you," Hannity replied. "I don't even think it's controversial though."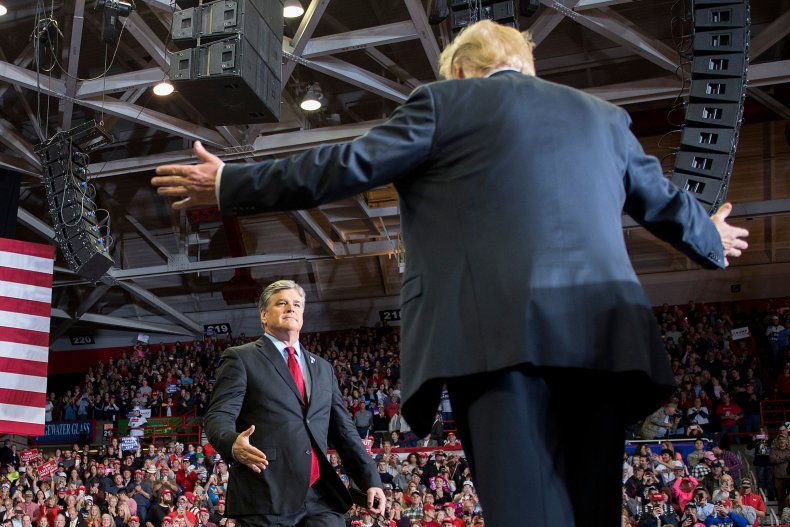 Why It Matters
Trump and many of his allies have continued to claim that massive fraud was at play in the election, despite presenting no credible evidence to back up the claims.
Although dozens of legal challenges have failed and evidence remains elusive, Trump has refused to concede and insists that he was the election's true winner. Efforts to overturn the election outcome have continued in court, although most legal experts say they have little chance of succeeding.
The Department of Justice has investigated the election fraud claims, but Barr himself has said that the investigation turned up no evidence to suggest that anything illegal led to Trump's loss.
"To date, we have not seen fraud on a scale that could have effected a different outcome in the election," Barr told the Associated Press last week.
Since Barr, as the head of the department, did not find evidence of fraud, Hannity and O'Reilly presumably believe that a special prosecutor may come up with different results.
The Counterpoint
There would be little reason to appoint a special prosecutor since there is no evidence that anything illegal changed the outcome of the election. Biden had a clear victory, with a substantial 306-232 margin in the Electoral College and over 7 million more votes than Trump in the national popular vote.
Evidence typically precedes the launching of serious allegations, but Trump has taken the opposite approach in claiming massive election fraud. Even before Election Day, the president claimed without evidence that the election would be rigged against him, but only if he lost. He had similar complaints before winning in 2016. Attempts to find evidence that would justify this year's claims have fallen well short, based on Barr's findings and the failure of around 50 court cases attempting to overturn results.
Hiring a special prosecutor would be done at the expense of U.S. taxpayers and an argument could be made that without any credible evidence, doing so would be a waste of tax dollars. Texas Attorney General Ken Paxton has come under fire for recently launching taxpayer-funded Supreme Court challenge seeking to invalidate Biden's win in four other states.
Newsweek reached out to the Department of Justice for comment.