Congressman Slams Democratic Colleagues Suggesting to Censure, Not Impeach, Trump: 'A Terrible Mistake'
Congressman Sean Maloney, a Democrat from New York, strongly criticized fellow lawmakers from his party who have suggested that the House of Representatives should simply censure President Donald Trump over his actions towards Ukraine, instead of voting for impeachment.
"Why in God's name is any Democrat trying to lower the bar when the president himself says to this day, the call [between Trump and Ukrainian President Volodymyr Zelenskiy] was perfect?" Maloney responded Wednesday, when asked about the censure suggestion during an interview with CNN.
The representative also pointed out that Trump's personal lawyer Rudy Giuliani was just in Ukraine again "furthering this scheme to fix the next election." He also noted that "not a single Republican in the House is willing to step up and say, you know, what the president did constitutes an impeachable offense."
"I think this is a moment when we need to get clear about right and wrong," Maloney continued. "And just listen to what your mama always told you, which is 'just do the right thing.'"
Maloney defeated Republican incumbent Nan Hayworth back in 2012, running as a moderate Democrat. Some Democratic members of the House, particularly those who recently flipped seats, could anger voters in their districts by voting for impeachment, potentially harming their re-election bids.
Politico first reported Tuesday that about 10 Democratic lawmakers had brought up the possibility of censuring the president and foregoing impeachment altogether. A lawmaker involved with those discussions later confirmed the report to Newsweek.
Several of the more vulnerable Democrats told Newsweek on Tuesday that they had not yet made up their mind as to how they would vote on the formal articles of impeachment issued by the House Judiciary Committee.
"I'm not going to be pushed one way or another," Representative Elissa Slotkin of Michigan, a former CIA analyst, said. "I have lots of people lobbying me, but I'm going to do what I was trained to do as national security professional and as an intelligence officer, which is make my own decision based on what I think is right."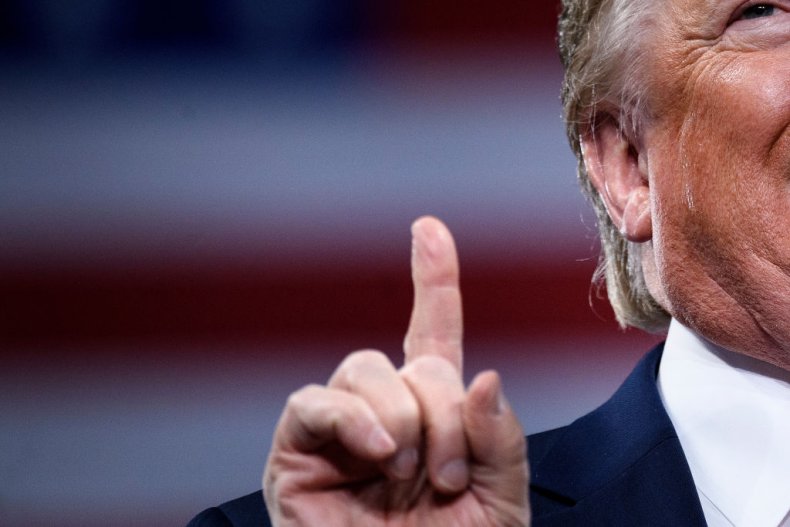 Trump faces impeachment on articles alleging "abuse of power" and "obstruction of Congress." The abuse of power charge stems from a phone call during which the president repeatedly pressured Ukraine to announce investigations into discredited claims that, while serving as vice president, Democratic presidential candidate Joe Biden acted corruptly toward the Eastern European nation to benefit his son Hunter's business dealings there. The charge also referenced Trump's urging his counterpart to "get to the bottom of" a debunked conspiracy theory that Ukraine, not Russia, interfered in the 2016 presidential election. Democrats contend that these actions amounted to the president abusing his office to urge a foreign government to interfere in a U.S. election, undermining American democracy. The obstruction charge came as a result of the White House's refusal to comply with subpoenas related to the impeachment inquiry, as well as its efforts to block key witnesses from testifying.
Although the articles of impeachment are expected to be passed in the Democrat-controlled House of Representatives, it appears the vote will go ahead strictly along party lines. No Republicans have come forward to support the president's impeachment, but former GOP Representative Justin Amash, who declared himself an independent in July, has repeatedly voiced his backing of the Democrat-led inquiry.