Sean Penn Arrives in Ukraine to Film Documentary of Russian Invasion
Sean Penn has arrived in Kyiv to "tell the world the truth about Russia's invasion" of Ukraine.
The Office of the President of Ukraine announced on Thursday that the American actor-director had landed in the capital to document the conflict. Penn also visited the country in November 2021 to work on a documentary he is making about Russian aggression.
Since his arrival, Penn has visited the Office of the President and spoken with deputy prime minister Iryna Vereshchuk, as well as local journalists and members of the Ukrainian military.
The Ukrainian government's statement expressed gratitude to Penn, saying: "The director specially came to Kyiv to record all the events that are currently happening in Ukraine and to tell the world the truth about Russia's invasion of our country. Sean Penn is among those who support Ukraine in Ukraine today. Our country is grateful to him for such a show of courage and honesty."
The statement went on to contrast Penn's actions with those of some Western governments in the face of the invasion ordered by President Vladimir Putin.
According to a translation, it added: "Sean Penn is demonstrating bravery that many others have been lacking, in particular some Western politicians. The more people like that—true friends of Ukraine, who support the fight for freedom—the quicker we can stop this heinous invasion by Russia."
The message, sent to Newsweek by the Ukrainian embassy, was accompanied by a photo of Penn sitting in on a government press briefing.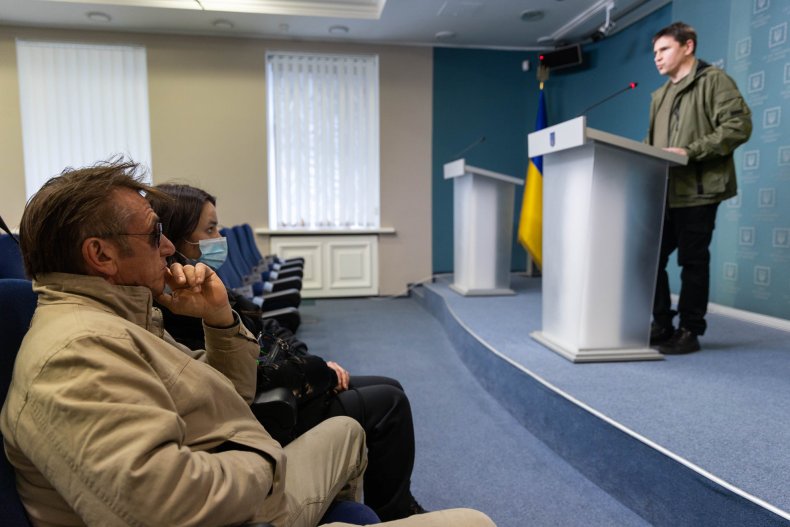 While Penn has just entered Kyiv, videos posted on social media show thousands of Ukrainians attempting to flee the capital and other cities as air raid sirens ring out. President Volodymyr Zelenskyy has declared martial law across his country and compared Russia to Nazi Germany for its offensive, which was launched at 5am local time on Thursday.
During his previous trip to Ukraine, Penn visited eastern regions of the country and spoke to Ukrainian service personnel for his Donbass documentary, which is being produced with Vice Studios. In November, he was photographed dressed in combat gear out filming with his crew.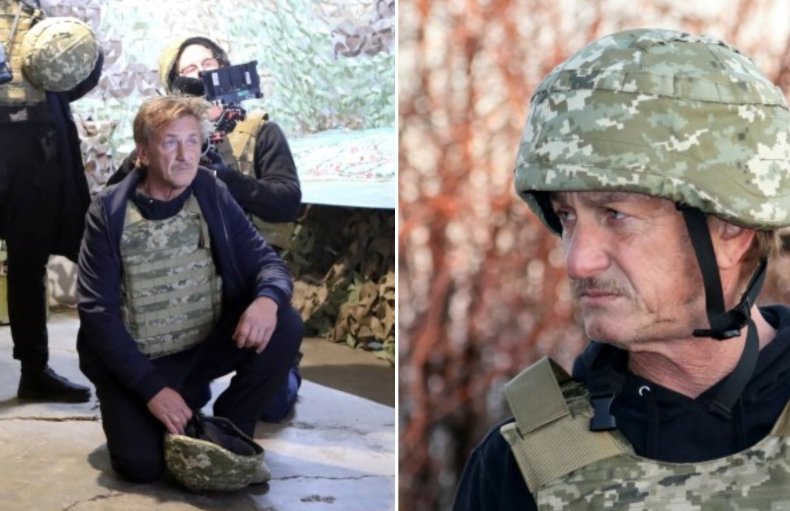 The double Oscar winner has been involved in a number of anti-war campaigns and humanitarian operations over the past few years. He set up a non-profit called Community Organized Relief Effort, or CORE, in response to the Haiti earthquakes of 2010. His work on the devastated island was explored in the Discovery+ documentary Citizen Penn, released in 2020.
Newsweek has reached out to Sean Penn's representatives for comment.
Update 02/24/22, 1:25 p.m. ET: This article was updated to add extra information.