A Look at Sean Spicer's Apology Tour After Hitler Comments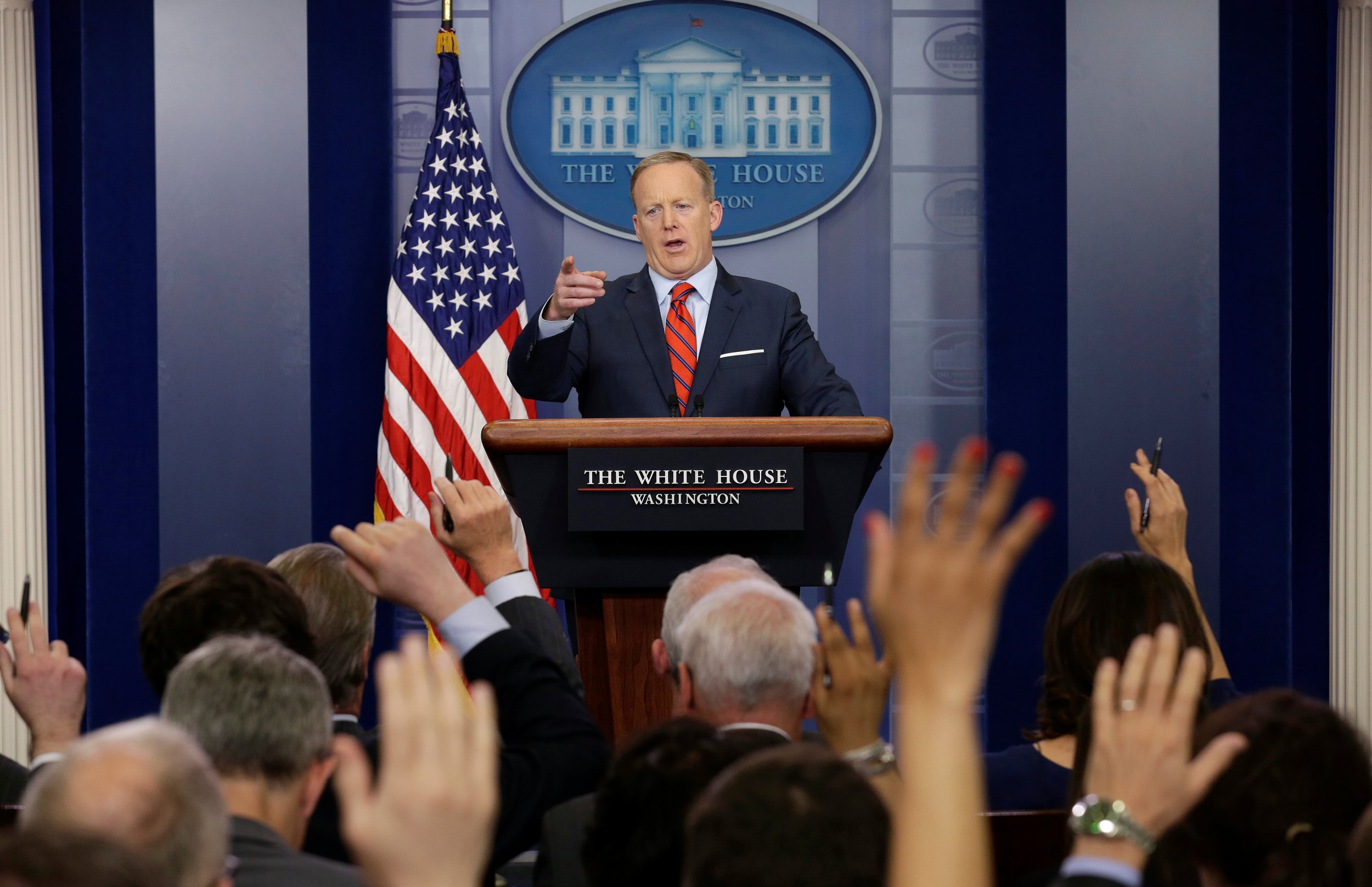 Embattled is a word to describe White House Press Secretary Sean Spicer, but it may not be the best one. It may have been fine before Saturday Night Live began its widely popular spoofs of his press conferences, starring the gem of a television star Melissa McCarthy, or before his countless run-ins with reporters on live television, a series that has included his head-shaking scolds and brazen pushback against established media members in favor of representatives of rising alt-right websites that have offered relatively kinder takes on President Donald Trump's woes during his first three months in office.
Now, the best way to describe Spicer might be frightened or downright terrified for his job, especially following his false statement Tuesday that Syrian President Bashar al-Assad's use of chemical weapons against his own people last week was an atrocity unlike any ever committed by the likes of German dictator Adolf Hitler.
The Trump administration has many times been derided for its misunderstanding of history and loose relationship with facts, and this statement fits in with that profile. What made matters worse this time, was that Spicer in attempting to clarify his statement used the term "Holocaust centers" to describe Nazi concentration camps where millions of Jews were killed.
Unlike with his previous mishaps, Spicer has since backpedaled quickly and profusely. His apology tour started with that clarification, and then moved on to a statement to clarify the clarification, an awkward CNN interview and then an on-stage interview at Newseum in Washington on Wednesday.
Here's a quick evolution of Spicer's apologies in the last 24 hours, starting with the initial comment—one that could very well make it difficult this time for Trump or his administration to ignore the demands for Spicer's pink slip.
Spicer's initial flub was quite clear.
"We didn't use chemical weapons in World War II. You had someone as despicable as Hitler who didn't even sink to using chemical weapons," he said during the regular press briefing Tuesday.
Then came a clarification that did nothing to erase the self-inflicted sting and only made matters worse.
"I think when you come to sarin gas, he was not using the gas on his own people the same way that Assad is doing."
The first apology came less than an hour after these shocking remarks.
Spicer also confirmed to CNN that after a political adviser to top Republican donor Sheldon Adelson contacted the White House about Spicer's comments, he spoke to someone in the casino billionaire's office. Spicer said the conversation was "private."
The White House press secretary was perhaps so concerned for his job that he granted CNN's Wolf Blitzer an exclusive interview Tuesday night, during which he doubled down on the previous apology, asked for forgiveness and even took a bit of a tongue-lashing from the TV host. The long-time anchor asked Spicer who exactly he was apologizing to, why he even made the comparison and said Holocaust survivors "couldn't believe the press secretary…could make such a statement."
"I was obviously trying to make a point about the heinous acts that Assad had made against his own people last week, using chemical weapons and gas. Frankly, I mistakenly made an inappropriate and insensitive reference to the Holocaust, for which there is no comparison," Spicer said. "And for that I apologize. It was a mistake to do that."
And on Wednesday at the Newseum, Spicer said he had let down Trump while pointing out the comments came during one of the holiest times in Judaism.
"It's a very holy week for the Jewish people and the Christian people and to make a gaffe and a mistake like this is inexcusable and reprehensible and so, of all weeks, this compounds that kind of mistake," Spicer said, according to The Guardian.
"It really is painful to myself to know that I something did like that because that obviously was not my intention, and to know when you screw up you've possibly offended a lot of people, and so I would ask obviously for folks' forgiveness, to understand that I should not have tried to make a comparison.
"There's no comparing atrocities and it is a very solemn time for so many folks that's part of that, so that's obviously a very difficult thing personally to deal with, because you know a lot of people that don't know you wonder why you would do that."